In a previous article in July of last year, I made the argument that Greece's stock market is significantly overvalued.
The reasons for my argument included:
Greece's cyclically adjusted price-to-earnings ratio was 38.2 at the time of writing, significantly higher than the average for developed stock markets.
Tourism concerns were impacting overall economic performance.
It was uncertain to what extent the relaxing of capital controls would allow for a rebound in growth.
Since that time, we have seen that Greece's stock market has more or less held constant from that of levels seen in July.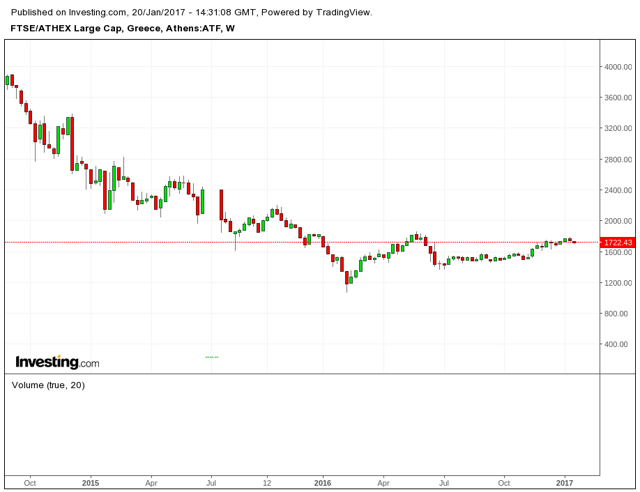 An interesting thing about Greece is that if there was ever a contrarian play among equity markets today - Greece is it. While on paper the Greek stock market has a high P/E ratio, the effects of the same will likely be overly influenced by losses generated by financial institutions and less so by undervalued Greek companies.
In this regard, which companies stand to rebound going forward? While the fall in Greek stock markets had affected broader company performance, I am keeping a particular eye on Greek transport companies in 2017, as rebounding industry strength along with potential for deep undervaluation could make such companies highly attractive contrarian trades.
While I was initially pessimistic on Aegean Airlines (OTCPK:AGZNF) in my last article, I had likely misjudged the temporary slowdown in tourism for Greece. Instead, interest has rebounded, with Greece being among the number one destination of choice for Summer 2017 destinations according to travel agency Thomas Cook.
Moreover, while the company took a dip in the latter half of 2016, it has since been rebounding, offering a potentially good value play as we head into 2017: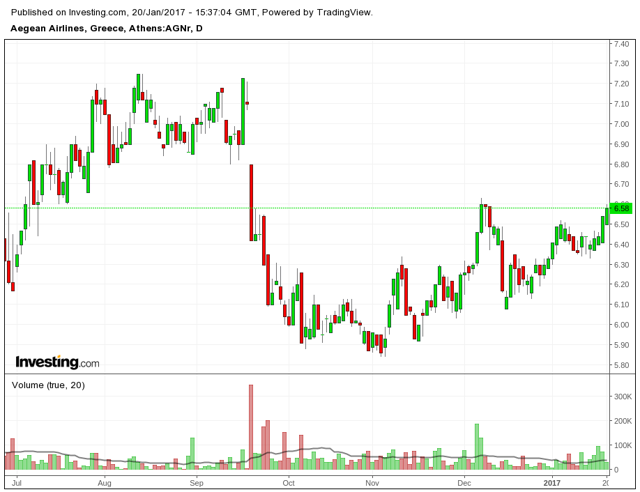 A rebound in the shipping industry in Greece also looks to hold promise going forward. According to Petrofin Research, Greek shipping has been undergoing a period of consolidation, with the average age of Greek shipping fleet now standing at 12.19 years. Moreover, while the number of Greek shipping companies in operation has fallen by over 30 percent since 1998, the result has been that remaining competitors have expanded in size which has been accompanied by younger fleet numbers.
In this regard, this development holds promise for firms such as ANEK Lines (ANEK) and Navios Maritime Holdings (NYSE:NM) to expand their fleets to serve the passenger and commodity transport industries, respectively.
For instance, in the case of Navios, we see that while the company has seen significant growth in share price over the past few months, it still trades significantly lower than the highs seen pre-2015, making for a potentially very strong contrarian trade.
Navios Maritime Holdings - 1-Day Chart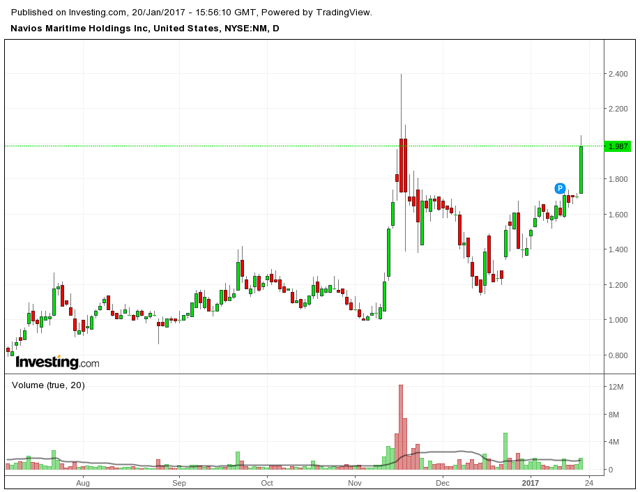 Navios Maritime Holdings - 1-week chart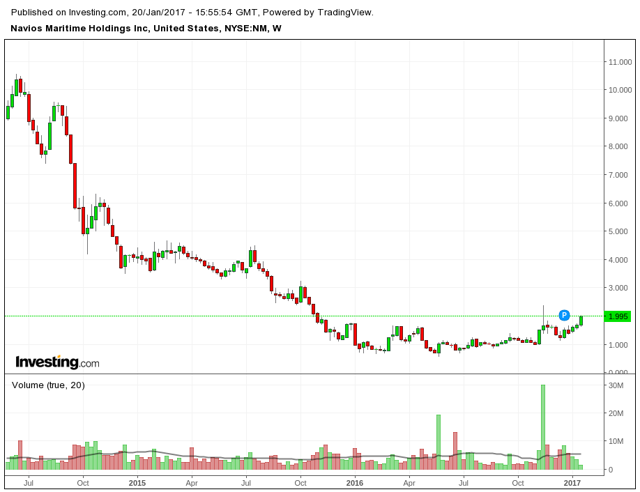 To conclude, while Greek equities may still be overvalued on a holistic basis, there are a number of companies that are likely to be highly undervalued and would be of great interest to contrarian investors. At this point in time, I am keeping a keen eye on the Greek transportation sector, as this sector appears the most likely to lead a rebound among Greek equities at this point in time.
Disclosure: I/we have no positions in any stocks mentioned, and no plans to initiate any positions within the next 72 hours.
I wrote this article myself, and it expresses my own opinions. I am not receiving compensation for it (other than from Seeking Alpha). I have no business relationship with any company whose stock is mentioned in this article.