Size, value, low volatility, dividend growth, and equal-weighting are five factor tilts that have generated long-run market beating performance. In a series of recent articles, I have shown strategies that have successfully combined these factor tilts to generate alpha. This article will show that these factor tilts within the smallest capitalization segment of the market have produced stellar long-run risk adjusted returns.
Value
In Looking At Small-Cap Value, I illustrated that when U.S. stocks were sub-divided into portfolios based on capitalization and market-to-book ratios that small-cap value delivered average annual returns 4.7% above the broader market over a dataset stretching back to 1926.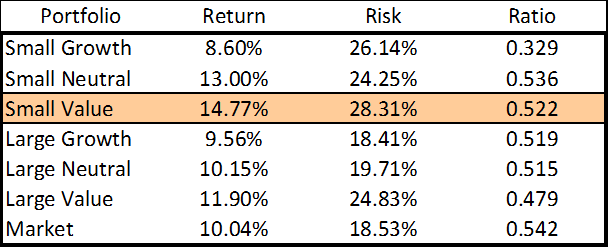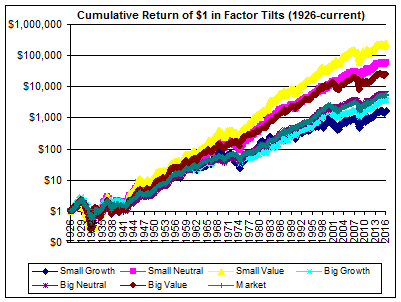 Low Volatility
In Small Caps And Low Volatility: A Long-Run Study, I demonstrated that when U.S. stocks were subdivided into quintiles based on capitalization and volatility that the small-cap low volatility stocks generated tremendous outperformance in a period dating more than fifty years.

In a Strategy That Sells Itself, I illustrated that even in the worst ten-year periods for the strategy that small-cap low volatility stocks still generated solid 6-7% total returns.

As we examine these factor tilts towards higher quality small-cap companies, note the weak long-run returns from the cohorts at the upper right of these graphs (high beta small caps).
Dividend Growth
In Small Cap Dividend Aristocrats, I illustrated that an equal-weight portfolio of small-cap stocks that have paid increasing levels of dividends for at least ten years has generated above market returns with below market risk.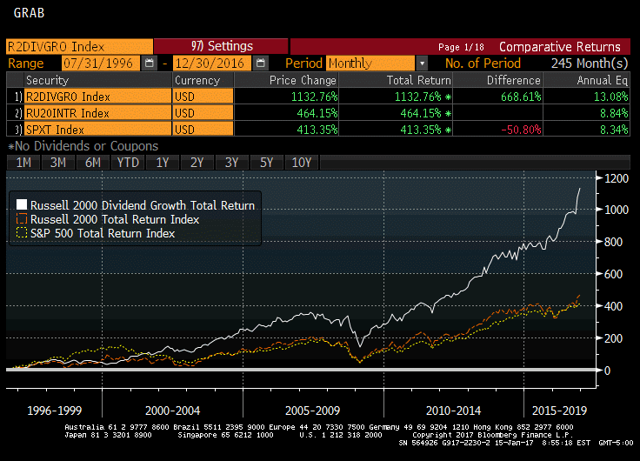 In the table below, I show twenty years of annual returns for the three small-cap factor tilt strategies, an average performance of the three, and the Russell 2000 (NYSEARCA:IWM) and S&P 500 (NYSEARCA:SPY).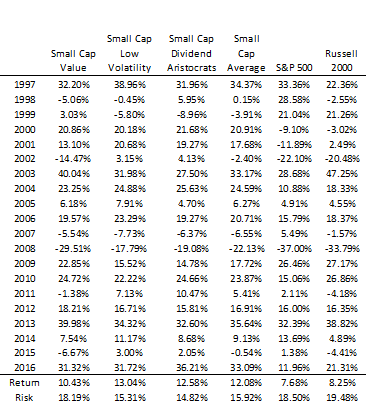 For the small-cap indices, I am using the following indices:
Value: S&P 600 Value Total Return, which is replicated by the iShares S&P Small-Cap 600 Value ETF (NYSEARCA:IJS);
Low Volatility: S&P 600 Low Volatility Index, which is replicated by the PowerShares S&P SmallCap Low Volatility Portfolio ETF (NYSEARCA:XSLV);
Dividend Aristocrats: Russell 2000 Dividend Growth Index, which is replicated by the ProShares Russell 2000 Dividend Growers ETF (NYSEARCA:SMDV).
Part of the goal of undertaking this analysis is to illustrate to investors how these factor tilts can fit together in a portfolio construct. Note that value outperformed in 2003 and 2009, strong years for the markets after a recovery from dismal returns in preceding years. Alternatively, Low Volatility and the Dividend Aristocrats have strongly outperformed in weak years for the markets. Despite these differences, the correlation between the strategies remains high.
Each of these strategies is coming off of stellar 2016 returns, especially over the last six weeks of the year post-election. Even subtracting this tremendous outperformance, the strategies still would have strongly outperformed the market over this horizon.
There is $38B just following the iShares version of the Russell 2000 ETF. There are many, many billions more of both active and passive funds that use this benchmark. This article is meant to illustrate that factor tilts within small caps towards value, low volatility, and dividend growth should produce long-run outperformance.
Disclaimer:
My articles may contain statements and projections that are forward-looking in nature, and therefore inherently subject to numerous risks, uncertainties and assumptions. While my articles focus on generating long-term risk-adjusted returns, investment decisions necessarily involve the risk of loss of principal. Individual investor circumstances vary significantly, and information gleaned from my articles should be applied to your own unique investment situation, objectives, risk tolerance and investment horizon.
Disclosure: I am/we are long XSLV, SPY.
I wrote this article myself, and it expresses my own opinions. I am not receiving compensation for it (other than from Seeking Alpha). I have no business relationship with any company whose stock is mentioned in this article.