SunTrust Banks (NYSE:STI) fits into that group of regional banks whose main value drivers are operating leverage gains and strong buybacks. So suitable comparators are the likes of Regions (NYSE:RF), KeyCorp (NYSE:KEY) and Comerica (NYSE:CMA).
In some ways, they all face similar challenges due to a similar starting point: here is the relationship of operating costs/income reported by each of them.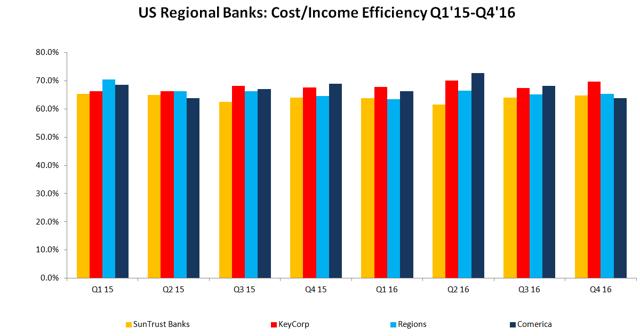 Company Data
Whatever the nuances of the different loan mixes and income structures in these banks, their operating margins tend to be of the same order of magnitude. They are less profitable than the likes of US Bancorp (NYSE:USB), which would show a cost/income ratio of about 54% through the period depicted in the chart above. That means that USB generates a one-third higher operating margin than the sample of banks in the chart, a huge difference for companies operating in a commoditized sector.
So that's where SunTrust fits in. What did we learn about 2016 with the 4Q results and what's the outlook?
The company has a close focus on operating costs control relative to income, and in 2016, it grew revenues 1% faster than costs (with 7% and 6% growth, respectively). This stands out from Regions Financial, which I also wrote about today, where good operating leverage was achieved out of much lower growth. Still, it was SunTrust that enjoyed the stronger growth in pre-provision profit thanks to the top line expansion.

For this we can thank expansion in deposits first and foremost, which were up 7% during 2016. The loan book was OK, growing 5% chiefly driven by commercial lending.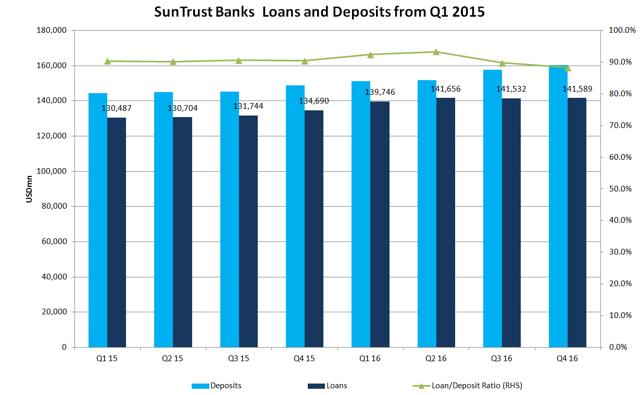 Company Data
Revenue growth favoured net interest income which was up nearly 10% in 2016.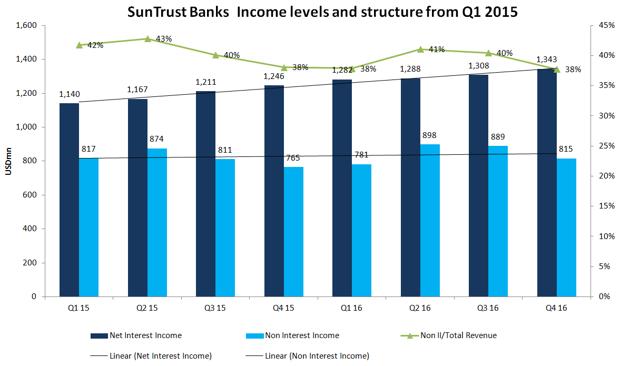 Company Data
This was partly driven by the volume effect from the deposit driven growth of the balance sheet but also reflected the rate hike in December 2015 - below you can see how the net interest margin, NIM, gently lifts over the last couple of years.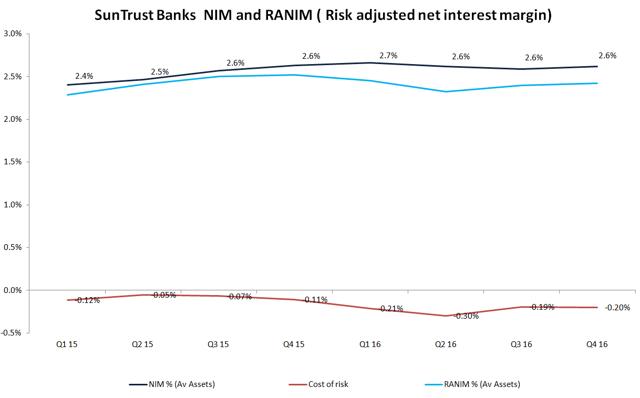 Company Data
You will notice that the rise in NIM occurred into 1Q 2016, with the hike of 4Q 2015 showing quickly, but after that it flattened out. This is due to the stronger growth of deposits relative to loans in the year, which reduced the yield on all assets as the loan/assets ratio is worked down a little. IF we get 2-3 hikes from the Fed, you should see a further 1-15 bps on NIM in 2017, assuming a stable asset mix, with growth of around 7% in total assets. That will get stronger in 2018 as long as Trump has produced a step up in growth and inflation. I expect costs to grow about 100 basis points less than income annually, and while LLP will expand, it will not be enough to derail bottom line growth. In addition, STI's buyback program suggests it will reduce the number of shares by about 3.5% annually (this is obviously subject to the share price).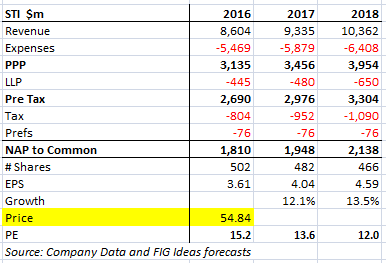 STI comes in as a slightly more attractive value than RF and to my mind some way better than the likes of CMA, and even the great M&T Bank (NYSE:MTB). If we don't get a Trump boost to the economy, I would expect the company to drill down more on costs and further its operating margin that way.
Disclosure: I/we have no positions in any stocks mentioned, and no plans to initiate any positions within the next 72 hours.
I wrote this article myself, and it expresses my own opinions. I am not receiving compensation for it (other than from Seeking Alpha). I have no business relationship with any company whose stock is mentioned in this article.