McDonald's (NYSE:MCD) reports earnings to kick off markets (NYSEARCA:SPY) next week, and investors will be looking for clues as to a read on the global consumer, and economy. Revenue growth for the fast-food behemoth has slipped in recent years as trends shifted towards healthier fast-casual locations. But when Steve Easterbrook took over in March of 2015, the company experienced a turnaround as refranchising efforts took hold. Revenue and sales growth remain problematic, but EPS growth jumped in recent quarters due to restructuring, and what some on the street call financial engineering.
McDonald's is the world's largest restaurant company in the U.S. quick-service restaurant industry. It operated and franchised 36,525 restaurants around the world at the end of 2015. System-wide sales totaled $82.7 billion in 2015, down from $87.8 billion in 2014 and $89.1 billion in 2013. How this turnaround looks on a yearly basis will come to fruition on Monday. Easterbrook's initiatives, including all-day-breakfast, now have a full fiscal year on record, and the street will comb through each segment of the call to get a feel of how this all looks for the long-term.
MCD manages its business as distinct geographic segments, and how these segments performed last quarter can help analysts decide just how strong the global consumer economy appears in this new isolationist era. The company has four reportable segments organized by geographic regions. These are comprised of the United States (U.S.) -- 34% of 2015 consolidated revenues; International Lead Markets (including established markets such as Australia, Canada, France, Germany and the U.K.) -- 30%; High Growth Markets (including China, Italy, Korea, Poland, Russia, Spain, Switzerland and the Netherlands) -- 24%; and Foundational Markets & Corporate (comprising the remaining markets) -- 12%.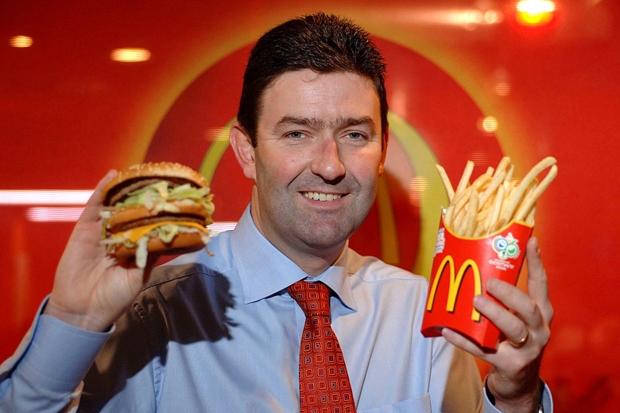 All The Right Moves
When Steve Easterbrook took over at McDonald's, refranchising efforts escalated. Longer-term, from 2015 to 2018, the company outlined plans to refranchise about 4,000 restaurants, with a long-term goal to become 95% franchised (versus 82% franchised by targeted for refranchising over the four-year period from 2015 to 2018). Before the leadership changes, MCD temporarily sputtered to grow revenues, or shareholder value, and sentiment for the stock remained cold. According to Capital S&P IQ, in the five-year period through 2015, the company posted a compounded annual growth rate of 1.1% in revenues and 0.1% in operating income. However, operating margins narrowed to 28.9% in 2015 (versus 30.7% in 2011). Meanwhile, after negative comparable sales in 2014 (down 1.0%), the company returned to positive comparable sales growth in 2015 (up 1.5%), after four consecutive years of positive growth in 2010 (up 5%), 2011 (up 5.6%), 2012 (up 3.1%) and 2013 (up 0.2%).
As far as earnings go, Easterbrook and McDonald's are on a roll with five consecutive quarters of positive comparable sales growth. The restructuring efforts seem to be paying off, despite some currency headwinds and decreasing revenues. Some of the highlights from last quarter include:
Global comparable sales increased 3.5%, reflecting positive comparable sales in all segments Due to the impact of refranchising, consolidated revenues decreased 3% (1% in constant currencies).
Consolidated operating income increased 5% (7% in constant currencies), which included $128 million of previously announced strategic charges, consisting of restructuring and non-cash impairment charges related to the company's global G&A and refranchising initiatives.
Diluted earnings per share of $1.50 increased 7% (9% in constant currencies), which included strategic charges totaling $0.12 per share. Excluding the impact of these charges, diluted earnings per share increased 16% (17% in constant currencies).
Comparable store sales were 1.3% higher in the U.S., in-line with estimates and a solid mark considering the company was overlapping its All Day Breakfast introduction.
Total operating costs and expenses fell 7% to $12.81B.
With operating costs and expenses falling, and higher than industry average comparable sales, Easterbrook and management put the company back on track. MCD returned $3.4 billion to shareholders through share repurchases and dividends. This brings the cumulative return to shareholders to $27.8 billion against the targeted return of about $30 billion for the three-year period ending 2016. In addition, the Company announced a 6% increase in its dividend beginning in the fourth quarter.
Estimates and Valuation
McDonald's expects revenue to slip from last year's quarter, with $6 billion the number to watch for in the call. EPS growth remains intact, and analysts expect this quarter to continue that trend. As mentioned, MCD performed tremendously as far as earnings estimates are concerned, and that streak is on the line Monday.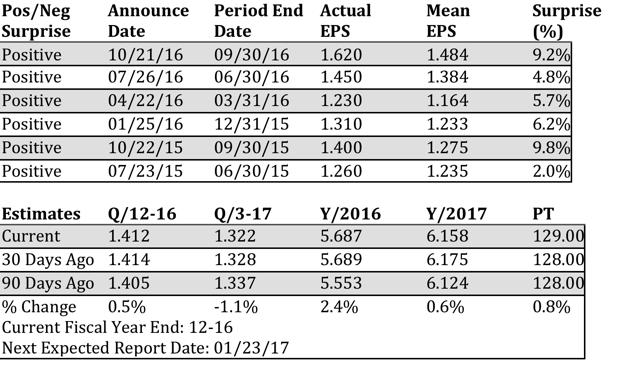 One problem for MCD, revenue growth remains stagnate, and refranchising efforts aside, the company faces headwinds in regards to its brand, and product offering. Fast-food trends remain popular, but the rise of healthy, fast-casual concepts and delivery services illustrate some of the issues the company must address. Not to mention pricing power. Competitors, namely Jack-in-the Box (NASDAQ:JACK) and Wendy's (NYSE:WEN), continually expand menu offerings as well as lowering prices, and McDonald's must keep pace in this race to the bottom. Annual revenue estimates for McDonald's, according to Thomson Reuters.

Valuation numbers come in at the higher-end of historic ranges, which is in line with most of the market, especially after the Trump rally.
PEG = 2.1 5-yr average = 2.3 (7% Discount)
S&P 500 = 1.7 (26% Premium)
P/E trailing = 23.1 5-yr average = 19.8 (17% Premium)
S&P 500 = 24.7 (7% Discount)
P/E forward = 20.4 5-yr average = 18.3 (17% Premium)
S&P 500 = 17.9 (14% Premium)
Keep in mind that S&P 500 earnings estimates come in on the optimistic side, but since the election, corporate earnings have taken a back seat to deregulation speculation. Analysts, and the financial media, constantly remind investors of potential corporate tax cuts, as well as repatriation. How this plays out for franchise-models depends on politics, and the strong dollar (NYSEARCA:UUP), which is another factor to watch for in the coming year.
Bullish Highlights
Of the 32 analysts that cover MCD; 4 rate the stock a strong buy, 9 buys, 18 holds, and only one says reduce, or underperform. Nobody rates MCD a sell, and after years of solid dividend growth we cannot disagree. The mean price target for MCD comes in at $129 per share, with a high of $145 and a low of $110, which means most analysts see about 5% upside in the coming year.
In 2015, revenue declined 7.4%, and future projections include declines of 3% to 9% for the next two years. This outlook reflects the refranchising initiatives, and the impact on revenue. However, operating margin expansion is expected from these initiatives, and some analysts project as high as 32.0% in 2016, and 35.7% in 2017, as opposed to 28.9% in 2015. For better or for worse, McDonald's added significant debt via ongoing share repurchases, as well as reducing book value as a result of the franchising initiatives.
Most analysts point to targeted restructuring-related savings as a boost for margins, and lower beef prices should help offset wage increases. Refranchising efforts should help decrease expenses across the board, but MCD will pay higher interest on the added debt. The target of refranchising 4,000 global restaurants by the end of 2018 will be a major topic of discussion during the call, as well as margin expansion. The multi-year turnaround initiatives seem to be driving the stock, and what Steve Easterbrook and company say on Monday will help set the tone for this earning's season, which promises to provide winners and losers to start the year.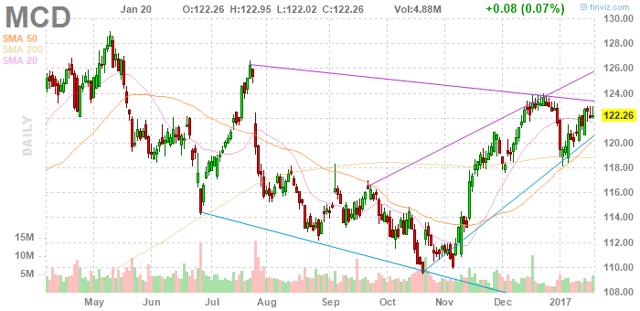 Risks
As far as the stock goes, the turnaround may have peaked earlier this year, and at current valuation levels, the upside feels limited. Global growth concerns, a competitive fast-food landscape, rising wages, and increased debt all contribute to a bearish outlook. A strong dollar creates currency headwinds, and pre-conceived notions of corporate tax-cuts seem priced in when looking at the chart. We don't like dividends financed with debt, and the line between financial engineering and good management seem difficult to gauge. No doubt, MCD is a Trump stock, but now that he's in office, beware of a reversion in sentiment.
At these levels, MCD looks set to slightly underperform in 2017, but remember that streak of positive quarters that Steve Easterbrook and management pulled out of the hat, like magic, or all-day-breakfast. If such an award existed, Steve Easterbrook wins Restaurant CEO of the Year for 2016, regardless of what the company reports on Monday. The past two years, MCD traded on hopes of a franchised turnaround, and the stock price reflects these efforts and accomplishments. However, as markets, and economies, adjust to new global leadership, the game may be changing. Stay tuned.
For everything restaurant including sector news, trends, and insights, check out Market DJ's latest Weekly Restaurant Report: ICR Conference Highlights, Year of the Rooster 2017 Dividend Pick!
Disclosure: I am/we are long WEN.
I wrote this article myself, and it expresses my own opinions. I am not receiving compensation for it (other than from Seeking Alpha). I have no business relationship with any company whose stock is mentioned in this article.
Additional disclosure: This article is intended for information, engagement & entertainment purposes only, and is not meant as investment advice or direction. Shorting stocks can be dark business. Investors are strongly encouraged to perform due diligence and/or consult with their financial advisor.