Back in 2015, when crude oil prices were really suffering, I believed that the fortunes of a number of US oil and gas producers, particularly the smaller shale names, would face a difficult 2016 and beyond if crude prices didn't improve significantly. Sanchez Energy (NYSE:SN) was one of those I was a bit worried about. Sanchez started out as a small-cap producer, but had acquired aggressively in the Eagle Ford shale, seemingly always willing to step in and add acreage when someone wanted to sell and leave.
In 2013 Sanchez bought the Eagle Ford acreage of Hess Corporation (NYSE:HES). In 2014 it picked up Shell's (NYSE:RDS.A) position, moving to what was, at the time, the extreme western boundary of this oil play. And just recently, in a joint action with Blackstone, Sanchez picked up all of Anadarko's Eagle Ford position in its biggest acquisition yet, pushing its acreage portfolio further westward.
Alive and well
Before looking at this acquisition, I want to say that I was wrong in being negative about Sanchez Energy. With 20/20 hindsight, I can say for sure that I underestimated this little company's ability to make the Eagle Ford shale ever more profitable. Few other companies, if any, have bet so big on the Eagle Ford, and over the last five or six years, the Eagle Ford has been the gift that kept on giving. Upstream operators in the Eagle Ford, Sanchez foremost among them, have consistently been able to reduce drilling costs, improve operating economics, and find and develop new acreage.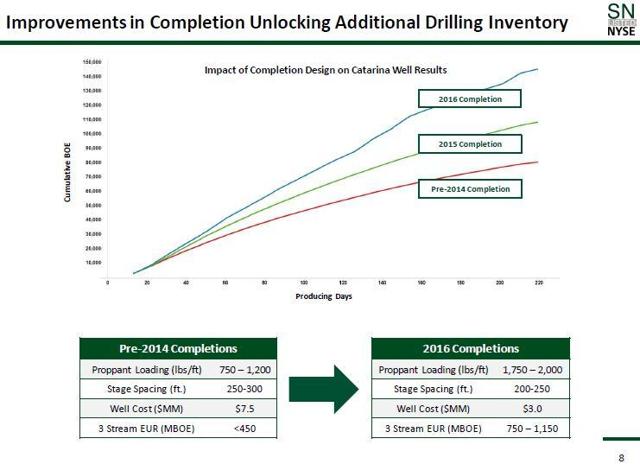 Courtesy of Sanchez Energy Investor Relations.
The above chart is just one example of how Sanchez made the Eagle Ford work. In this case, this chart illustrates the average cumulative production of its wells. Wells in the Catarina acreage, acquired from Shell back in 2014, drilled in 2016 ultimately produce almost twice as much as wells drilled two years ago. Sanchez has amassed a record of picking up acreage in the Eagle Ford that other drillers do not want, and turning it into highly economical drilling inventory. The below chart once again uses Catarina Ranch as an example.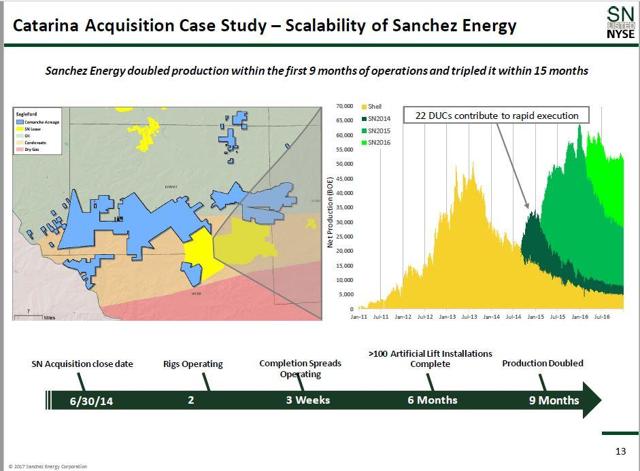 Courtesy of Sanchez Energy Investor Relations
The mass of 'yellow' acreage between Dimmitt and Webb counties is Catarina Ranch. The original acreage holder, Shell, wanted to focus on other priorities at the time and felt that Catarina was too far west from what was then considered the "core" of Eagle Ford, and therefore not worth the company's capital and effort. Sanchez took the acreage off Shell's hands and doubled the production within a year. Thanks to ever-improving well completion techniques and higher ultimate recoveries, today the Catarina acreage delivers a profitable rate of return at today's strip pricing; a very impressive feat.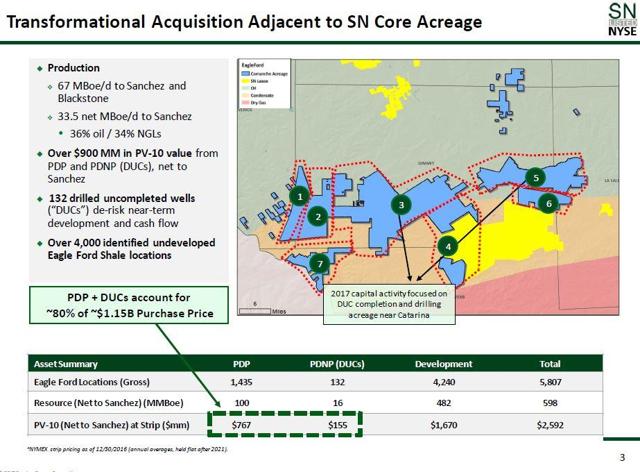 Courtesy of Sanchez Energy Investor Relations.
Now Sanchez is looking to do a repeat performance farther west on Anadarko's former position in the Eagle Ford. Last week the company announced it was making a massive, 30,000 acre acquisition of Anadarko's Eagle Ford position. As the chart above shows, this is a massive acquisition in comparison with Catarina, which was then Sanchez's biggest to date.
The company paid $400 million in cash, and $700 million in senior debt and preferred equity in a deal with GSO Capital Partners. The other half, $1.1 billion, came from the joint venture partner, AcqCo, which was funded and founded by Blackstone Capital Partners.
Sanchez believes this acreage provides 3,400 drilling locations, and will ultimately deliver 67,000 net boe per day to Sanchez, and will be immediately cash flow accretive, thanks largely to over 130 locations which are drilled and not completed.
While this is a big transaction for Sanchez, it is not a particularly expensive or risky one. The proven developed locations, plus the drilled but uncompleted locations' combined PV-10 accounts for 80% of the price Sanchez paid for this acreage. I, for one, am quite confident that Sanchez will turn this acreage around, just like they did with Catarina, and will benefit from economies of scale of both; much of the Comanche acreage is contiguous with the Catarina acreage.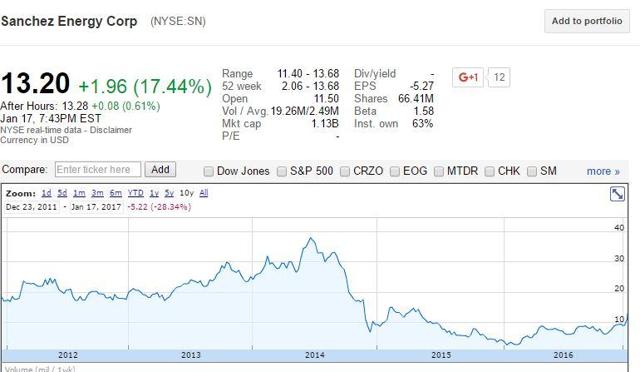 Courtesy of Google Finance.
The market appears to agree that Sanchez will be successful in turning around Anadarko's 'Comanche' acreage. Shares went up 17.4% on the announcement of this acquisition, and shares have been drifting higher since hitting a low of $2.70 back in January. The big, multi-bagging gains were for those brave enough to have invested earlier last year. However, as you can see above, shares are still well less than half of what they were in 2014. Considering Sanchez's track record of turnarounds, I believe this stock could reach its old highs or perhaps go even higher.
Remember, this is still just a company with a $1 billion market cap, but it now has a 200,000+ acre position in the Eagle Ford shale. Once the Comanche acreage reaches its expected production, I suspect that Sanchez be one of the biggest producers in this prolific shale, perhaps competing with ConocoPhillips (NYSE:COP) and BHP Billiton (NYSE:BHP).
If you're interested in Sanchez Energy, feel free to follow me here on Seeking Alpha. I have been following this stock for awhile now, and I intend on writing update articles when doing so is both material and relevant.
Disclosure: I am/we are long SN. I wrote this article myself, and it expresses my own opinions. I am not receiving compensation for it (other than from Seeking Alpha). I have no business relationship with any company whose stock is mentioned in this article.