A dividend aristocrat, Chevron Corporation (NYSE:CVX) holds a unique position among integrated oil companies (NYSE:IOC). It arises by virtue of having substantial assets in US domestic unconventional basins, being in the process of actively exploring and developing the said assets and seeing them as indeed the best in the firm's portfolio. This is important for investors because Chevron has to produce free cash flow to fund its dividend payments, a use of funds the smaller independent oil producers are unencumbered with. This article will explain why Chevron is especially highly levered to the outcome of its Permian operations and is likely to benefit more than its competitors from the ongoing acceleration in the basin.
The Permian basin of Texas and New Mexico is where much of world's visible increases in oil production have taken place in the last six months. From the shareholders' perspective, one advantage is in greater transparency. Instead of sinking tens of billions of dollars into a project over a decade or longer, capital expenditures are followed by production outcomes in less than a year. Inclusive of perhaps two years needed for a comprehensive assessment of production decline, as little as three years is all it takes to determine if the development of a particular area was economically justified. As it turns out, the world's largest oil producers are positioned rather differently with respect to domestic unconventional basins. Some have no operations at all in the lower 48 states. Others boast of a great resource potential yet choose to remain on hold at this time. Chevron distinguishes itself by not only claiming resource potential, but also producing at an increasing rate.
Chevron in the Permian
Locations of Chevron's wells spud since the beginning of 2015 are shown in the following map. In short, the latest developments are everywhere and especially in the best-known counties of the basin. The company's many new wells are in Midland county, Texas - right where a Midland basin specialist Pioneer Natural Resources (NYSE:PXD) operates. Chevron also has well clusters in Culberson county as well in New Mexico's Eddy and Lea counties alongside its joint venture partner Cimarex Energy Co. (NYSE:XEC) and Delaware basin-focused Concho Resources (NYSE:CXO). Wells are also found in Reeves county that featured in a recent Noble Energy, Inc. (NYSE:NBL) acquisition of Clayton Williams Energy (NASDAQ:CWEI).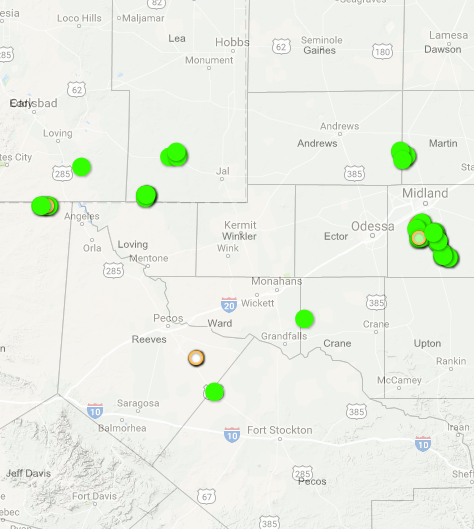 Source: WellDatabase
Quantitatively, Chevron's Permian production approaches 150 MBoe/d, or just under 6% of its worldwide total. This is the greatest output in the Permian of any IOC.
It is however the growth rate that sets Chevron apart from its IOC competitors Exxon Mobil Corporation (NYSE:XOM), Royal Dutch Shell plc (NYSE:RDS.A) (NYSE:RDS.B), BP p.l.c. (NYSE:BP) and TOTAL S.A. (NYSE:TOT). As of Q3 2016, Chevron's Permian output grew 24% YoY and was "expected to reach 250,000 to 350,000 barrels per day" by the end of 2020. This growth rate is on par with those of Concho, Pioneer and EOG Resources (NYSE:EOG), all of which are much smaller than Chevron.
Chevron's growth came about as a result of a massive rig deployment. Only four rigs were drilling at mid-year 2016. Following about one rig being added per month in the second half of the year, the company expected to end 2016 with ten rigs on operated and another ten on non-operated acreage. Among 264 rigs in total seen in the Permian at year-end, 20 Chevron-affiliated rigs were indeed a highly visible portion.
The Permian asset is so good, Chevron has to temper analysts' enthusiasm
The Permian and the Tengiz expansion are two most important areas Chevron is funding at this time. At $10 finding and development cost per barrel, Permian resources are the cheapest, to the point that "the Permian is going to take market share from the rest of [ Chevron's ] portfolio". During Q3 2016 earnings conference call, questions were raised by multiple analysts as to why the company would invest anywhere else. Glossing over some important details, the answer was that Chevron does not "want to be just a single asset company" - a testament to superb quality of the firm's Permian acreage
Continued growth in 2017 is expected to be supported by the ample budget for capital expenditures:
We are spending presently in the area of about $1.5 billion annually across both the Company operated and our non-operated joint venture programs.
...
We are spending $1.5 billion here, and you can see us potentially doubling that.
It is one thing for a much smaller oil producer such as Abraxas Petroleum (NASDAQ:AXAS) to announce the plan "to nearly double 2017 capex to $110M". The impact will differ dramatically if Chevron does go ahead and double its Permian CapEx. The rise in Chevron's production might actually become a visible increment in the domestic production this year.
Where Chevron's competitors stand
Exxon Mobil's unconventional development is found in nearly every basin, with particular prominence in Bakken, Marcellus, Haynesville, Permian and Eagle Ford. Of these, the Permian used to play a relatively minor role. For example, the company's operated production in the Bakken is double that in the Permian. Exxon has set on a new course just a few days ago with the acquisition of assets in northern Delaware basin. While it would theoretically be possible to start deploying rigs in months to the newly acquired acreage and to commence new production in as little as half a year, Exxon's methodical and typically slower approach will probably result in a much longer delay before production growth is seen.
ConocoPhillips: "We Have a Shiny Object, Too" - how about developing it?
While not an integrated oil company, ConocoPhillips (NYSE:COP) deserves a look here as well as the largest independent exploration and production company, with its daily production of 1,540 MMBoe/d comparable to that of smaller IOCs. It holds acreage in Bakken, Niobrara, Permian and Eagle Ford. Among these, most current production appears to be in Eagle Ford and Bakken. The Permian is relatively small in comparison.
By production, the company derives 30 MBoe as of Q3 2016, or 2% of worldwide total, from Midland and Delaware basins combined. This is notably less that Exxon's 3.5% and Chevron's 5.7%. The company holds 163,000 net acres in the Midland basin and 75,000 in the Delaware basin. Most of the Permian acreage is in "NW Shelf and Central Basin Platform", outside of Midland and Delaware basins commonly taken to comprise the Permian. Overall, the company's Permian assets are sizable but largely undeveloped, with the jury still out on their quality. In terms of CapEx, while 2017 will see a reduction YoY, the amount allocated to Lower 48 is expected to grow 20-25%. Oddly enough, Lower 48 production is anticipated to see a decline in 2017.
Shell just isn't into shales
Royal Dutch Shell plc takes an odd position on the Permian. On the one hand, Bloomberg quoted Shell CFO as saying that some of its "assets in the Permian area are profitable below $40 a barrel". On the other hand, the firm's 2015 Investor Handbook as well as recent quarterly presentations draw attention away from US unconventional basins, as the company is "minimising our spending in these plays".
Shell's production in "America's shales" is on the face of it quite respectable, at around 250 MBoe/d. The problem is where this production is derived from. Shell's presentations identify Appalachia and Haynesville natural gas basins, with the Permian
liquids production of most 1/4 of total oil-equivalent output. In other words, besides being primarily in areas that produce only natural gas, Shell's holdings even in the Permian are in relatively gassy parts of the basin.
Shell holds "280k net acres" in the Permian, a sizable figure comparable to Exxon's holdings after its recent Permian purchase. Yet in the scenario of $60 oil in 2019-2021, the company sees its shale holdings yielding zero free cash flow and a below 5% return on average capital employed (ROACE), falling far behind its other opportunities. The firm earned 8% average ROACE in 2013-2015 and is aiming at 10% in 2019-2021.
One possible explanation for the Permian's low rank is that the firm's acreage is not very good. To quote its 2015 Investor Handbook,
We have substantial acreage positions in shales basins in North America and Argentina. Today, we are minimising our spending in these plays, and working to reduce the economic breakeven point and delineate the geological sweet-spots, ahead of potentially more significant growth spending after 2020.
BP and TOTAL: not even trying to compete
The focus of BP p.l.c. in the US is on natural gas, with even the break-even prices stated in terms of the Henry Hub benchmark. Its activities as an operator are very limited. For example, its involvement in Eagle Ford is non-operated. It seems that the company has little to do with drilling for oil in the lower 48 states, and nothing to do with the Permian.
TOTAL S.A. has no operated unconventional production in the US. Indeed, the company's map of recent, 2015-2016 and future, 2017+, project start-ups is notable for the absence of projects anywhere in the country. TOTAL's only domestic engagement pertains to LNG and is in Floating Storage Regasification Units in the northeast.
Conclusion
The Permian as a driver of earnings is more important to Chevron, at nearly 6% of its worldwide production, than it is to Exxon Mobil (3.5%) and ConocoPhillips (2%), let alone Shell, BP and TOTAL which will realize no or next to no benefit in the basin in the next several years. As a dividend aristocrat, Chevron does not play the game of repeated public share offerings intertwined with production growth and full reinvestment of incoming cash flows into CapEx. Free cash flow generation is paramount. As a result, examining the company's production and investment plans offers insights about the Permian's true potential.
On the other hand, if it turns out that prolific spots in the basin are more limited than previously hoped, Chevron is unlikely to grow its operations in the basin simply to show more growth, as this is not why many investors buy or hold the shares. In such a scenario, a failure to increase Permian CapEx might be seen. A large stake in the basin alongside with the focus on the free cash flow rather than just growth is what makes Chevron a particularly interesting company to watch as an indicator of the Permian's true worth - a canary in the Permian.
Note from the author: Thank you for reading. If you like this article, please follow me by clicking the "Follow" link at the top of this page and choosing "Real-time alerts on this author" to be informed of my latest ideas.
Disclaimer: Opinions expressed herein by the author are not an investment recommendation and are not meant to be relied upon in investment decisions. The author is not acting in an investment, tax, legal or any other advisory capacity. This is not an investment research report. The author's opinions expressed herein address only select aspects of potential investment in securities of the companies mentioned and cannot be a substitute for comprehensive investment analysis. Any analysis presented herein is illustrative in nature, limited in scope, based on an incomplete set of information, and has limitations to its accuracy. The author recommends that potential and existing investors conduct thorough investment research of their own, including detailed review of the companies' SEC filings and consult a qualified investment advisor. The information upon which this material is based was obtained from sources believed to be reliable, but has not been independently verified. Therefore, the author cannot guarantee its accuracy. Any opinions or estimates constitute the author's best judgment as of the date of publication and are subject to change without notice. The author explicitly disclaims any liability that may arise from the use of this material.
Disclosure: I/we have no positions in any stocks mentioned, and no plans to initiate any positions within the next 72 hours.
I wrote this article myself, and it expresses my own opinions. I am not receiving compensation for it (other than from Seeking Alpha). I have no business relationship with any company whose stock is mentioned in this article.