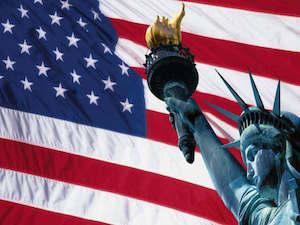 President Trump shocked many by sticking to his populist theme during his inaugural speech. I don't think very many people sitting near him were comfortable as he put down the Washington establishment ­- both Democrats and Republicans­ - and promised to return the country back to the people. I loved it.
Even if you don't agree with the Trump agenda, you had better listen and invest accordingly! Investing by looking through the windshield rather than glancing back at the rear-view mirror, which is a phrase Mario Gabelli borrowed from me in Barron's this weekend. He is a frequent reader of our blog as we go back decades to a time when we were research analysts. In short, emphasize those areas that will gain government support over the next few years and sell/short those areas where the government will be in your face or where earnings growth will just be moderate.
Trump clearly has a reflation agenda with an objective of exceeding 4+% annual growth. Looking through that windshield/agenda includes: cutting taxes; reducing regulations; improving or replacing trade deals; instituting a huge infrastructure program to rebuild America; repeal and replacing Obamacare; cutting out waste, fraud and reducing government expenses through negotiation of all government contracts for goods and services including lowering drug costs; strengthening our national defense and police; controlling our borders and finally making the U.S. energy independent.
It is an aggressive, admirable and broad agenda. Unfortunately the establishment will put up roadblocks along the way. Nonetheless I do believe that Trump and his team will get most of his agenda "To Make America Great Again" passed into law over the next 18 months. "America First" will not remain a sound bite. We will see U.S. corporations redirect much of their capital spending back into the U.S. and foreign companies to do the same thing. What a boon for America!
America is open for business once again and the investment ramifications are huge. Expect Trump to act with a sense of urgency on all parts of his agenda. He will do more over the next 90 days than most new Presidents do in a year. Whether all becomes law so quickly is another matter but the trend is your friend.
Just don't invest based on your beliefs, as they don't truly matter as he is now in control. Just ask George Soros, my former partner. We should all want Trump to succeed as he is attempting to unleash our true and latent potential heretofore held back by government.
So what are the investment ramifications of a Trump Presidency?
Global economic growth will accelerate over the next few years with the U.S. leading the way. Expect reflationary policies to spread to Europe, Japan and India. China will benefit, too, from acceleration in U.S. demand.
Monetary policy will remain one step behind, so expect yield curves to continue to steepen. Did you listen to Mario Draghi last week? Clearly the ECB wants to let the European economies run before tapping on the brakes. Yellen and the Fed will wait and see too.
Inflation will accelerate as both material and labor prices rise offset finally by improving productivity. Employment will continue to increase along with hourly wages.
Corporate profits will surprise on the upside and accelerate as we move through the year even excluding a reduction in the corporate tax rate, which is icing on the cake.
Corporations will repatriate trillions of dollars held overseas that will be invested here and also be used to strengthen balance sheets, increase dividends and share repurchases.
M & A activity will strengthen as will the IPO market.
The stock market will reward the reflation winners including industrials, materials, financials, technology and energy and sell the moderate growth, higher yielding stocks including consumer non durables, staples, drugs as price increases come into question, REITs, and utilities.
The dollar will remain strong despite Trump's comments that it is overvalued near-term.
Energy prices will stay within a $50-$60/barrel band as U.S. shale production ramps up quickly.
Industrial commodity prices will continue to increase as demand exceeds supply and inventory levels decline. Expect trade disputes to be acted on quickly, which will benefit the steel and aluminum industries among others.
Clearly the pendulum has begun to swing back from left to the right. Government will no longer be an impediment to economic prosperity. Trump's policies will be clearly "America First" which is not all that bad in response to past policies where the U.S. lost its global leadership position and respect. Will there be disruptions and disappointments along the way? Of course as it does not help that the establishment and the media want him and his policies to fail. But I expect that he will win in the end, despite all the naysayers.
The U.S. has embarked on a new path that will lead to Paix et Prospérité.
So remember to: review all the facts, pause, reflect and consider mindset shifts, reconsider your asset allocation with risk controls, do in-depth independent research on each investable idea and...
Disclosure: I/we have no positions in any stocks mentioned, and no plans to initiate any positions within the next 72 hours.
I wrote this article myself, and it expresses my own opinions. I am not receiving compensation for it. I have no business relationship with any company whose stock is mentioned in this article.