The Alpine Total Dynamic Dividend Fund (NYSE:AOD) is a global equity closed-end fund with $983 million in assets under management. The primary objective of the fund is to provide current dividend income with a secondary objective of long-term growth of capital.
Alpine uses a multi-cap, multi-style approach looking for the best dividend opportunities around the globe. The fund combines the following four research driven investment strategies to maximize the amount of distributed dividend income and to identify companies with the potential for dividend increases and capital appreciation:
Growth
Value
Special Dividends
Dividend Capture Rotation
When looking at the past performance history of AOD, it is important to realize that the fund introduced a new team approach to portfolio management in December 2012 and brought in two new portfolio managers to lead the team - Joshua Duitz and Brian Hennessey. The previous two portfolio co-managers were removed from the team.
When you look at the long-term performance, AOD went through a "rough patch" from 2010 through 2012, but relative performance has improved since 2013.
Another positive change since the new managers have taken over is a sharp reduction in the portfolio turnover rate (because of less aggressive use of the dividend capture strategy). The portfolio turnover rate was only 98% last year compared to the earlier years of AOD when the dividend capture strategy was used much more aggressively and the portfolio turnover rate was often above 400% and even reached 653%.
Here is the total return NAV and price performance record of AOD since 2008 compared to the MSCI ACWI world index. Note that relative performance has improved since 2013.
| | | | |
| --- | --- | --- | --- |
| | AOD NAV Performance | AOD Price Performance | MSCI ACWI |
| 2008 | -52.65% | -55.78% | -45.53% |
| 2009 | +28.04% | +79.28% | +41.45% |
| 2010 | +7.45% | -22.55% | +11.15% |
| 2011 | -15.07% | -16.44% | -13.71% |
| 2012 | +8.37% | +6.94% | +16.83% |
| 2013 | +18.59% | +13.38% | +15.29% |
| 2014 | +7.45% | +9.61% | -3.87% |
| 2015 | +1.71% | -1.89% | -5.66% |
| 2016 | +5.55% | +8.35% | +4.50% |
| YTD | +2.31% | +3.53% | +2.49% |
Source: Morningstar
Tax Loss Carry Forwards
If you own AOD in a taxable account, there is a potential tax advantage offered by tax loss carry forwards because of its prior period of poor performance from 2007 to 2012. If we experience a strong bull market period, this would reduce future capital gains taxes.
As of October 31, 2016, the fund had available for tax purposes unused capital loss carryovers of:
$896,144,160, expiring on October 31, 2017
$342,916,726, expiring on October 31, 2018
$24,530,686, expiring on October 31, 2019
Alpha is Generated by High Discount + Distributions
The annual distribution rate of 8.86% along with the 14.77% discount allows investors to capture alpha by recovering a portion of the discount whenever a distribution is paid out.
Whenever you recover NAV from a fund selling at a 14.77% discount, the percentage return is 1.00/0.8523 or about 17.3%. So the alpha generated by the 8.86% distribution is computed as:
(0.0886)*(0.173)=0.0153 or about 1.53% a year in discount capture alpha.
This is more than the 1.16% annualized baseline expense ratio, so you essentially get the fund management for free with a effective expense ratio of -0.37%. Note that this discount alpha capture occurs even if the current discount remains, as long as the fund keeps paying out at the same managed distribution rate.
Share Repurchase Plan
In 2013, the Board announced a new share repurchase plan where the fund may purchase shares in the open market at the discretion of the portfolio managers. During the year ending October 2015, the Adviser purchased 1,020,827 shares at an average discount of 14.30%.
Unfortunately, in the year ending October 2016, there were no shares repurchased under the plan. But there is a good chance the repurchases will be resumed if the discount stays consistently above 15%.
Here is a three-year history of the AOD discount from CEF Connect: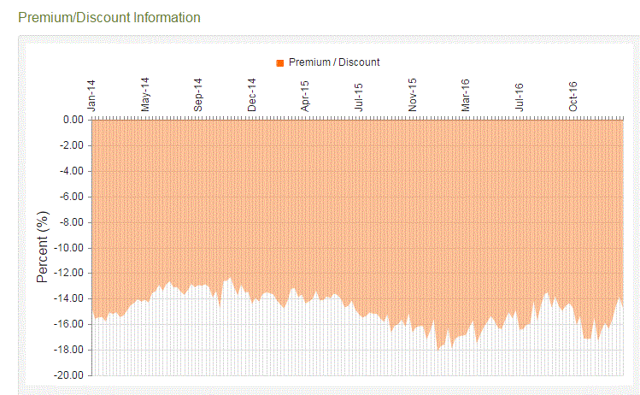 The AOD portfolio is global with the following sector, asset and regional allocations as of December 31, 2016: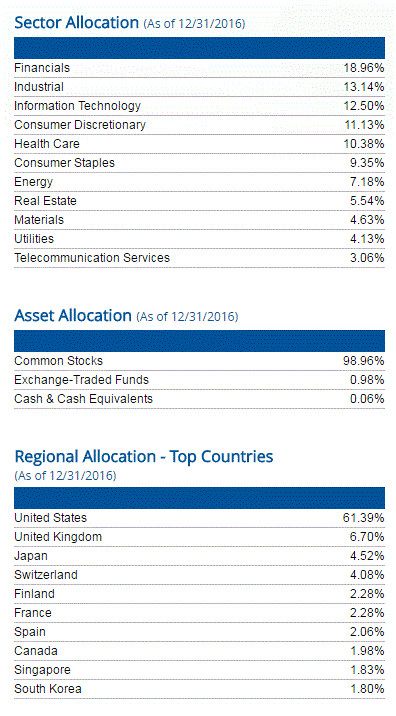 The top ten portfolio holdings on December 31, 2016: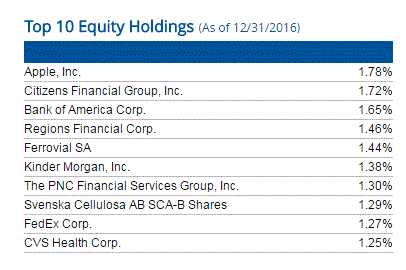 Alpine Total Dynamic Dividend Fund
Pays monthly distributions
Total Assets = 983 million
Last Monthly Distribution = $0.0575
Annual Distribution = $0.69
Annual Distribution (Market) Rate = 8.86%
Fund Expense Ratio = 1.15%
Discount to NAV = -14.77%
Portfolio Turnover Rate = 98%
Average 3-month Daily Volume = 524,477
Average Daily Dollar Volume = $4 million
No leverage used.
AOD is currently a good way to get exposure to global equities. It is liquid and easy to purchase. The best time to buy it is when the discount is 15% or higher. I would consider selling if the discount dropped to 10% or less.
Disclosure: I am/we are long AOD.
I wrote this article myself, and it expresses my own opinions. I am not receiving compensation for it (other than from Seeking Alpha). I have no business relationship with any company whose stock is mentioned in this article.