Gold is rising, yet is too expensive for the casual investor. Silver, on the other hand, is much cheaper and can be bought in bigger volume. Silver is also correlating with gold making it an excellent alternative investment with an inflation hedge. Incredible as it may sound, this year iShares Silver Trust (NYSE: SLV) has outperformed SPDR Gold Trust (NYSE: GLD) pushing 10.96% higher in returns. With three expected interest rate hikes from the Federal Reserve, will likely push the inflation rate higher. The consumer price index continues to rise reaching new highs. Historically the consumer price index has been increasing and this year has grown 3.092 points.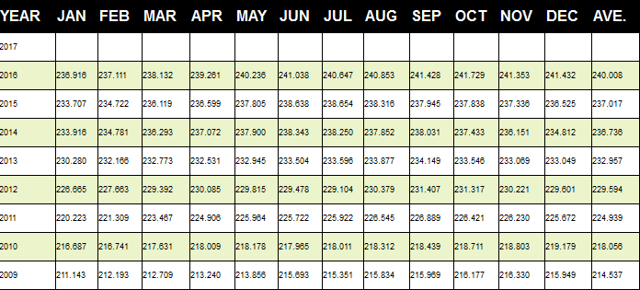 I recently posted an article on GLD giving my basis on why I think GLD is a great long-term buy. With inflation rates expected to rise, GLD becomes an excellent candidate for an inflation hedge. Additionally, SLV is an even better candidate for an inflation hedge due to silvers heavy use in the industrial industry. So far GLD has risen roughly seven dollars since I posted. While GLD has potential, it's high price hinders the ability for an investor to take on a large volume of shares. Since SLV has provided better returns than GLD in 2016, we can safely say that SLV is a better pick all around. Not only is it cheaper, but you can receive a better return.
Correlation between SLV and GLD
Correlation is necessary for this investment analysis as my supporting basis is that GLD will continue to rise during inflation hikes and market corrections while SLV follows its lead. With most market indices near highs, we can expect a market correction to happen in 2017. So far the markets have already been consolidating while inching lower from highs. The correlation coefficient between the two ETFs is 0.8999 for the last four years, making it an extremely high correlation relationship between the two. The relationship should speak loudly to gold investors as a cheaper alternative to GLD with very similar price action. Plotting both ETFs on charts to compare sheds more light as to how they have been trading amongst each other.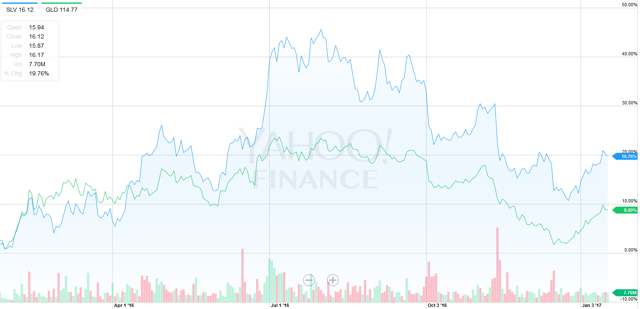 Correlation is not enough to form a sound investment strategy. The fundamentals and actual precious metal bullion also need to be inspected to see whether the ETF funds are on par with its real source. I am more concerned about how real silver metrics have been performing, such as segmented supply, demand, and mining production.
Silver Mining Production and Surplus/Deficit Numbers
Out of all silver ETF holdings, SLV holds the most. Silver demand is continuing to see an increase while supply holds steady causing real silver to rise in price due to the current deficit. We think that silver's deficit will continue to widen its spread between supply and demand which ultimately will cause silver to continue to rise. The outperformance of SLV to GLD could substantially be due to this reason alone. Silvers demand for industrial use continues to see a rising trend with no sign of stopping. The request for silver will push higher with solar energy technology and consumer use becoming more prevalent throughout the years. Silver's use in photovoltaic's is necessary for solar panels to work. Solar panels are becoming more of a household product in the past couple of years, and looks to continue to grow with innovations and policies that are helping boost the solar sector. Just about all uses of silver have increased in demand while supply is having a tough time catching up. Silver mining production has also seen a rise but not enough to satisfy the needs of the market. Lastly, as silver increases in price, so will its industrial cost which in effect will increase prices pushing inflation even higher.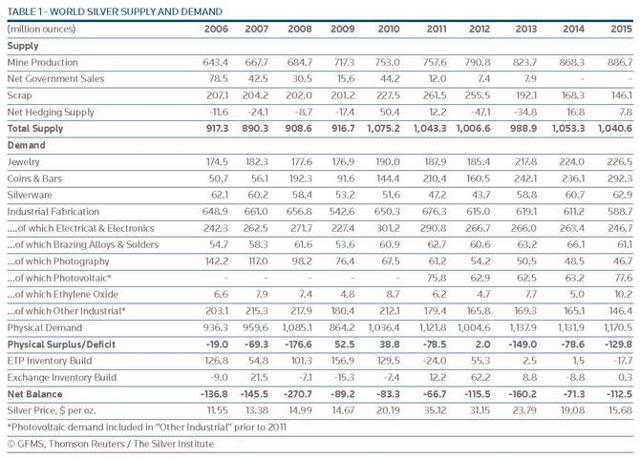 Technical Analysis and Execution Plan
At the beginning of 2016 SLV was coming off its lows at $13.05. Since then, SLV has disengaged from its lows pushing to highs of $19.71 in August. So far it has pushed back to a support level of .236 based on the Fibonacci retracements. Since then it has bounced off support and is looking to continue to rebound. The most important Fibonacci levels to watch are .236, .5, .618, and 1.618. The first three levels involve a support and resistance that the stock must go through. The 1.618 level is a potential target level which sits at $23.74.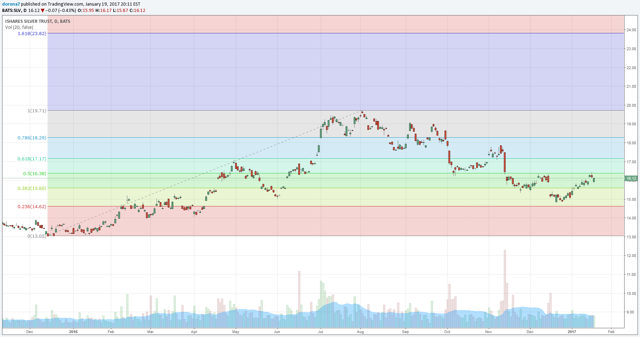 An entry level for SLV would be $16.44 just above the previous selling candle. The reason for the entry lies deeper than the surface. The last red candle signifies a group of sellers. If the price eventually pushes higher than where the selling began, we could expect a breakout near our entries due to possible covering above previous selling levels. Secondly, it's right above the closest resistance level on the Fibonacci retracements of .5.
The two stop levels are $14.61 which is the .236 level on the Fibonacci retracements and $13.04 which is the bottom of SLV at the near end of 2015. I believe targets should be spread out for SLV to take advantage of a bigger move. The first potential target area is near its 2016 highs at $19.71. The second target is anywhere from $21 to $23. Besides a technical point of view for targets, with increased demand for silver, we should see an overshoot regarding price value on SLV in the future. The tighter stop provides a much better risk to reward scenario of around 3.07 while the lower stop provides a 1.8 risk/reward scenario.
Closing Argument
Keep in mind that this is not only a cheaper alternative but can continue to outperform GLD in 2017, allowing for greater returns on an equal amount invested. My opinion tells me that this market is a bit artificial. I don't think the market merits to be at highs while neglecting the fact that our countries deficit has only increased. Too many moving parts and uncertainties continue to plague the market, and I believe the market to be overextended. With this said, I can still see the market make one last push higher, as investors begin to form decisions on President Trump's economic strategy and position.
Disclosure: I/we have no positions in any stocks mentioned, and no plans to initiate any positions within the next 72 hours.
I wrote this article myself, and it expresses my own opinions. I am not receiving compensation for it (other than from Seeking Alpha). I have no business relationship with any company whose stock is mentioned in this article.