Well this is rich.
OPEC and non-OPEC producers met on Sunday in Vienna in the first of what will apparently be monthly gatherings aimed at "monitoring" compliance with the celebrated production cut agreement(s).
Needless to say, these will be farcical affairs akin to mafia sitdowns. The rackets will be discussed. Everyone will know good and well that everyone else is cheating (muscling in on each other's territory whenever circumstances permit). Still, the heads of the families will all smile and laugh, knowing that even though they're all screwing each other, as a group they're screwing the rest of the world and that's all that counts at the end of the day.
Of course like any good cosa nostra powwow, they'll be two families who are, for whatever reason, at each other's throats and one of those two families will be tacitly supported by another family that pretends like they're a neutral party. Saudi Arabia and Iran are the warring families and Russia is the sneaky third party that figures maybe the tide is turning in the turf war (Iran has solidified the Shiite crescent with Tehran's victory in Syria) so now is the time to get on board with the family that, while an underdog now, may ultimately emerge as a dominant player.
Bloomberg is lit up with headlines from the meeting and rather than try and weave them into some painfully long paragraph, I'll do you a favor that most other people who'll invariably write about this same meeting won't do. I'll just show you what you'd see if you had a terminal.
Allow me a quick aside to preach a bit on your behalf. I want to point out something I think is important before I give you the bullet points from the meeting. I'm a big believer in reducing information asymmetry in markets. Retail money is at a near hopeless disadvantage when it comes to both the sheer amount and quality of information and the speed with which that information is delivered. When you look at the list of bullet point headlines from Sunday's OPEC/non-OPEC meeting laid out below, consider that this is not some list of headlines from all of last week that I've spent hours compiling. All of these crossed in the space of just 45 minutes on Sunday morning and are basically delivered in real time:
VENEZUELA OIL MINISTER: OPEC COMPLIANCE IN CUTS IS ABOUT 80%
VENEZUELA SAYS HAS CUT HALF OF WHAT PROMISED IN OPEC DEAL
OMAN OIL MINISTER SAYS SAYS OPEC AGREEMENT GOING VERY WELL
VENEZUELA'S COMPLIANCE W/ OPEC CUTS IS ABOVE 70%: MINISTER
KUWAIT OIL MINISTER: CONFIDENT ABOUT SUCCESS OF OUTPUT CUT DEAL
RUSSIA SAYS MOST COUNTRIES MEETING OBLIGATION OF OUTPUT CUTS
SAUDI ENERGY MINISTER: COMPLIANCE WITH OUTPUT CUTS `GREAT'
SAUDI ENERGY MINISTER SAYS `SATISFIED' WITH OUTPUT CUTS
VENEZUELA OIL MINISTER: OUTPUT WAS 2.23M B/D OF OIL END-DEC.
SAUDI ENERGY MINISTER: MARKET ON WAY TO REBALANCE
SAUDI ENERGY MINISTER HOPES FOR 100% COMPLIANCE IN CUTS IN FEB
RUSSIA'S ENERGY MINISTER: ALL RUSSIAN COS FULFILLING OIL CUTS
FALIH: OPEC, OTHER PRODUCERS TO PUT MECHANISM TO MONITOR CUTS
RUSSIA'S ENERGY MINISTER: RUSSIA'S OIL OUTPUT 11.15M BBL/DAY
FALIH: SAUDI ARABIA OIL OUTPUT SLIGHTLY BELOW 10M B/D
FALIH: WE HAVE INFORMED CUSTOMERS OF CUTS IN FEBRUARY
FALIH: SAUDI ARABIA OIL OUTPUT TO STAY BELOW COMMITMENT LEVEL
OPEC MONITORING C0MMTEE TO ASSESS OIL OUTPUT, EXPORTS: MARTINEZ
RUSSIA'S ENERGY MINISTER: NO OTHER NATIONS TO JOIN OUTPUT CUTS
FALIH: NO REASON FOR LONGER, BIGGER REDUCTION
RUSSIA'S ENERGY MINISTER: POSITIVE ABOUT OIL DEMAND GROWTH
FALIH: INVENTORIES WILL BE REDUCED BY 300K B/D BY MIDYEAR
FALIH: EXTREMELY SATISFIED BY IRAQ DECLARATION ON OUTPUT CUTS
RUSSIA'S ENERGY MINISTER: NO PENALTIES IF OUTPUT CUTS NOT MET
FALIH: IRAQ COMMITTED TO OIL OUTPUT CUTS
FALIH: OUTPUT CUTS AGREEMENT BASED ON PRODUCTION
FALIH: U.S. IMPORTANT MARKET FOR ENERGY
FALIH: SAUDI ARABIA TO WORK CLOSELY WITH U.S. ADMINISTRATION
KUWAIT OIL MINISTER SEES MORE BULLISH SENTIMENT IN MARKET
KUWAIT: OIL MARKET SHOWS SIGNS OF CONTANGO TO BACKWARDATION
KUWAIT: OIL MARKET SHOWS SIGNS OPEC DEAL IS ON RIGHT PATH
KUWAIT: OIL CUTS MONITORING COMMITTEE TO MEET MONTHLY
KUWAIT OIL MINISTER CALLS ON MORE PRODUCERS TO JOIN OTUPUT CUTS
SAUDI OIL MINISTER HOPES OUTPUT CUTS TO SOON RESOLVE DOWNTURN
FALIH: OUTPUT CUTS DEAL SETS PLATFORM FOR LONG-TERM COOPERATION
FALIH: OIL CUTS DEAL IMPORTANT DRIVER FOR ECONOMIC STABILITY
FALIH: OPEC, NON-OPEC CAN BRING STABILITY TO OIL MKT
FALIH: THROUGH SHARING DATA, ANALYSES, WE CAN REDUCE VOLATILITY
FALIH: SAUDI HAS UNWAVERING COMMITMENT TO OUTPUT CUTS DEAL
FALIH: WE THINK OUTPUT CUTS DEAL WILL REBALANCE MKT IN 6 MONTHS
NOVAK: OUTPUT CUTS DEAL LED TO LOWER VOLATILITY OF PRICES
NOVAK: OIL OUTPUT CUTS DEAL LED TO HEALTHIER DEMAND AND SUPPLY
NOVAK: OIL MARKET BECAME STABLE, PREDICTABLE AFTER OUTPUT CUTS
NOVAK: COUNTRIES MAKING UTMOST EFFORTS TO COMPLY W/ OUTPUT CUTS
NOVAK: RUSSIA IS COMMITTED TO OIL OUTPUT CUTS AGREEMENT
NOVAK: RUSSIA IS GOING AHEAD OF SCHEDULE OIL OUTPUT CUTS
Yeah. So if US markets were open, the pros would get those delivered in real time as the key players speak and what the vast majority of the people reading this would get is some kind of watered down summary from Reuters about an hour or two later. How is that fair?
Anyway, that's the bullet point summary of what the producers said (obviously Falih equals Saudi Arabia and Novak equals Russia) and it can be summed up with one visual: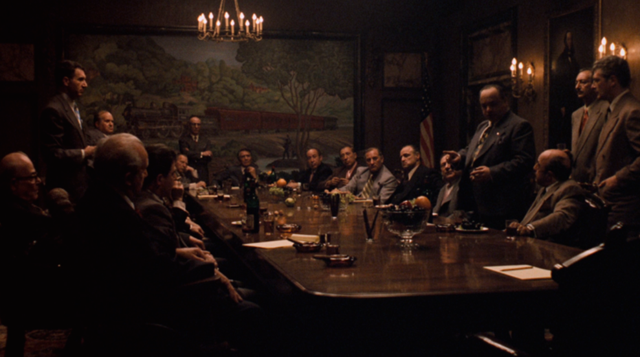 (Film credit: The Godfather)
It's 6:30 a.m. EST as I write this and as such, I don't want to get too far into the weeds here. So, I'll just emphasize three important points and then wrap it up.
First (and I've said this a thousand times), oil (NYSEARCA:USO) prices depend on what OPEC says and does. This story you always here about "oh, well demand is picking up and that means the market will balance, which means..." - and on and on - is nonsense. Demand will fluctuate and it may well be on the rise, but that doesn't matter when supply is dictated by a cartel. Let's say that tomorrow, the demand for M&Ms skyrockets 200%. Does that mean the price of M&Ms is going to rise commensurately? Well, not if Mars decides to produce 500% more multi-colored chocolate candy.
"It is far too soon to see what level of compliance has been achieved," the IEA said last week in its monthly report, adding that "the market awaits the outcome of the output deal."
There you go. There's no need to overanalyze this.
Second, OPEC is Saudi Arabia for all intents and purposes and the Saudis have a lot more on their mind than Riyadh's budget gap. The Saudis have ready access to debt markets if they need to plug holes created by falling crude prices. So if they should decide that there's a geopolitical advantage to be had from driving prices lower again (e.g. making sure Iran doesn't get too rich too fast) then by God they're going to drive those prices lower.
Consider that by allowing prices to rise, the Saudis are effectively funding Iran's efforts in Syria and Yemen. Those are both proxy wars between the Saudis and the Iranians. Note that there's an asymmetry here. The Saudis don't need rising oil prices to fund their proxy armies in Syria or the effort in Yemen. They can borrow. The same isn't true for Iran (much more here for those interested).
And there are other factors at play. Here are some excerpts from a Bloomberg article out Sunday (my highlights):
OPEC's big drama may well be just a one-act light opera. Saudi Arabia's oil minister Khalid Al-Falih says it may not be necessary to extend the deal reached by the group and some non-member nations to cut oil supply by around 1.8 million barrels a day beyond its initial six months.

It turns out that, as the deal was being thrashed out, Saudi Arabia was enjoying a 35-year high in total oil exports. One big factor was a huge drop in the amount of oil the country needs to burn to generate electricity.

Saudi oil usage has dropped as natural gas replaces around a third of what it uses for power generation.

In addition, the kingdom cut fuel subsidies, pushing down oil consumption by 2 percent year-on-year in the first eleven months of 2016.

This left Saudi Arabia with an embarrassment of riches as the OPEC negotiations were underway last year. Unless it cut output, it would start flooding the market during the first half of 2017. The stars were aligned for it to solve the problem by persuading others to share the burden in a way that has not been seen since the financial crisis of 2008, while at the same time restoring its credentials as a team player within OPEC.

We really don't know, and never will, what the true Saudi motivation for agreeing to production cuts was or is. But this new read on the Saudis' motivations for agreeing to the deal has the benefit of explaining why Al-Falih is looking for a six-month time line. Its surplus will have disappeared by that time, at which point it can start to boost production again in order to get exports back to the level it wants to maintain.

Such a move could easily be the catalyst for the whole deal to fall apart by June. And there's no way the global backlog of inventory will be dealt with at that time. This seems a situation designed to antagonize the rest of the group and create a raft of bad feeling.
Great points, all.
Finally, I wanted to show you a few charts which show that positioning is extreme and that crude is likely rich to fair value:

(Charts: Deutsche Bank)
I'll leave you with a quote from Deutsche Bank because frankly, nothing else need be said:
Extreme long positioning and overvaluation in oil remains a big risk.
Disclosure: I/we have no positions in any stocks mentioned, and no plans to initiate any positions within the next 72 hours. I wrote this article myself, and it expresses my own opinions. I am not receiving compensation for it (other than from Seeking Alpha). I have no business relationship with any company whose stock is mentioned in this article.