New development
CSX (NYSE:CSX) closed up over 23% after CEO Hunter Harrison of rival railway, Canadian Pacific (NYSE:CP), stepped down. Harrison said he plans to join an activist investor and try to gain a CSX board seat. Harrison took over as CEO of CP in June of 2012, and the stock is up 111% since (see figure 1.1.) Harrison led the Canadian Pacific pursuit of Norfolk Southern (NYSE:NSC) last year. Now, he is reportedly working with activist Paul Hilal's Mantle Ridge (formerly of Ackman's Pershing Square).
Investors expect activists to push for consolidation, but CSX has rallied too high and too fast on the news.
Fig. 1.1 Yahoo Finance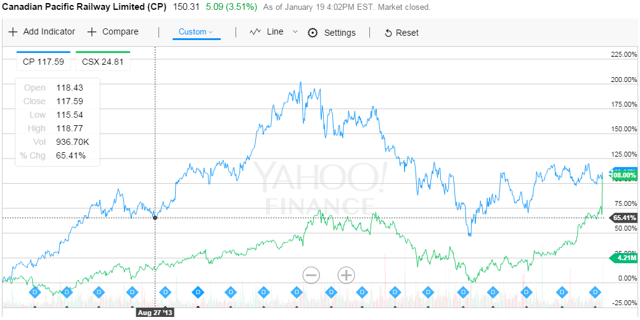 The speculation of consolidation in the industry pushed up railway stocks. Figure 1.2 shows the gains made in the industry; Kansas City Southern (NYSE:KSU) is the only stock down over the last five days.
Fig. 1.2 Yahoo Finance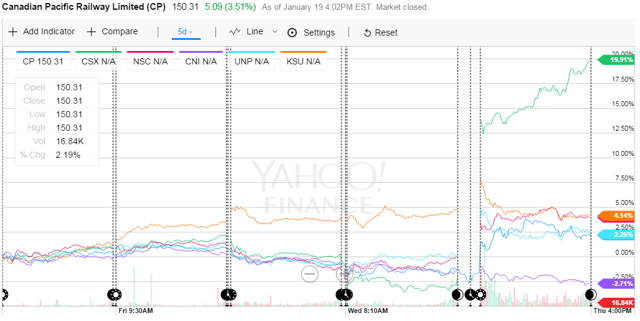 Too far, too fast
The huge gain is overblown on the news. Investors would be wise to take profits here; I recommend shorting the stock or selling OTM calls going out as far as August 2017 as I expect nothing material to precipitate for some time. A 23% gain is overblown on this news and profit taking here is likely (shares already off 2% in after-hours at time of writing). I expect 10-15% downside in the near future as hopes fade and investors price in the real likelihood of consolidation.
Valuation
CSX is now 57% overvalued in terms of historic P/E multiples. It trades at about 22.4x 2017 estimates, while its 10-year average P/E is 14.3 using Value Line figures. Morningstar gives a 5-year average P/E of 14.8 and a forward ratio of 22.3 still implying a 50% overvaluation.
Fig. 1.3.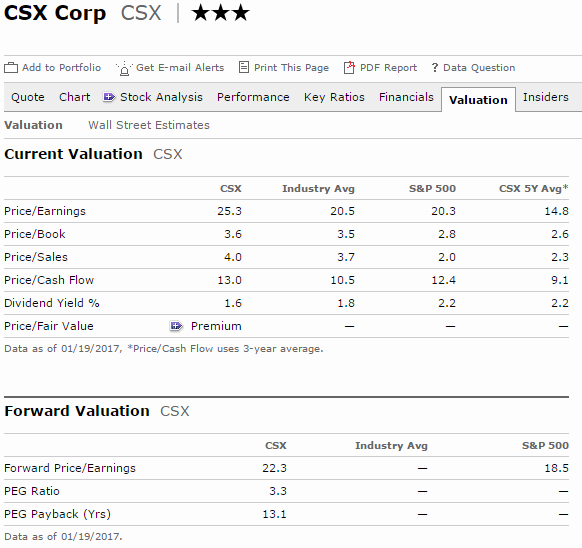 -
Morningstar
The consolidation speculation certainly changes perceived value of the stock, but I believe the risk/reward skews largely to the downside in the short to medium term. I do not doubt CSX is a solid company, but the current quote doesn't support any value here. Expect profit taking and downside of at least 10% from here.
Disclosure: I/we have no positions in any stocks mentioned, and no plans to initiate any positions within the next 72 hours.
I wrote this article myself, and it expresses my own opinions. I am not receiving compensation for it (other than from Seeking Alpha). I have no business relationship with any company whose stock is mentioned in this article.