With the S&P 500 (NYSEARCA:SPY) sitting at all-time highs, increasing number of investors I speak to are showing high levels of optimism. This is not surprising, considering that for almost eight years, every single dip in the S&P 500 has proven to be a buying opportunity. It generally takes many years of increasing stock prices to fully shift sentiment, and often times small investors are the last to the party. This has been one of the most hated bull markets I can recall, especially the earlier years of it, so the fact that broad pessimism has been replaced with generally broad optimism, I think it is time to look at historical data and crunch some numbers.
The current economic expansion, which began in June 2009, is now approaching its 90th month, or 7-1/2 years. Looking at historical economic expansions, we see that the longest expansion in history was 120 months, or exactly ten years, from 1991 to 2001. The second longest expansion in history came in at 106 months, or 8 years 10 months. The record setting 1991-2001 expansion was fueled by technology advances and low inflation, falling interest rates, and the massive spending on computers and technology that went along with the internet. The second longest expansion, from 1961 to 1969, was fueled by deficit spending on the Vietnam War.
Current estimates for 2017 S&P 500 earnings are in the range of $121-$131 depending on who you ask.
Today, the S&P 500 sits around 2,264 which gives us a forward P/E of around 17-1/2 to 18-1/2. One of the drivers of the past few months has been the expectation that our new President Donald Trump will work towards implementing a large scale corporate tax cut, potentially cutting the tax rate by 20%. Obviously, this would be fantastic for corporate earnings, but considering the S&P 500 is up almost 8% since the beginning of November, a good portion of that potential earnings growth has been priced in already.
Just to crunch the numbers, let's assume the tax cut comes in at a full 20% and rates fall from the now 35% rate to 15%. This would add, based on current estimates of between $120-$130, between $24-$26 to estimates. The new target for S&P 500 earnings would be $144-$156. Using the midpoint, we have an S&P 500 trading at a potential forward P/E of 14-1/2 to 15-1/2. Not terrible but not much to get excited about either, considering the likelihood of a recession coming in the next couple of years.
If we were to assume that we have a continued economic expansion that breaks records and lasts ten years or more, and we also assume that corporate taxes decline by 20%, we could see a continued S&P 500 rally from here, but even still, adding 10% real earnings growth to the tax cut adjusted S&P 500 earnings gives us S&P 500 earnings of approximately $165. Even with all of this positive growth, we could have an S&P 500 trading at 14 times forward earnings. Increasing that multiple to 16 only takes the S&P 500 to 2,640. In other words, even with a record breaking economic expansion and a huge boost in earnings from tax cuts, the S&P 500 still doesn't have too terribly much upside from here.
I am certainly not screaming sell everything. I want that to be clear. I am saying, however, that at this point in the economic cycle, it makes sense to hedge. The simplest way to do this would be to sell out of the money calls on existing positions. This allows further upside but also allows investors to capture extra yield. From there, depending on your personal opinion of the economy and markets, one could use the extra yield generated from selling calls to buy out of the money puts. This way you have created a "free" hedge. If markets rise moderately, you still win. If they fall, you have some level of protection and it didn't cost you anything. Obviously, as future data comes in you are free to change your strategy. For the next year, though, I think this strategy makes a lot of sense.
To summarize, the S&P 500 is already pricing in significant earnings growth and with a forward P/E near the higher end of historical ranges, it makes sense to have some level of protection on from here going forward. The next recession may be closer than many think, and it's time to start thinking about this considering that interest rates are finally moving higher and markets generally begin pricing in recessions well before they actually begin.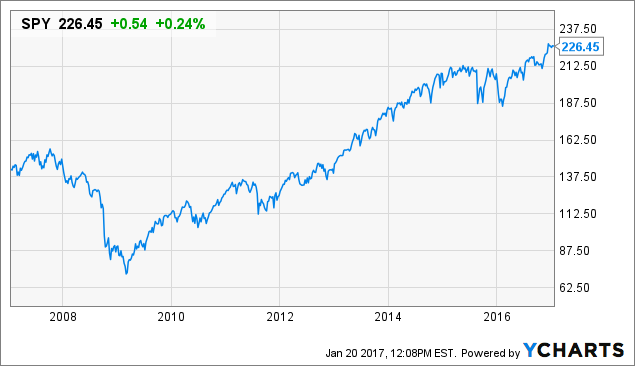 Disclosure: I/we have no positions in any stocks mentioned, and no plans to initiate any positions within the next 72 hours.
I wrote this article myself, and it expresses my own opinions. I am not receiving compensation for it (other than from Seeking Alpha). I have no business relationship with any company whose stock is mentioned in this article.