Trevali Mining (OTCQX:TREVF) did very well in 2016. The share price grew from $0.31 to $0.92, or by nearly 200%. The operations at the Peruvian Santander mine went smoothly and Trevali was able to bring its Canadian Caribou mine into commercial production from July. As a result, the zinc, lead and silver production grew rapidly, which was confirmed also by the recent Q4 production results. What is even more important, the fresh 2017 production guidance and the current metals prices indicate that there is still a lot of room for Trevali's share price to grow.
Source: TradingView
Record Q4 production
In Q4 2016, Trevali produced 36.7 million lb zinc, 11.3 million lb lead and 410,000 toz silver. It means a 181%, 79% and 83% growth year over year. The total 2016 production climbed to 98 million lb zinc, 33 million lb lead and 1.2 million toz silver. The Caribou mine was able to produce significantly more zinc, lead and silver than Santander. This trend is expected to continue also in the coming years.

Source: Trevali Mining
In 2016, the Santander mine processed 863,307 tonnes of ore, which is 18% above the designed capacity of the mill. The Caribou mine production keeps on growing. In Q4, it processed 251,242 tonnes of ore and approached its designed capacity of 3,000 tonnes per day. The Caribou zinc recoveries reached only 76% in Q4 (78% in Q3), but Trevali wants to focus on increasing it in the coming quarters.
2017 Guidance and valuation
According to the 2017 production guidance, Trevali should produce 153-158 million lb zinc, 42-46 million lb lead and 1.5-1.8 million toz silver. The company also expects that the mine level cash costs will be approximately $35-40 per tonne milled at Santander and $45-51 per tonne milled at Caribou.

Source: Trevali Mining
At the current metals prices of $1.24/lb zinc, $1.04/lb lead and $16.9/toz silver, Trevali should record revenues of approximately $266 million in 2017 (using the mean values of the production guidance - 155.5 million lb zinc, 44 million lb lead and 1.65 million toz silver). Assuming that the throughput rate remains at the Q4 level, the mine level cash costs should be approximately $90 million (1,878,892 tonnes * $48). According to the latest quarterly financial reports, the smelting, refining and freight costs and royalties equal approximately the mine level cash costs and the general and administration expenses tend to climb approximately to $1 million per quarter. It means that Trevali should be able to generate cash flow of approximately $80 million in 2017.
It is far more than enough to fulfill the debt obligations. Trevali has to pay interest of $6.675 million and repay principal of $15 million in 2017. It means that enough money should be left to finance the development of the remaining assets and also to improve the cash position. Also, the 2018 and 2019 debt payments shouldn't be any problem, if the current metals prices prevail.

Source: Trevali Mining
The current market capitalization of Trevali Mining is almost $370 million, which isn't too much for a company that is highly cash flow positive and that produces a commodity that is in a significant supply deficit. Moreover, Trevali intends to grow its production further. Back in November, the Trevali CEO stated that they are considering the Santander mine expansion. Given the successful exploration at Santander, the question isn't if but when. The 2016 exploration program discovered two new mineralized zones and confirmed that the Magistral zones merge at depth. The deposit is still open in several directions.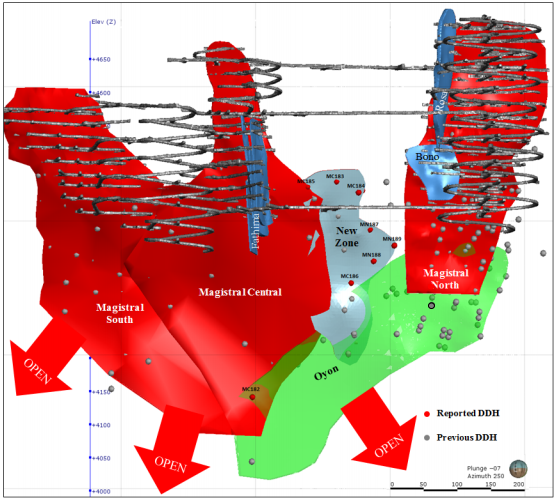 Source: Trevali Mining
Another growth opportunity lies in Canada. In early 2017, the Halfmile-Stratmat PEA should be completed. Trevali evaluates whether it will be better to feed the Caribou mill with ore from Halfmile-Stratmat or whether a standalone mine is a better option. The PEA should give an answer to this question. After it is completed, the management will probably announce also some more information about the Santander expansion plans.
Conclusion
Operations at Santander and Caribou are going well. Given the 2017 production guidance, it is able to expect that Trevali will be able to generate operating cash flow close to $80 million. Given the current market capitalization of $370 million, the market hardly appreciates the value of today's Santander and Caribou, let alone Halfmile-Stratmat and Santander expansion potential. The expected Halfmile-Stratmat PEA as well as any news regarding the Santander expansion should help to push the share price over the $1 level notably. The growing zinc price represents even more upside, as zinc price growth by $0.01 should add approximately $1.5 million to Trevali's cash flow. Trevali Mining experienced a great ride in 2016, but there is still a lot of growth potential left.
Disclosure: I am/we are long TREVF.
I wrote this article myself, and it expresses my own opinions. I am not receiving compensation for it (other than from Seeking Alpha). I have no business relationship with any company whose stock is mentioned in this article.
Editor's Note: This article covers one or more stocks trading at less than $1 per share and/or with less than a $100 million market cap. Please be aware of the risks associated with these stocks.