Advanced Emissions Solutions (NASDAQ:ADES) provides emission control solutions to the coal-fueled power plant industry. The company has developed a number of products ranging from chemicals, equipment and services to enable coal powered energy producers to meet emission targets and generate cleaner outputs.
I am covering this opportunity because I believe there is a long term play still left in the coal industry. Despite all talks of doing away with fossils and moving to renewable sources, the reality on the ground doesn't match the rhetoric.
We're all well informed of the new President's stance on the Paris climate pact and countries like India and China won't budge on their stance to call for major emission cuts on developed economies as they are the major contributor to global greenhouse emissions.
Challenges and Opportunity
Low-cost natural gas and stringent environmental regulations have resulted in major changes in the electric power industry. A combination of these factors have led to approximately 22% (65 GW) reduction in coal fired generation capacity owing to retirement of existing plants which required additional investments under MATS compliance.
The Annual Energy Outlook 2016 published by Energy Information Administration shows that 75% of the 2016 coal based generating capacity will continue to enjoy operating permits till 2040 even if the "Clean Power Plan" is implemented.
The change over the next 2 decades is projected to be less than the change in generating capacity that we have witnessed in the last 2 years.
Rapid change in regulation coupled with declining natural gas prices has created a number of challenges. Plant owners are impacted through reduced dispatch of their coal plants and the resulting decline in revenues.
Increased load cycling has made matters worse as it leads to greater O&M costs which further hurt margins.
Declining demand and unfavourable business fundamentals have led to a number of coal plants being fully depreciated resulting in a steep decline in the demand of coal by the industry. This change perhaps explains the cause of bankruptcy of 2 coal giants in 2016, Arch Coal and Peabody.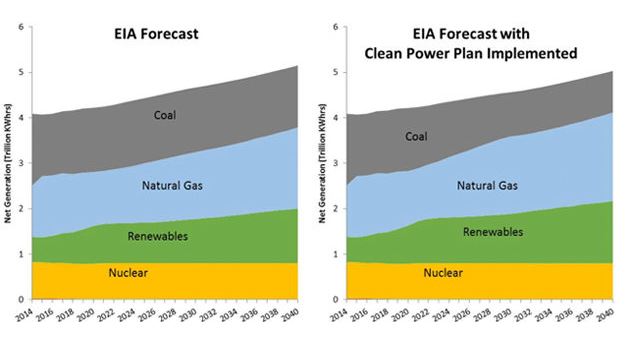 Although the situation is extremely challenging at present, if the EIA projections are anything to go by, the coal industry isn't in a free fall, but rather is going through a rough patch.
The challenge (opportunity) is to keep the remaining operating assets operating with highest standards of emission control and peak efficiency.
Industry veterans agree on this as evidenced by John W. Eaves, Chairman & CEO, Arch Coal. According to the industry veteran's statement on the sidelines of his company's revival from bankruptcy plan he said, "We are pleased to submit a plan that will strengthen our balance sheet and enable us to continue our operations and reclamation activities, as we further advance our efforts to position Arch for long-term success."
Coal is a long term play
Tesla's founder Elon Musk believes that battery powered motor vehicles and houses are the future of a world without fossils and it is because of this vision that Tesla (NASDAQ:TSLA) will acquire Solar City (NASDAQ:SCTY) to speed up the entire adoption process.
However, one should understand that providing enough power for a car or a single house is a long way from a grid-scale storage required to manage 399 GW of renewable capacity that EIA projects will be installed and operational in 2040.
Montana's Governor Steve Bullock recently released his plan for securing Montana's energy needs in future that gives his vision of pumped hydro storage by wind turbines. Now, it can work if the place has a combination of wind and mountains. Other regions too could store excess renewable energy but the technology still has a long way to go before it can actually make a dent in current fossil powered energy systems.
These renewable energy systems need a backup and coal plants can take advantage of this opportunity to supplement renewable energy sources with a sustainable long term backup.
Coal power plants are probably the best way to provide energy sufficiency in times of seasonal deficiencies inherent in wind and solar energy.
Strategic initiatives undertaken by ADES
Let us take a look at the strategic efforts of the company to hive off difficulties and prepare itself for the challenges ahead.
The company believes its strategic initiatives will bring about from the start of 2017 a sharp decline in payroll costs by over 70% from $45 million in 2014 to $12-14 million from 2017. This reduced cost base will make earnings rate go up and allow the company to report strong margins and returns. Further, the company intends to engage an Investment Banker to explore strategic options for its Emissions Control business to generate strategic value and focus on its Refined Coal business. Finally, realigning organisational structure including restructuring operations which included closing several unprofitable business units like the company's manufacturing and fabrications unit in McKeesport PA, and Israeli based ADA Analytics business has further streamlined business activity and allowed ADES to move forward on its long term strategic goals.
The quarter ended 30 September 2016 saw the company deliver strong business performance. Y-o-Y revenue increased c.$3 million and profits soared on the back of its restructuring efforts.
As at 30 September 2016, the company has unrestricted cash balances of $7.6 million and total cash base of $15 million. While cash balance went down from 31 December 2015, higher distributions from Tinuum offset the impact caused by principal and interest repayments.
Based on the strategic roadmap adopted by the company post delisting, as at 30 September 2016, the company has achieved the following:
| | |
| --- | --- |
| Progress | Strategic priority |
| | NASDAQ relisting and SEC Compliance |
| | Eliminating debt and improving liquidity |
| | Implement other cost control initiatives |
The company is on course to find profitable solutions and recovering lost value and get back on track to generate strong profitability.
The company has a strong balance sheet with no debt on its books, revenues are going up and ADES's expected distribution from RC facilities leased or sold by Tinuum and receivable by ADES is c.$12-14 million per quarter.
All these factors point towards a resurgence in underlying fundamentals of ADES.
Flipside
Implementation of CPP will bring about a rapid decline in coal based power generation. Coal's share of total electricity generation, which was 50% in 2005 and 33% in 2015 is projected to be 21% in 2030 and 18% in 2040. The decline is bound to have a direct impact on the top line. However, planned management of the operating assets coupled with higher efficiencies will help players consolidate in this space and generate substantial value.
ADES's business is predicated to the survival of the coal industry. Massive decline in demand will have a tangible impact on the company's market size too. However, no energy sufficiency plan in the world can realistically picture the world without being supplemented by dedicated and trusted energy sources. This is the opportunity ADES is exploring and has so far done well to place itself as a strong support pillar for the industry to maintain competitiveness in the coming decades.
Conclusion
I have read a number of reports on various investment platforms calling to buy or sell the stock based on quarter to quarter review. The worst part is these reports are passed off as fundamental driven plays. I would like to warn my readers against such misinterpretations and understand well that the business needs to be evaluated on the world's capacity to ignore fossils and find cheaper alternative renewable energy sources.
While the Paris climate summit, as some analysts call has literally sealed the fate of fossils fuels being used to generate energy, a number of think tanks warn that no fool proof technology exists right now that will allow our economies to completely make this switch, the graph prepared by EIA brings this dichotomy to light in pretty straight forward terms.
On the basis of these facts and my understanding of the global energy industry, I rate ADES a buy and a medium term value play.
Disclosure: I/we have no positions in any stocks mentioned, and no plans to initiate any positions within the next 72 hours.
I wrote this article myself, and it expresses my own opinions. I am not receiving compensation for it (other than from Seeking Alpha). I have no business relationship with any company whose stock is mentioned in this article.