Background
Blackline (NASDAQ:BL) is a provider of cloud software that automates and controls the entire financial close process. Crucial financial accounting processes such as account reconciliation, variance analysis and transaction matching are supported by its SaaS platform. The company's YouTube video gives a good overview of their business model.
Under the traditional record-to-report process much of the accounting close work is left towards the end of an accounting period - monthly, quarterly, annually.

Source: here
Blackline states that this process leaves companies at a competitive disadvantage. Indeed, the heavy work load at accounting close exposes companies relying on this process to productivity loss, as well as a high rate of errors. Fundamentally, this approach is antiquated because it supports a " start-stop view of how accountants approach reconciliation and close activities that necessarily produce backward looking and out-of-date results."
Continuous Accounting
Blackline champions a modern process called continuous accounting, here.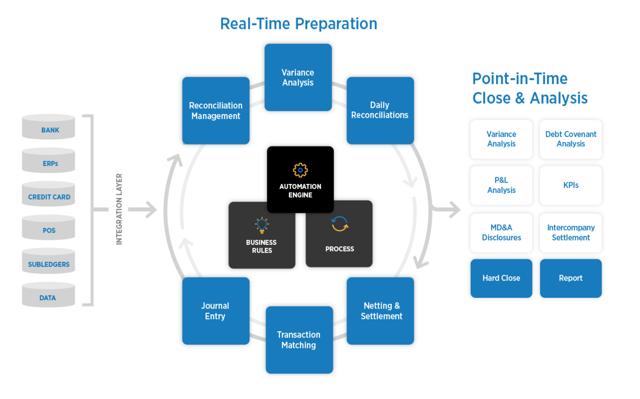 Continuous accounting represents a drastic shift as it embeds automation, control and period-end tasks within day-to-day activities. Using cloud technology and modern finance strategies Blackline delivers real time reporting and faster analysis. This offers substantial gains in quality, accuracy and operational efficiency in companies that migrate to Blackline's platform.
Furthermore, the company has been named by Gartner as a leader in the financial corporate performance management solutions (FCPM). The Gartner report mentions Blackline's customer satisfaction and execution and ability to bring new products to the market as major strengths that has contributed to the company's success. During their Q3 conference call, CEO Theresa Tucker gave analysts information about the overall size of their total addressable market (TAM). Blackline targets large and midmarket enterprise businesses with over $50 million in revenue. The company currently has 1,600 customers, out of the 165,000 corporate organizations worldwide that fit into its profile. Further, due to the increasingly international reach of the company and the fact that virtually every company of scale in every geography is a prospect, their TAM has been placed at $17 billion. Hence, the company has captured just 0.97% of their total addressable market and is investing in new offices internationally to do so. Blackline serves customers in over 120 countries worldwide and are opening new offices across Europe and Asia.
Strategy, Competition and Differentiation
Blackline enjoys a strong net revenue retention rate in the range of 118% to 120% due to their land and expand and price uplift strategy. The former drives growth within their existing customer base by selling more related products and cross selling, while the latter is an annual price uplift of 3% to 5%.
Blackline's major clients include a range of large Fortune 500 companies including Coca-Cola, Under Armour and Costco. A key differentiating factor for Blackline has been that it's the only provider that offers a unified cloud platform supporting the entire close-to-disclose process. Also, its platform has been described by Gartner as offering the most superior customer experience. It provides 24/7 live support across all its geographic verticals. Furthermore, Gartner also describes Blackline as one of the first companies to pioneer account reconciliation and financial close solutions.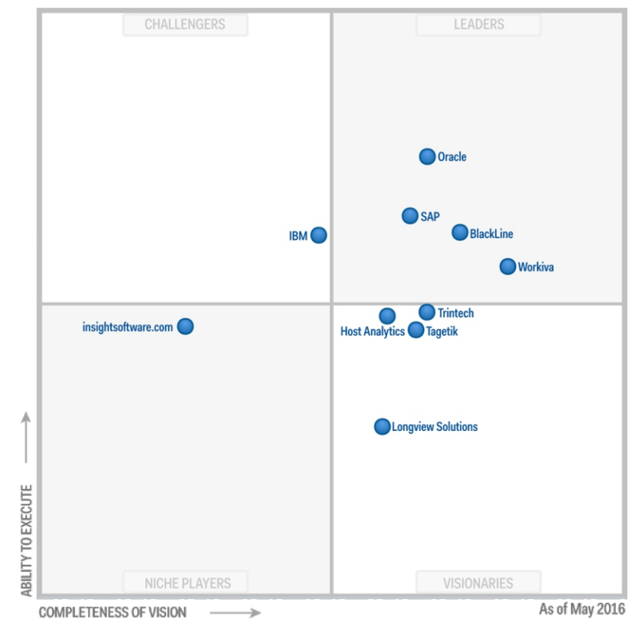 Source: here
The company operates in a rapidly competitive space with a number of large incumbents such as IBM (NYSE:IBM) and Oracle (NYSE:ORCL), and smaller niche players such as Insight Software's Hubble, FloQast and Tagetik. However, as Blackline is the one of the two cloud based providers that has shaped and molded the space for enhanced financial control and automation (EFCA), its solutions are very well regarded. In addition, as companies shift to cloud-only applications the company has the potential to gain more market share from current legacy players.
However, I must emphasize the threat from the larger players such as SAP (NYSE:SAP) and Oracle. SAP offers its own range of solutions for FCPM, thus any plans to develop these solutions to incorporate EFCA, Blackline's strong suit would materially affect the company.
In a further attempt to differentiate its product offering Blackline developed and markets what it calls the Intercompany Hub, a clearinghouse to centralise and streamline end-to-end intercompany accounting. This strategy of cross selling is integral to Blackline's growth as it embeds its customers into their solutions ecosystem.
Third Quarter Results (Q3)
Income Statement
Non-GAAP revenue for Q3 of 2016 was $32.4 million, an increase of 49% compared to Q3 2015. Gross margin was also higher by 200 basis points at 82% compared to 80% the previous year. Further, operating expenses for the quarter was $27.6 million, or 85% of revenue. This was against $22.6 million in Q3 2015, or 104% of revenue. Sales and marketing (S&M) formed the largest part of Q3 2016 operating expenses at $17.6 million, up from $13.3 million in Q3 2015. However, stronger revenue growth meant Q3 2016 S&M expenses now account for 54% of revenue from 61% in Q3 2015.
Blackline has not recorded a profit in its history.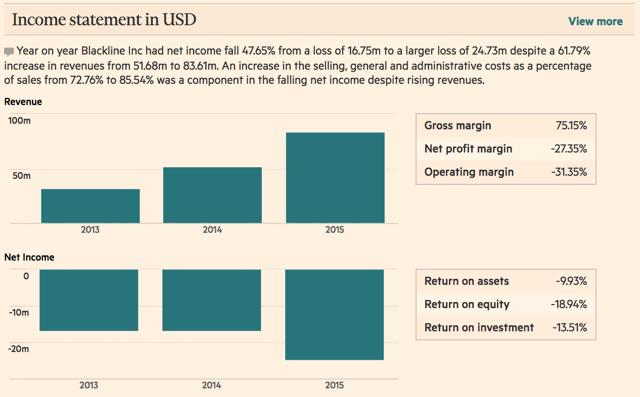 Source: here
Even though revenue has grown at a substantial rate over the last few years, non-GAAP net loss for the quarter was $2.2 million, $0.05 per share. In comparison. Non-GAAP net loss for Q3 2015 was $5.9 million, $0.15 per share.
Hence, price-to-sales is an appropriate metric to use. The company's guidance for full-year 2016 non-GAAP revenue was in the range of $121.5 million to $122.5 million. Thus, using the lower end of guidance it currently trades on a forward price-to-sales ratio (P/S) of 11.4. Neither cheap nor expensive.
Balance Sheet and Cash Flow
Net proceeds from the IPO raised $152 million for Blackline. This allowed for full repayment of net debt on their balance sheet as at Q3 2016 of $66 million. Thus, the company is well capitalized to meet operating expenses as their move toward their target of positive operating cash flow on an annual basis by Q4 of 2017. While the company generated operating cash flow of $1.05 million in Q3 2016, the nature of its business it expects to see quarterly fluctuations in cash flows.
Conclusion
I have bought into this share on its strong revenue growth rates, declining operating costs as a percentage of revenue, and its large TAM. It also trades at a relatively modest valuation. Thus, I think the share price is more to the upside than to the down.
Disclosure: I am/we are long BL.
I wrote this article myself, and it expresses my own opinions. I am not receiving compensation for it (other than from Seeking Alpha). I have no business relationship with any company whose stock is mentioned in this article.