INTRODUCTION
On January 8th an article that I wrote on preferred stocks was published. In the article I reviewed my existing preferred stock portfolio with respect to rising interest and inflation rates. Not surprisingly, my conclusion was that I should minimize exposure to low-interest, long-duration stocks and move into stocks of short- to intermediate-duration.
As part of my analysis I utilized data from the Dividend Yield Hunter website. This website lists a large number of preferred stocks and sorts them by various criteria. For my new analysis, I copied the data from various tables and placed it into Excel spreadsheets where I could further sort the data and create graphs. All the tables and graphs in this article draw on this source unless otherwise noted.
The following analysis provided me the opportunity to view the universe of preferred stocks and not just my limited holdings, and to see where my stocks fit in the preferred stock universe. I am using these tables and graphs to rebalance my overall portfolio and make decisions for establishing new positions that minimize risk and provide a reasonable rate of return. Hopefully others will find this approach and tool useful.
THE UNIVERSE IS CONTRACTING
Many preferred stocks are considered perpetual because even though they have an initial call date, they are not called. They can be called at any time in the future or not at all. Therefore they are labeled perpetual.
One of the tables on the Dividend Yield Hunter site arranges the preferred stocks by initial call date. In this particular universe there are 502 stocks listed and 70 have been called; however, only 20 are truly perpetual stocks and do not have a call date or can be called at any time. These are low interest rate (4-6%) electric utility stocks. In addition there were another 48 stocks with call dates between 2002 and 2009; of these 10 had been called. I doubt if these were all the preferred stocks issued during this period, but that is all that were listed in the table. So for the following analysis, I discarded the perpetual eclectic utility stocks and the preferred stocks with call dates prior to 2010.
I arranged the remaining preferred stocks by their initial call date and developed this bar chart that shows the number of preferred stocks by their initial call date year and the number of those stocks actually called.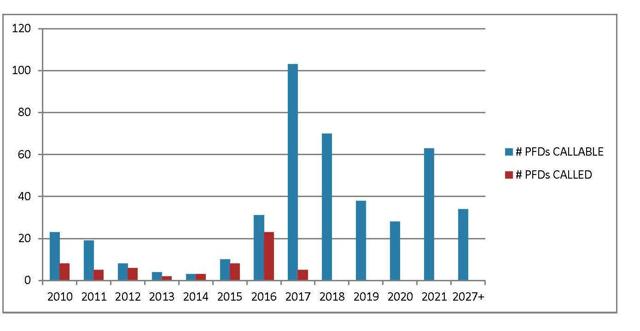 As I noted previously, I doubt if all the data prior to 2010 is included and there may be some missing from 2010 to 2016, but there are still some conclusions that can be drawn:
There really are not that many remaining preferred stocks with call dates prior between 2010 and 2015 that can be called (34)
Most of those with call dates in 2016 were actually called in 2016 (23 out of 31)
There is an exceptional large number of preferred stocks that can be called in 2017 (103) and 5 have already been called
The number of preferred stocks with call dates after 2017 is continually decreasing
Therefore the universe of preferred stocks is contracting.
THE UNIVERSE IS EXPANDING
Another list on the Dividend Yield Hunter website lists all the new preferred stocks and baby bonds issued in 2016. I copied this information and created an Excel spreadsheet. I then separated the baby bonds from the preferred stocks and developed this graph showing the market price as of January 13 as a function of the coupon rate for the preferred stock. There were 72 new preferred stocks issued in 2016, and most of them had an initial call date 5 years after the date of issuance, which is typical. There were 6 preferred stocks that were issued with a fixed-to-floating rate, but their initial call date was 10 years in the future. These fixed-to-floating stocks are noted in the following table. There were also a couple of stocks with a two-year to initial call date that are also noted in the following graph.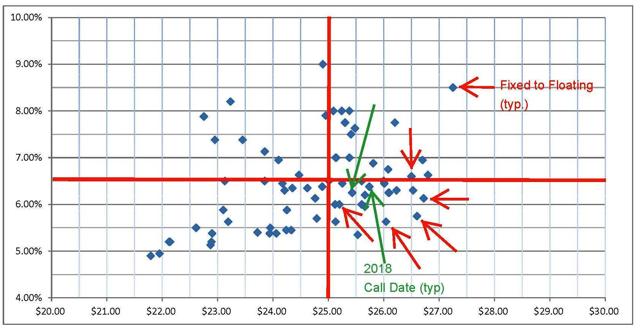 In general, I am not interested in preferred stocks paying less than 6.5% or that have a price above $25.00, so that leaves a pretty small universe to draw from, just the upper left corner of this graph. This universe can be expanded by trying to buy over-the-counter when a stock is first issued or by waiting for a price drop on the ex-div date, but it is still a pretty small universe unless I relax my 6.5%/$25.00 purchase criteria, which I do on occasion.
One thing that surprised me was the number of stocks that were issued in 2016 for less than 6%. They may have sold initially for $25.00, but they dropped quickly to under $25.00. There is also one stock that is a significantly higher-performing outlier. It is worth sharing my observations on some of these stocks.
Public Storage (NYSE:PSA) issued a 4.95% preferred stock (PSA-D) on 7/13/2016 that is callable in 2021. Initially it sold for $25.00 per share, but has since dropped to around $22.00. NuStar Energy (NS), a midstream MLP, issued an 8.5% preferred stock (NS-A) on 11/17/16. Initially it sold for $25.00, but is now selling for around $27.00 per share. This fixed-to-floating preferred stock is also callable in 2021. I received a notice from the Dividend Yield Hunter on both of these when they started selling over the counter. I passed on PSA-D, but purchased NS-A. Too bad there are not more preferred like NS-A being issued.
So while the universe of preferred stocks is expanding, it is not expanding rapidly, and quality issues are not significantly expanding.
GRAVITY
Gravity is the primary force that determines if the physical universe expands or contracts. There are other forces and black matter that have impacts on the expansion or contraction, but gravity is the primary driver.
For preferred stocks, interest rates are the gravity of its universe. The following graph shows the 10-year Treasury Bill rate as well as the Fed Funds Rate. The Fed Rate was around 0.25% until late 2015 when it was increased to 0.50%. This rate was increased to 0.75% in 2016 where it now stands. The Fed has announced their intention to increase this rate again, possibly by as much as 0.75% per for the next 3 years which would result in a Fed Rate of 4.0% and increase the rate on 10-year Treasuries. This large increase seems unlikely to me, but these are petty uncertain economic times.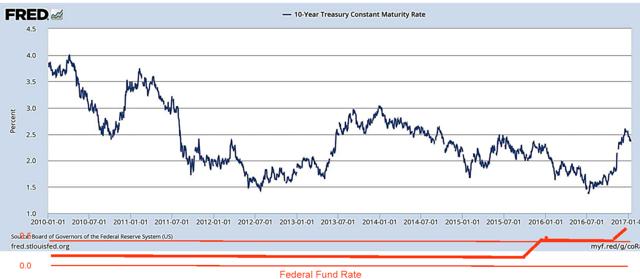 It is interesting comparing this graph to the first graph presented that shows the number of preferred stocks in the universe. It makes sense that there would be few stocks with call dates prior to 2010 as the low 10-year Treasury rate from mid-2011 to mid-2013 would lead to higher rate preferred stocks being called and/or refinanced. In addition, this period of low interest rates led to the issuance of new preferred stocks that are callable in 2017/2018. There was also a dip in the 10-year Treasuries rate in late 2016/2017 that corresponded to a spike in preferred stocks issues callable in 2021.
CONCLUSIONS AND ACTIONS
My conclusion is that the universe of quality (interest rates above 6.5% and price around $25.00) preferred stocks is contracting due to impact of rising interest rates. Newer issues will have to be at a higher rate or have fixed terms, be fixed-to-floating or be baby bonds to be attractive to investors. At this time I really don't know enough about these alternatives to determine whether they are really attractive to me or not, although I do hold a few of these various types.
One action that I took at the end of last year was to sell American Home 4 Rent (NYSE:AMH), series D (AMH-D). AMH-D had a coupon rate of 6.5%, but was not callable until 2021. I increased my positions in Wellness (NYSE:HCN), series J (HCN-J) and Digital Reality (NYSE:DLR), series F DLR-F, even though these preferred stocks are callable this year. Whether they will be called this year or not, I don't know. My guess is that based on past history, DLR-F will be, but that is OK as I purchased it for slightly less than $25.00. I also purchased HCN-J for less than $25.00
I have also taken my list of all preferred stocks and created a separate spreadsheet of stocks that are callable in 2017. I have sorted this by call date and intend to track those that are actually called. I may buy additional stocks that are callable in 2017, but they need to be quality stocks trading near or below $25.00. I have no immediate plans to make any additional purchases.
Preferred stock investors need to look at the universe of preferred stocks held and not individual stocks when making decision. Otherwise one might end up not being diversified relative to interest rate and duration which is not where I want to be.
Disclosure: I am/we are long HCN-J, DLR-F, NG-A.
I wrote this article myself, and it expresses my own opinions. I am not receiving compensation for it (other than from Seeking Alpha). I have no business relationship with any company whose stock is mentioned in this article.