MLPs and most everything were flattish this week, with the AMZ up 0.1%, although the equal weight Alerian MLP Index was better. Interest rates rose a bit, but so far in 2017, the initial post-election rate spike hasn't followed through, with just a 2 basis points increase in the 10-year U.S. Treasury rate. There was volatility in natural gas on warmer weather that bled over into much weaker ethane.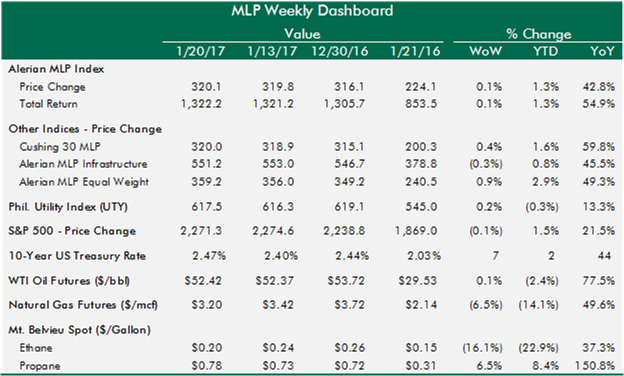 The market seemed to be in "wait and see" mode this week. President Business took office Friday, and now we wait. Wait to see what he does next. Wait for evidence of OPEC compliance. Wait for KMI's Analyst Day, for 4Q earnings, for producers and MLPs to issue guidance, for tax reform, and for Taco Tuesday.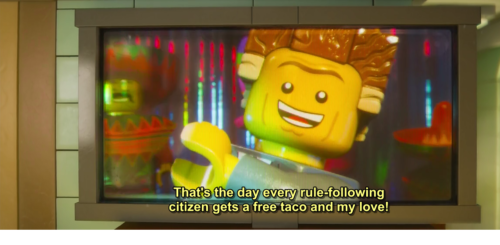 Poll Question: Thanks, Obama!
On the way out, Obama's administration threw up a final roadblock to thwart the completion of the Dakota Access Pipeline (see news section for more details). Team Trump is expected to insert itself into the DAPL process at some point, but there are now questions as to how quickly they can make a difference if a legal process has been set in motion that must work itself through.
Meanwhile, on the Rover pipeline, time is running short for permits that will allow for tree clearing before the window on 2017 in-service closes.
Winners and Losers
Noble Midstream Partners (NYSE:NBLX) led the sector on the heels of its sponsor Noble Energy (NYSE:NBL) acquiring more acreage in the Permian that's apparently mostly undedicated from a midstream perspective. Westlake Chemical Partners (NYSE:WLKP) rallied on affirmation of its tax status after more than a year of suspense and uncertainty. SunCoke Energy Partners (NYSE:SXCP) was the surprise loser of the IRS MLP regulations. Capital Product Partners' (NASDAQ:CPLP) distribution growth announcement was well received, and the Teekay entities had another solid week.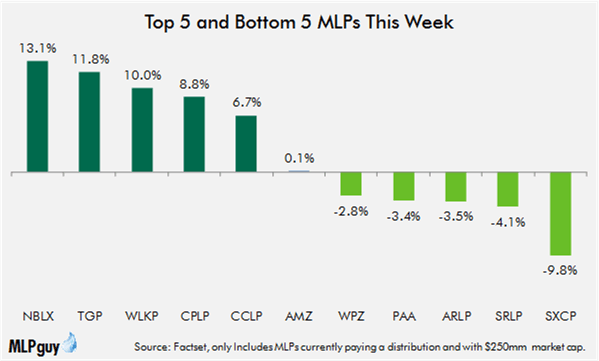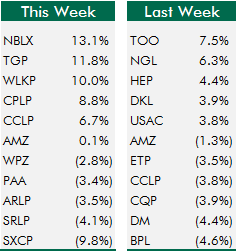 YTD Leaderboard
January isn't even over yet, and already more than 5 MLPs have 15%+ returns, including NBLX, Ferrelgas Partners (NYSE:FGP) and the Teekay MLPs. Plains All American Pipeline (NYSE:PAA) is the only big-cap MLP among the winners and losers, currently sitting at third worst return for the year so far.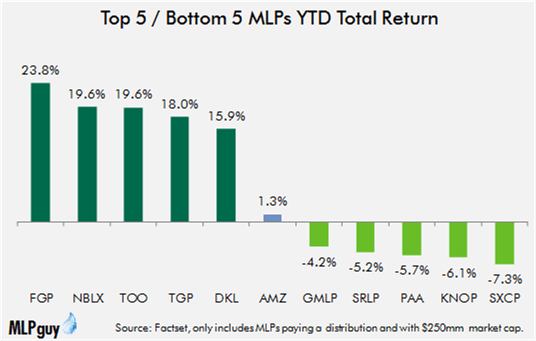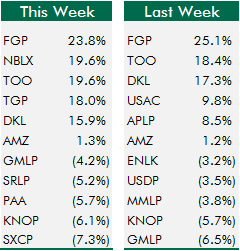 General Partners and Corporations
Targa Resources Corp. (NYSE:TRGP) led all GPs and midstream corporations this week, presumably on strong propane prices and Permian M&A enthusiasm. Energy Transfer Equity (NYSE:ETE) made it two straight weeks near the bottom of the group on waning patience for DAPL as roadblocks continue to pop up. Gas prices probably weighed on Archrock Inc. (NYSE:AROC) and Alliance Holdings GP (NASDAQ:AHGP).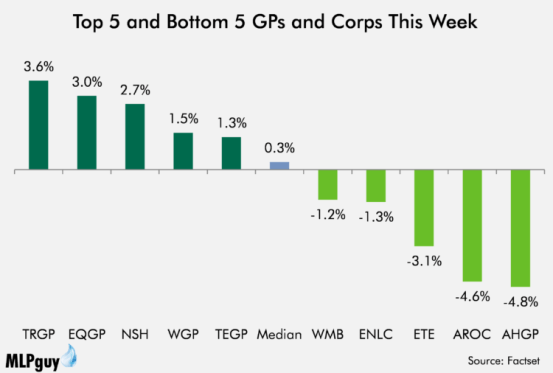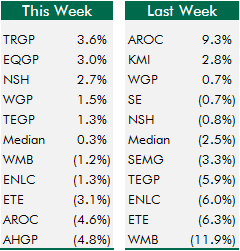 News of the (MLP) World
PAA's small expansion is an early sign of eventual pipeline constraints that may lead to further development opportunities for Permian oil takeaway. That topic is likely to dominate PAA's earnings call in a few weeks. There weren't many other transactions this week. Most of the action apparently occurred in and around court rooms, with a settlement for Rockies Express, more DAPL challenges, and another upstream MLP bankruptcy.
Capital Markets
Growth Projects / M&A
Other
Distribution Announcements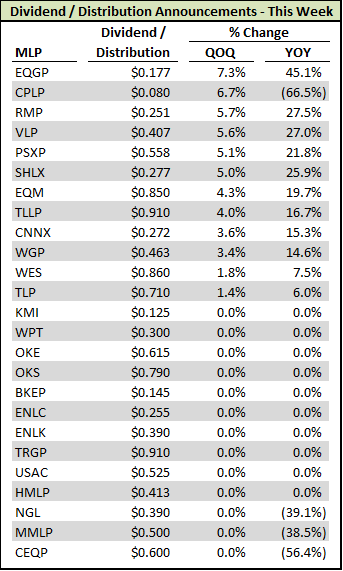 Editor's Note: This article covers one or more stocks trading at less than $1 per share and/or with less than a $100 million market cap. Please be aware of the risks associated with these stocks.