Crude futures prices bounced $2.44/b (4.8%) higher in the week ending January 17th (to correspond to the data below) to %53.36. Over the balance of the week, crude futures ended within a few cents.
The peak in prices reached just before the OPEC and non-OPEC agreements went into effect have held, as the market wrestles with how compliant the producers will be with their agreements and what the mean for the storage glut. OPEC Secretary General said storage levels are 270 million above the 5-year average but this will be corrected before the end of the second quarter, whereas data from his organization imply a 90 million barrel build. It was within this context that traders were rebalancing short and long positions during the holidays.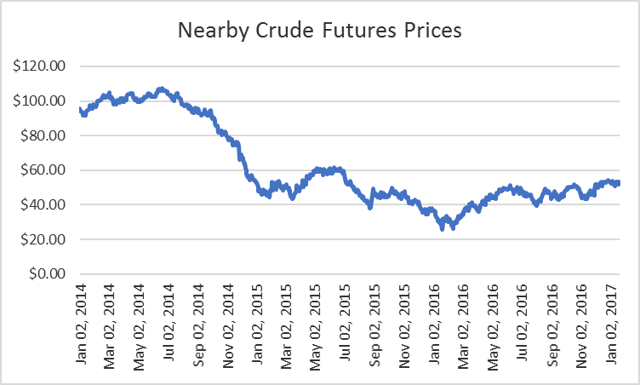 Commitments of Traders
Utilizing the Commodity Futures Trading Commission's (CFTC) Commitments of Traders (NYSE:COT) reports for crude oil, I was able to dissect how traders were re-positioning in the week ending January 17th.
The four groups I follow - Hedgers (Producer/Merchant/Processor/User) Longs and Shorts, and Speculators (Money Managers) Longs and Shorts - are defined below:
Hedgers: A "producer/merchant/processor/user" is an entity that predominantly engages in the production, processing, packing or handling of a physical commodity and uses the futures markets to manage or hedge risks associated with those activities.
Speculators: A "money manager," for the purpose of this report, is a registered commodity trading advisor (CTA), a registered commodity pool operator (CPO) or an unregistered fund identified by CFTC. These traders are engaged in managing and conducting organized futures trading on behalf of clients.
The latest data include data for both options and futures combined for the New York Mercantile Exchange (NYMEX). All comments below pertain to each group as a whole, on balance, noting there are exceptions among individuals.
Findings
Long oil speculators put the "pedal to the metal" buying 49 million barrels. Their new position of 407 million barrels was the highest long position they have held in the history of the CFTC stats going back to 2006. On the one hand, it reflects their confidence that prices are headed higher. But on the other hand might serve to drive prices sharply lower if prices start to fall and the longs have to sell to limit losses.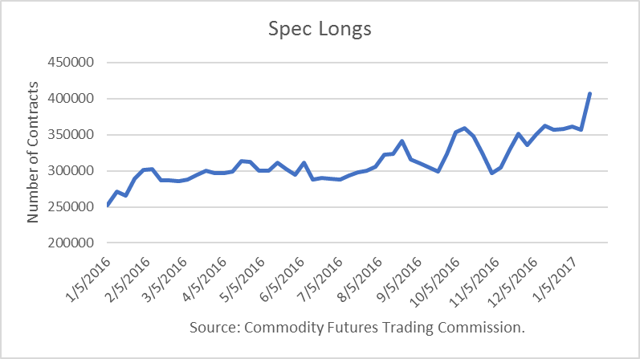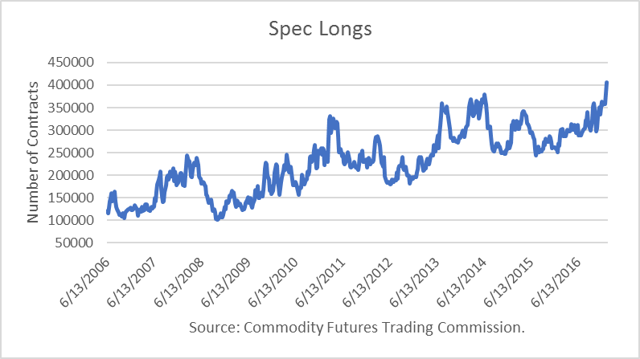 Spec shorts sold 6 million barrels to end at 57 million barrels. This could be the start of a new cycle of building short positions as the bottom was reached 3-4 weeks ago. In an article, I had argued that swings in their position cycles correlated highly with swings in prices. They are thus in position to provide powerful selling pressure when there is a bearish catalyst, such as non-compliance with announced production cuts.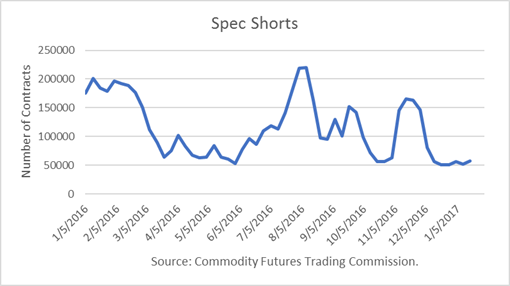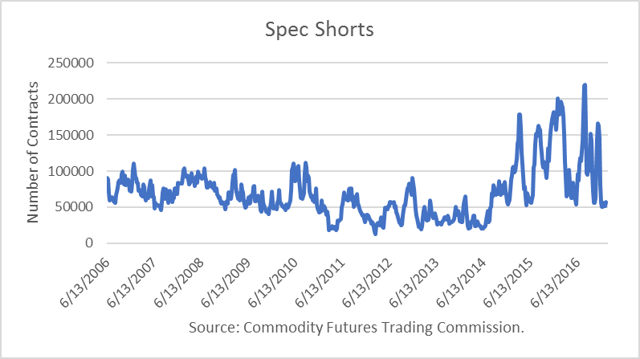 Unlike spec longs, hedge longs covered (sold) 2 million barrels to end at 417 million barrels. Hedge long positions remain near their highest position since 2013.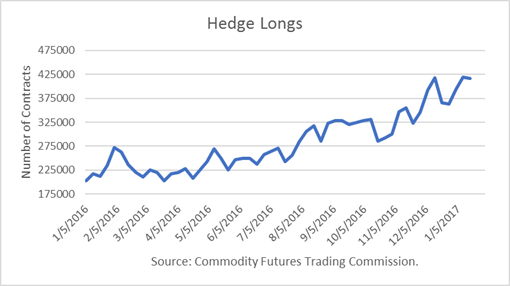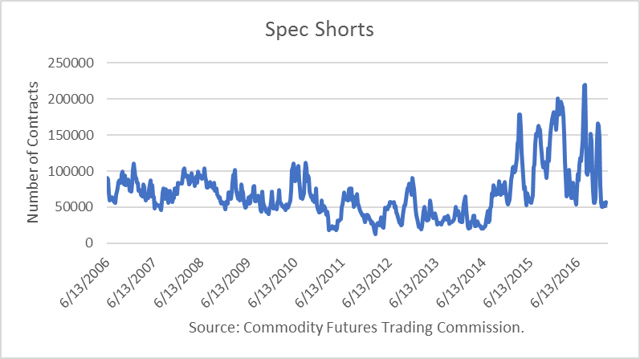 Short hedgers (oil producers) increased (sold) their hedges last week by 2 million barrels to 677 million. It was the highest hedge level since 2007.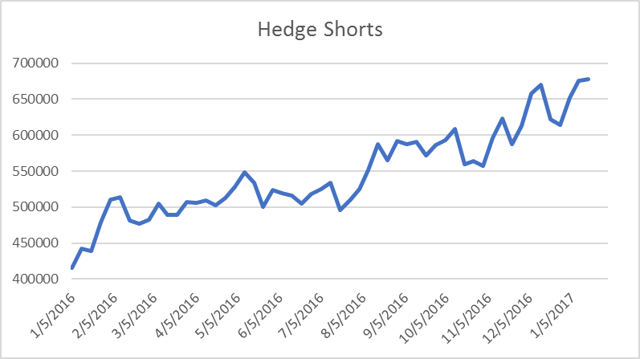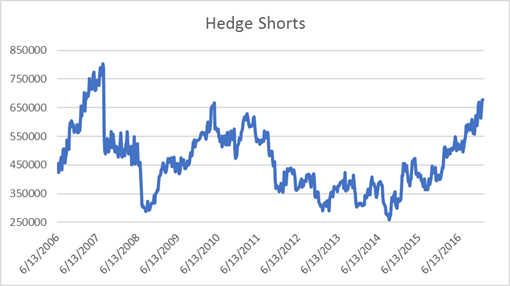 Netting the long and short positions of both these hedgers and speculators, there was a net purchase of 40 million barrels. As a result, they held a net long position of 8 9 million barrels.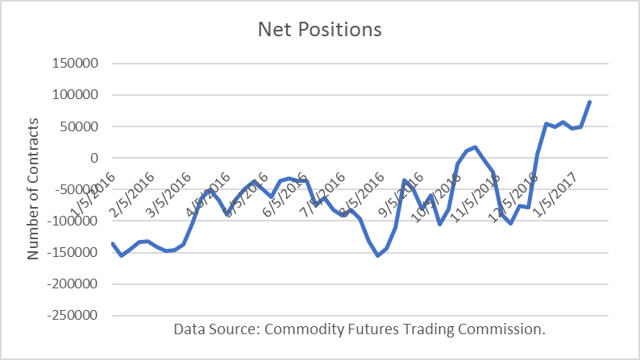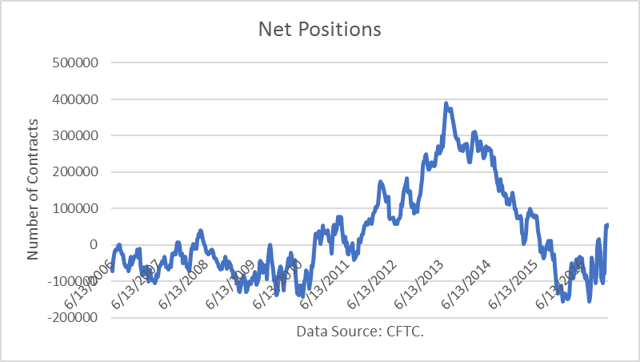 Conclusions
Looking at this data, it appears that the spec longs are overextended. If I were expecting a big push higher, I would be much more comfortable if the spec long position was at the lower end of its range rather than at its highest ever.
On the other hand, the spec short positions are at the low end. It will take some sort of catalyst, but it seems that there is much more potential for a move down rather than up with this positioning.
That being said, I am not advising anyone to go short (or long). This data is just one factor to take into account. The OPEC compliance meeting is this weekend an OPEC may use the opportunity to say how deep the cutbacks are and/or they are deeper than announced, etc.
Disclosure: I/we have no positions in any stocks mentioned, and no plans to initiate any positions within the next 72 hours.
I wrote this article myself, and it expresses my own opinions. I am not receiving compensation for it (other than from Seeking Alpha). I have no business relationship with any company whose stock is mentioned in this article.