Sleep Aids is an Important Investment Segment of the Healthcare Market
150m people worldwide report insomnia and sleeplessness as a problem popping the condition into a classification of medical epidemic. It is estimated the sleep disorder market is $80b per year, but that may be a gross underestimate. ResMed Inc. (NYSE: RMD) has established itself as a world-class healthcare leader in offering sleep aids. Investors will do well by not giving this segment of the healthcare market short shrift.
Healthcare companies are fun to examine, because they engage in sustainable concept research extending life, making life livable and comfortable sometimes with drugs, better equipment, and weird but effective technology. Also, there are many investment facets to healthcare investing like firearms (a public health issue), eating chocolate or drinking red wine to improve cardiac function, medical marijuana and e-cigarettes.
Sleep aids is a burgeoning field of healthcare research and product development. A plethora of start-up companies are spurred-on by the digital age, but the entire segment is largely given short shrift by the investment analysis industry.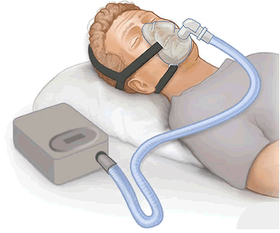 Image of a flow generator, hose & full face mask providing continuous positive airway pressure for improving sleep
Sleeplessness is a Healthcare Issue
Commonly referred to causes of sleeplessness include
· Anxiety, depression and stress
· Medical problems like respiratory illness, sleep apnea, nocturnal leg cramping, restless leg syndrome, circadian rhythm syndrome, ear/head wringing
· Reactions to medications and foods like sugar, caffeine, alcohol and nicotine
· Irregular sleep schedules
· Daytime naps and dozing
· Late meal intake
· Economic worries
Dr. Seuss suggests one more cause of sleeplessness, "You know you're in love when you can't fall asleep because reality is finally better than your dreams."
Researchers into insomnia and interruptions of restful sleep are recommending natural solutions like sleeping in a bedroom that is quiet (no television), pitch dark and cool; avoiding stress and stimulating emotional experiences before bedtime, and satisfying bathroom needs before bed. Earn more money.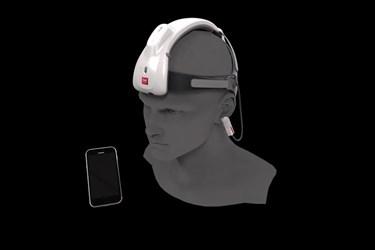 Wearable device by Leti for consumers to measure brain activity & practice relaxation techniques from newelectronics.co.uk
The five product categories for treating sleeplessness are
· Medications
· Self-help programs like yoga and relaxation therapies
· Foods, vitamin products, smell and soothing-sound paraphernalia
· Sleep aid devices
· Monitoring wearables--when all else fails to ensure restful sleep turn to technology
Graph courtesy University of Warwick published in the Journal of Sleep: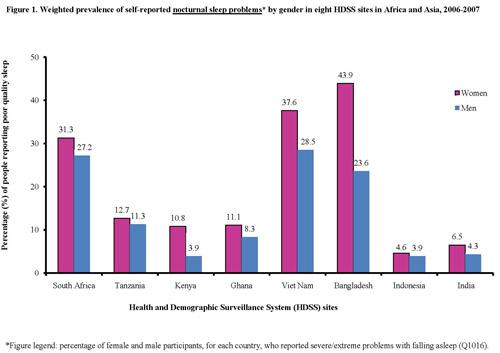 Scope of the Epidemic
According to Warwick Medical School sleep distress is a medical epidemic. The Centers for Disease Control data show sleeplessness varies by income and gender. Women, regardless of income suffer sleeplessness more often than males, and sleep problems among men decreases "as family income increases." One woman tells her story about how she dreads bedtime, "The silent scourge of mid-life insomnia: weight gain, health problems and violent mood swings - one chronic sufferer reveals the toll of the epidemic NO ONE talks about."
ResMed is a Leader in Sleep Devices and Education
ResMed Inc. (NYSE: RMD) is the leader in sleep devices, and I recommend small investors consider adding RMD into their healthcare portfolios. RMD's mission is "Changing lives with every breath" by manufacturing masks, machines and other equipment that "achieve better sleep, better health, and better quality of life."
It enjoys a $9b market cap, and pays a dividend yield of about two percent. Share price is currently mid-way between the 52 weeks low of $52.37 and high of nearly $71. RMD's five-year CAGR revenue has reached 7.8% and earnings per share BNRI 14.8%. RMD has a healthy GPM topping 56% and an Operating Margin of 23.4%. The company holds more than $780m in cash. ResMed is scheduled to report earnings, but regardless, ResMed is a leader in a field that will grow revenues and profits over the long term.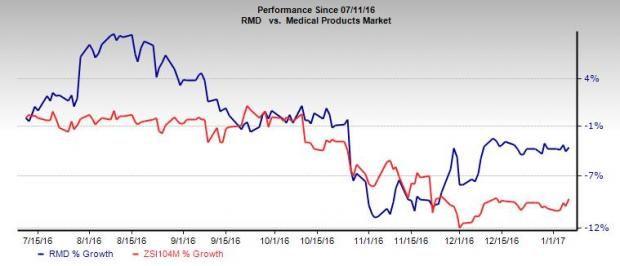 The CPAP (continuous positive airway pressure) device was invented in 1980. ResMed was founded a little more than a decade later. RMD today manufactures CPAP humidifiers, heated tubes and diagnostic products for consumers and hospitals, life support ventilators, and software enabling patients and medical personnel to wirelessly monitor sleep data.
Notable Events
In 2016, RMD bought Inova Labs known for their stationary and portable oxygen concentrators. RMD also acquired Brightree for their clinical software applications in post-acute home and hospice healthcare solutions.
2017 is off to a big year for ResMed. The USFDA recently announced it cleared RMD's AirMini™. It is the world's smallest CPAP device that gives patients with sleep apnea mobility to travel without lugging along more cumbersome equipment.
Bank America raised its recommendation from neutral to buy setting a target price of $89. A number of large investors have been increasing their holdings lately.
BB&T Securities increased its shares in RMD by more than one-third. So have Citigroup, Mizuho Asset Mgt., and Global X Mgt. Hedge funds and institutions own nearly 63% of RMD's shares.
On January 12, 2017, ResMed announced PwC study findings that sleep apnea sufferers using ResMed's myAir "have greater adherence to CPAP therapy than those who don't." The device enables self-tracking of sleeplessness and encourages treatments. myAir patients use their device an average 46 minutes longer per night compared to other patients using CPAP devices.
ResMed is entering a joint venture with Dr. Mehmet Oz and Pegasus Capital Advisors, L.P. to form SleepScore Labs. The alliance will educate the public about the "epidemic of sleeplessness," and focus on solutions.
ResMed settled global litigation with two companies clearing its plate for the present time from a distraction and further expense that was before the U S International Trade Commission.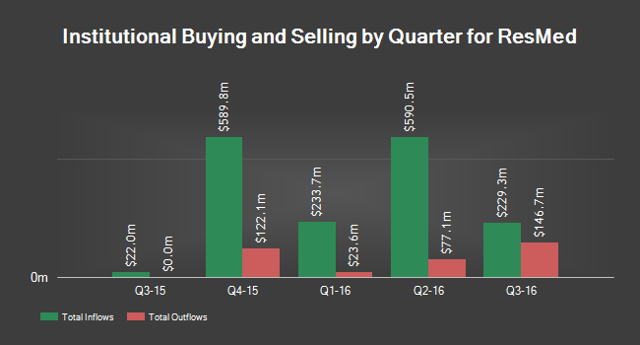 from webbreakingnews.com
Recommendation with One Caveat
RMD stock can be a winner in the portfolio of small investors willing to wait for a share price dip perhaps below $59, and hold for steady revenue growth, and eventually a take-over tender. Some analysts, including Zacks, anticipate a disappointing Q2 earnings announcement in the next few days. RMD is a victim of its own success, i.e., there strong demand for its products worldwide, while foreign exchange issues stifle earnings.
One note of caution is the drumbeat of insider stock selling, since the shares topped $60. RMD's President, Americas, sold more than 7,000 shares in January 2017. But consider this: the CEO joined ResMed more than 15 years before, as did the President & CEO, Chief Financial Officer, and President of Innovation & Operations. Officers and management have been accumulating share for years. The team seems stable and built a successful company. They have work to do on the earnings side, but RMD is a leader in its field setting the pace for innovation and heightening awareness in the biotech healthcare segment.
Disclosure: I/we have no positions in any stocks mentioned, and no plans to initiate any positions within the next 72 hours.
I wrote this article myself, and it expresses my own opinions. I am not receiving compensation for it (other than from Seeking Alpha). I have no business relationship with any company whose stock is mentioned in this article.