In my upcoming newsletter I will be providing a 2017 Outlook for all property sectors. As referenced last week on Seeking Alpha, I am bullish in both the Industrial and Cell Tower sectors as I believe they have strong potential for delivering outsized growth in future quarters.
Now that Donald Trump is in officially office, there is continued optimism that certain sectors will perform better than others.
As referenced last week on Seeking Alpha, we believe that lower taxes and infrastructure spending support our Industrial outlook, and as one reader pointed out, "Donald Trump's healthy tweeting habits support the cell tower sector."
We continue to maintain a bullish sentiment with regard to Retail. Specifically, we believe that "grocery-anchored REITs should perform best since they have higher exposure to more internet resistant tenants."
Accordingly, we are maintaining a "selective approach favoring strong balance sheet management practices and steady and growing dividends."
For 2017 we are forecasting REIT returns of between 7% to 8% - measured by 4% price appreciation and 4% dividend yield, and if we don't see that a company will deliver comparable returns we are not inclined to recommend the trade.
Although many income investors are seeking dividend yields in excess of 7% we believe that it's important to not only focus on the potential for dividend growth but also share price growth. For that reason, I decided to take a closer look at the high-yielder Whitestone REIT (NYSEMKT:WSR) as we would like to know if the company is able to deliver MORE than monthly dividend income.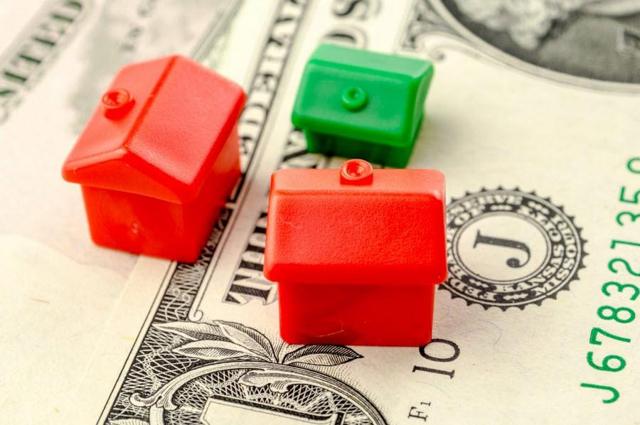 A Closer Examination of Whitestone REIT
Whitestone REIT (NYSEMKT: WSR) was founded in 1998 and began trading as a public company on August 25, 2010. Its portfolio today consists of 71 Community Centers with approximately 6.1 million square feet of gross leasable area, located in six of the top markets: Austin, Chicago, Dallas-Fort Worth, Houston, Phoenix. Headquartered in Houston, Texas.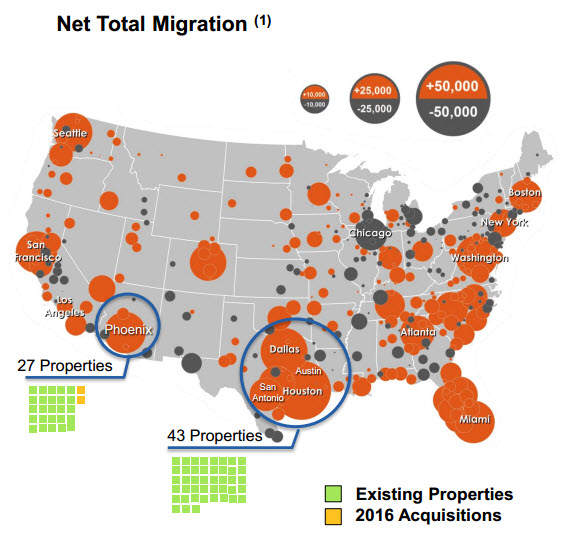 As I referenced in a previous article, " I decided to invest in WSR during the downturn in Houston last year and since that time, I have sold out of WSR, but I still own a few shares in the Monthly Dividend Portfolio."
Houston is actually a diversified market with 26 Fortune 500 companies, and 6 of the top 10 employers in the town are energy-related. Today, energy accounts for about 38% of the GDP in Houston as opposed to 75% in the 1980s.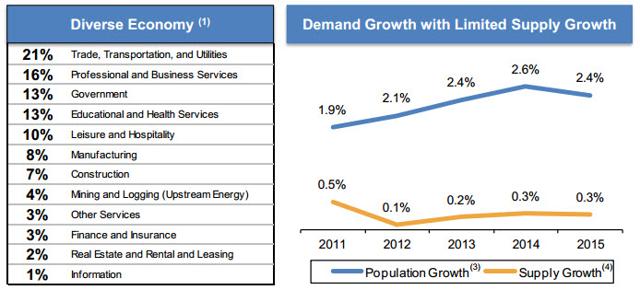 I'm not as concerned about WSR's concentration in Houston or Phoenix so much as I am the concentration of non-investment grade tenants. WSR is unique in that it does not focus on generating investment-grade income, but instead, strives to consolidate distressed centers in markets that enjoy sound household income levels. As I mentioned earlier, I like REITs that generate income from grocery anchors, not necessarily the small shop tenants.
Here's a snapshot of WSR's core markets: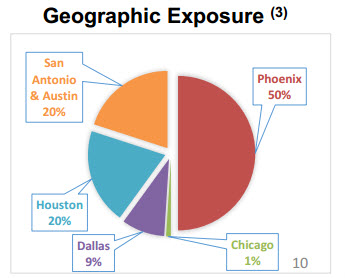 WSR's higher household income leads to greater discretionary spending"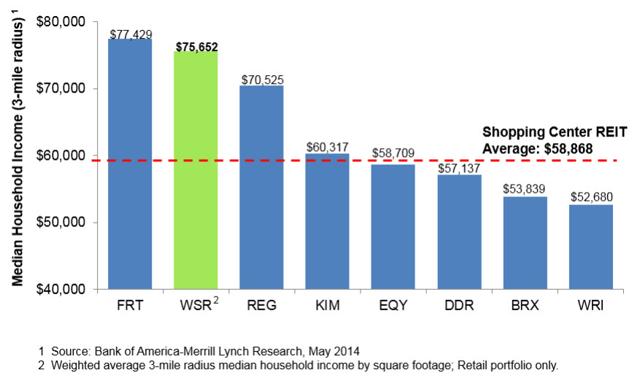 However, WSR lacks geographic diversification and that is a risk that investors must consider. While I view Texas and Arizona as attractive markets, there is modest geographic diversification and we believe that WSR should now begin to expand outside of core markets.
Also WSR is much smaller than the other shopping center REITs, as the company has stayed inside its geographic footprint. Here's how it compares based on Market Capitalization (Warning: WSR is a small-cap REIT, so make sure to always diversify):

A Unique Player in the Shopping Center Sector
Although buying value-add shopping centers is somewhat of a niche investment strategy, WSR's model is scalable and produces exceptionally high returns. WSR is considered a more tactical re-developer in that the company seeks to acquire "broken" centers and then "bring them back to life" by leasing up space. As you can see below, WSR focuses on community centers and neighborhood centers (see definitions in the chart below):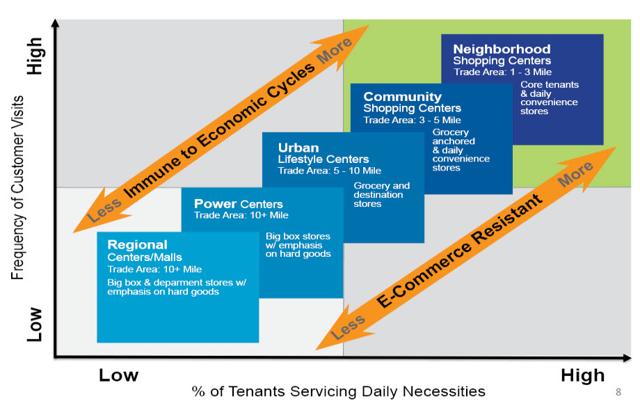 WSR has a diverse portfolio that includes grocery (13%), dining (21%), services (23%), beauty & health (20%), education (6%), and specialty retail (17%). 83% of the company's tenants are service-based and resistant to e-commerce. Also, WSR has only two tenants with more than 1% ABR (annual base rent):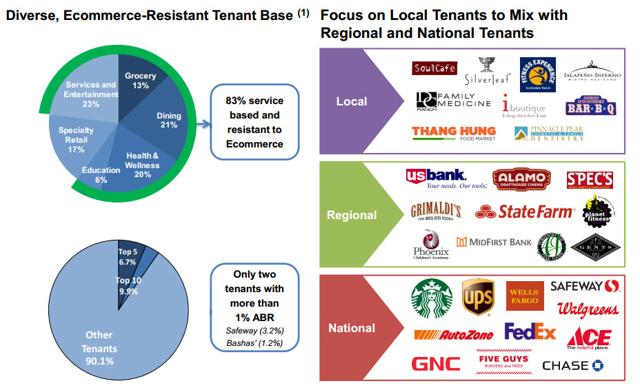 WSR's diverse tenant base is concentrated in a variety of categories, so the tenants tend to occupy smaller spaces (less than 3,000 square feet), whereby the small tenants pay a 48% premium over the large tenants. The obvious advantage is that the more diverse portfolio minimizes downside risk with no single tenant concentration.
WSR has continued to be very active in the acquisition side of the business, maintaining a strong pipeline of opportunities sourced through deep relationships in targeted markets.

The company expects to fund these acquisitions using many sources of capital, which include non-core asset sales and issuance of operating partnership units. As evidenced by the chart below, the REIT has maintained a disciplined acquisition strategy: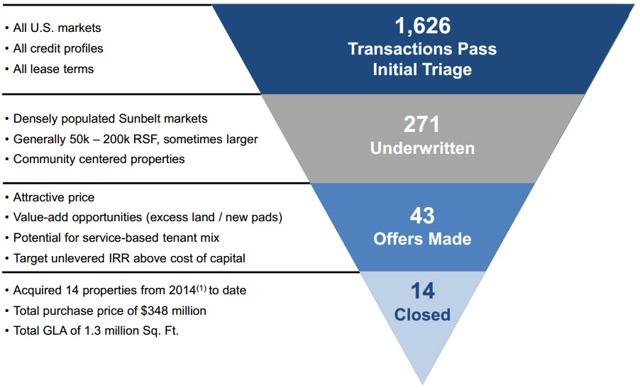 In May 2015, WSR acquired Davenport Village in Austin, TX. The company paid $45.5 million for this property, hoping to drive rent growth by leasing up space and growing below market rents.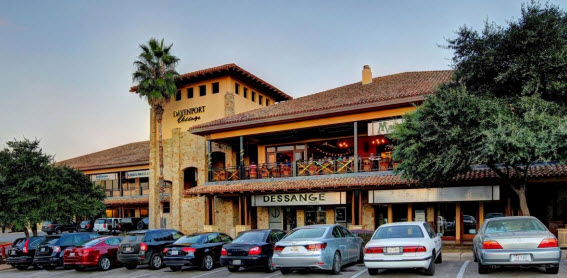 Another example is Village Square at Dana Park located in Mesa, AZ. WSR purchased thus property in 2012 and has since increased rents by over 21%. This is a perfect example of how the REIT has increased value by taking a troubled center and turning it into a performing asset.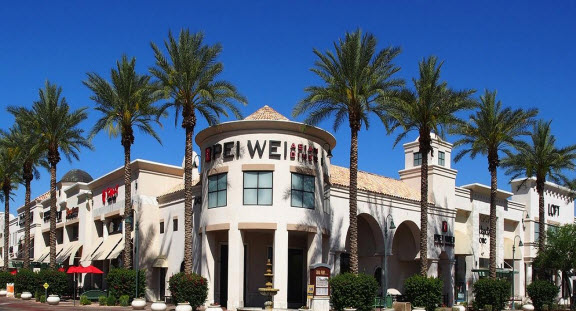 During the third quarter WSR expanded its portfolio with acquisitions of two upscale retail centers, located in Scottsdale. Those are value-add properties and are complementary to WSR's ecommerce resistant business model.
These assets bring WSR's total holdings in the greater Phoenix metropolitan areas to 27 community center properties, totaling 2.3 million leasable square feet and are supported by existing infrastructure.
This is also the second acquisition WSR made using OP units priced at $19 a share, a premium to the current market valuation. It's WSR's intention to utilize this OP unit structure in the future. Tenants at these two properties includes two Starbucks, Orange Theory Fitness and Ruth's Chris, and Mastro's Steakhouse, Walgreens, Kumon, Bank of America, and Jamba Juice.
WSR expect to complete the disposition of its remaining non-core assets in 2016, achieving the previously communicated goal of becoming a pure play owner of retail shopping centers. Here's a snapshot of WSR's growing asset base: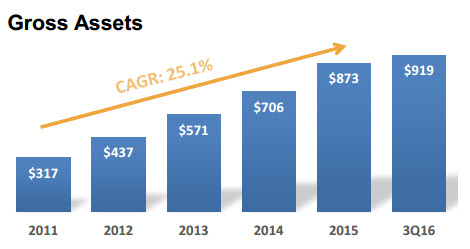 The Balance Sheet
At the end of Q3 WSR had total real estate assets on a gross book basis of $918 million, producing approximately $74 million in annual net operating income. This equates to an over 8% unlevered cash-on-cash return on our investments.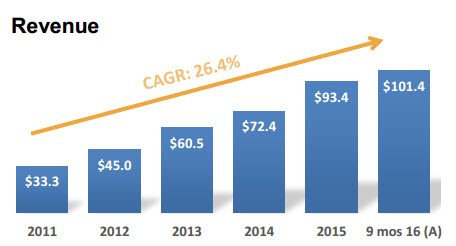 WSR's capital structure remains simple with no joint ventures and a combination of property and corporate level of debt. The underlying debt structure is a mix of secured and unsecured debt and well laddered maturities.

WSR's debt composition gives the company the financial flexibility and support to quickly react to growth opportunities and changing conditions. At the end of Q3 WSR's debt was approximately 64% fixed rate with a weighted average interest rate of 3.8% and a weighted average remaining term of 5.5 years.

WSR's real estate debt at quarter-end was 540 million and the company had $108 million of availability under its credit facility with an additional availability of up to $200 million from the exercise of the facilities accordion option.
WSR expects its debt leverage to decrease over time as a result of increased net operating income generated from increases in occupancies and rental rates and capital structuring of future acquisitions.
WSR's debt-to-EBITDA ratio decreased from 8.9x in Q2-16 to 8.5x in Q3-16. The company maintains a largely unsecured debt structure with 52 unencumbered properties out of 71 with an undepreciated cost basis of $687 million.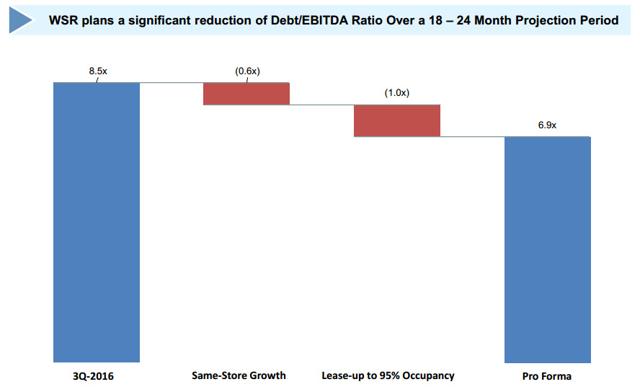 Keep in mind that WSR's leverage (53% debt to total cap) is higher than most shopping center REIT peers and I don't see the liquidity as strong for non-anchored centers. While our favorite REITs, like Kimco (NYSE:KIM) and Retail Opportunity Investment Corp (ROIC), derive the majority of their income from investment grade rated grocers, WSR's specialized approach offers a higher risk value proposition.
Also, in a rising rate environment I believe that WSR's tenant composition will be subjected to higher levels of debt costs that can erode into profits. With around 36% floating rate debt, WSR is also exposed to rate volatility.
I do not see as much opportunity for WSR to recycle assets. Many of the properties owned by WSR are not grocery-anchored, and the potential pool of buyers are limited to high net worth investors and smaller owners.
I believe this makes it more difficult for it to dispose of stabilized centers. Also, given where we are in the cycle, WSR is not going to see as many distressed centers to acquire, and this will force the company to tighten investment spreads, forcing the company to expand into new growth markets.
A Deeper Look at the Income Statement
For the third quarter, WSR's total revenues increased 3.7% over the same period last year to $25.5 million. Same-store revenues (which represent 91% of total revenues for the quarter) grew 1.8% to $23.3 million. Net operating income for the quarter increased to 5.4% over last year, driven by top line growth and efficiencies gained in property operating expenses.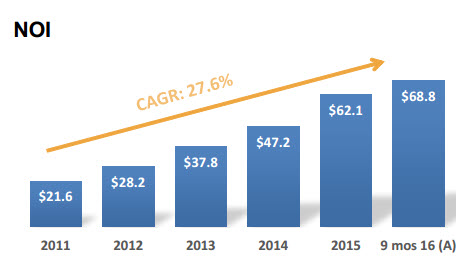 WSR's Funds from operations core for the quarter increased 3.8% or $360,000. The increase in FFO core was primarily driven by increased net operating income of $900,000. Here's a snapshot of WSR's FFO growth history: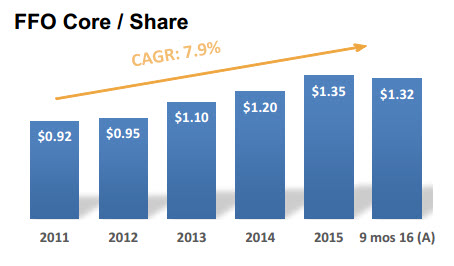 WSR has tightened the guidance range for funds from operations core per share to $1.34 to $1.37, validating the fact that growth has slowed from previous years. Using FAST Graph (below) here's the AFFO history and forecast:

As you can see (above) the forecast suggests modest growth in 2017 (+.90%) signaling that there will be no dividend growth.
But that's been par for the course, WSR has maintained a FLAT dividend since 2012: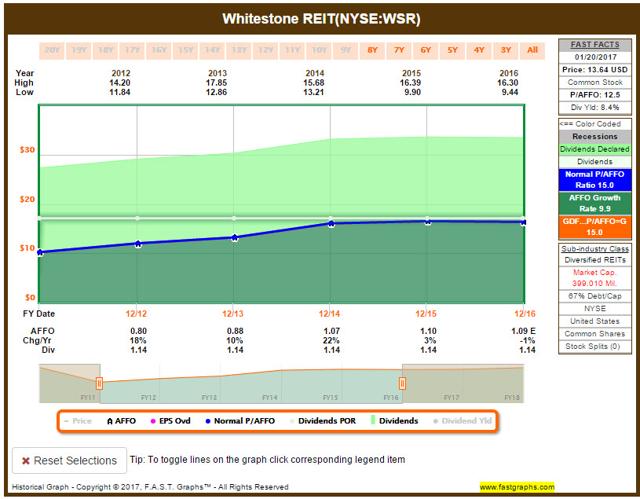 What You See Is What You Get
When I see a company that does not grow its dividend, it's not always a sign that the company is a bad stock to own. However, based on my conclusive REIT research, most REIT's that grow dividends also grow their share price.
As stated earlier, I previously owned WSR and the reason that I owned the stock was because shares were truly cheap. I opted to take advantage of the mis-pricing (caused by Houston) and later sold out as valuations normalized.
What's "normal" value? Take a look at WSR's dividend yield compared with the peer group:

Comparing WSR's yield with the above peers provides insight into the risk of the REIT. As noted, WSR has much higher geographic risk, balance sheet risk, and tenant risk. How safe is the dividend?

Not very. WSR has not been able to fully cover its dividend since going public. In my opinion, this should be a TOP PRIORITY for the company so it can avoid what Wheeler REIT (NASDAQ:WHLR) has done ( see latest article on WHLR HERE).
Until we see promise that WSR's management team is steering the company in the right direction (lower payout ratio), we will not be recommending shares, especially in light of the current valuation:

Yes, shares look cheap, but based on historical levels (see below) we believe the share price does not reflect any discount being offered by Mr. Market.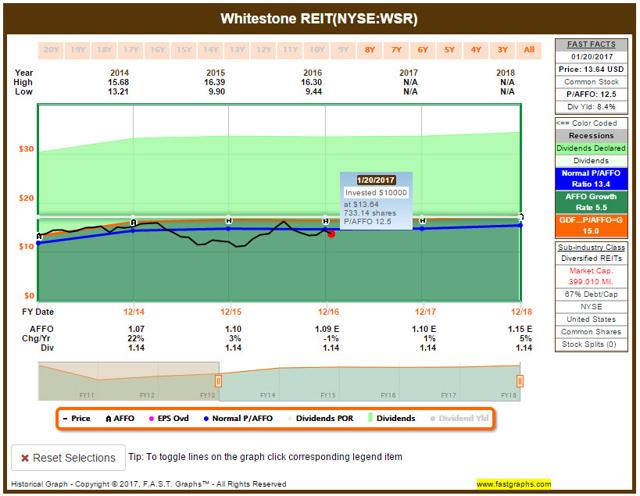 In closing, while WSR's 8.4% dividend yield is seemingly attractive, we believe that there is not enough of a discount to warrant buying at this time. For investors seeking dividend yields in excess of 7% we suggest picking up preferred REIT shares (as seen in our newsletter) or several commercial mortgage REITs (like BXMT - recent article HERE - or STWD - recent article HERE).
Join me at the DIY Investor Summit where I share detailed tips on my core investment strategies, top advice for DIY investors, and specific ways I'm positioning for 2017.
I am honored to partner with Seeking Alpha and Investor in the Family as a presenter at the DIY Investor Summit. In total, 25 of the best investors on Seeking Alpha have gathered to share detailed tips on our core investment strategies, top advice for DIY investors, and specific ways we're positioning for 2017.
This is a unique event that you will not want to miss. FREE REGISTRATION IS NOW OPEN (for a limited time). Learn more by clicking here.
Source: FAST Graphs, and WSR Filings.
Other REITs mentioned: (NYSE:UBA), , (NYSE:EQY), (NYSE:FRT), , (NYSE:RPAI), (NYSE:REG), (NYSE:WRI), (NYSE:RPT), (NYSE:DDR), (NYSE:WPG), (NYSE:BRX), (NYSE:UE), (NYSE:AKR), and (NYSE:KRG).
Author Note: Brad Thomas is a Wall Street writer, and that means he is not always right with his predictions or recommendations. That also applies to his grammar. Please excuse any typos, and be assured that he will do his best to correct any errors if they are overlooked.
Finally, this article is free, and the sole purpose for writing it is to assist with research, while also providing a forum for second-level thinking. If you have not followed him, please take five seconds and click his name above (top of the page).
Disclaimer: This article is intended to provide information to interested parties. As I have no knowledge of individual investor circumstances, goals, and/or portfolio concentration or diversification, readers are expected to complete their own due diligence before purchasing any stocks mentioned or recommended.
Disclosure: I am/we are long O, DLR, VTR, HTA , STAG, GPT, ROIC, HCN, OHI, LXP, KIM, WPC, DOC, EXR, MYCC, TCO, SKT, UBA, STWD, CONE, BRX, CLDT, HST, APTS, FPI, CORR, NHI, CCP, CTRE, WPG, KRG, SNR, LADR, PEB, BXMT, IRM, CIO, LTC, DEA, NSA, HASI, VER, SRG, SPG.
I wrote this article myself, and it expresses my own opinions. I am not receiving compensation for it (other than from Seeking Alpha). I have no business relationship with any company whose stock is mentioned in this article.