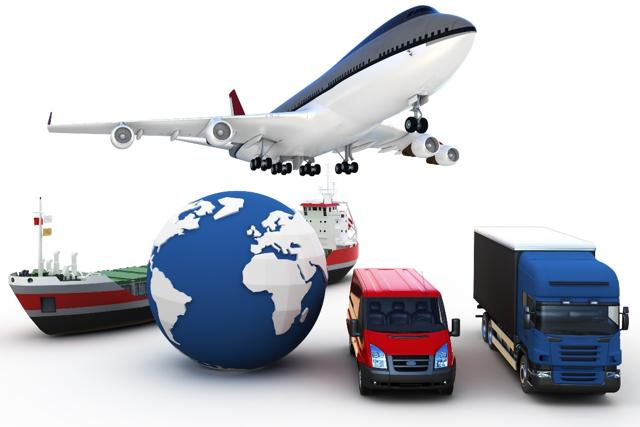 Source: Google Images
President Trump's inauguration speech was focused on, but of course, America. The gist was to put the power back into the hands of America's citizens, rather than in the self-interested government's, commingled with the private sector. The "buy America, hire America" slogan says it all.
The impact on markets before, during and after the ceremony was not highly volatile. Markets for the most part, closed slightly below their morning highs. Transports edged lower during the week.
A key focal point for 2017 will be the North America Free Trade Agreement (NAFTA). This trade agreement touches nearly every public freight company trading on U.S. stock exchanges. Some companies like Kansas City Southern (NYSE:KSU) have substantial exposure to Mexico, but others like Union Pacific (NYSE:UNP) and FedEx Corporation are also exposed. The freight sector will have a vested interest in future policy developments as they relate to NAFTA.
YTD 2017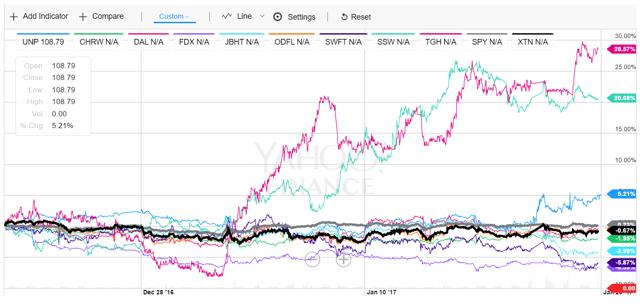 Source: Yahoo! Finance
For the third week of 2017, the spread between the S&P Transportation ETF (NYSEARCA:XTN) and the S&P 500 ETF (NYSEARCA:SPY) declined to 0.1 percentage points. The S&P 500 ETF declined by 20 basis points (bps) to 1.4 percent, while the S&P Transportation ETF declined by 60 bps to 1.5 percent for 2017.
Earnings season is just getting started and will be picking up the pace over the next few weeks. So far, early transport reports have been mostly positive with CSX (NYSE:CSX) being a major exception. But hey, it doesn't really matter when you have Hunter Harrison stalking the company. Expectations should be for market fluctuations to be influenced by major earnings announcements from traditional stalwarts, to tech darlings.
Rail Operators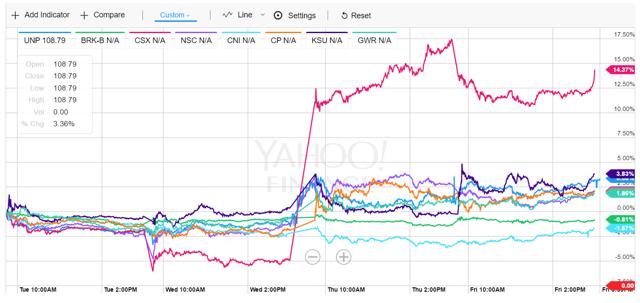 Source: Yahoo! Finance
Rail operators were mostly positive this past week led by the surge in CSX's stock resulting from Hunter Harrison's early retirement and anticipated transition to CSX. Kansas City Southern had a strong performance Friday after its earnings report. Union Pacific has steadily increased from $102 to over $108 per share.
Week two for 2017 witnessed an improvement for all Class I total traffic carried. Through the first couple of weeks, most remained negative. My top picks for 2017 remain Canadian Pacific (NYSE:CP), Kansas City Southern and Union Pacific.
Railcar Manufacturers & Lessors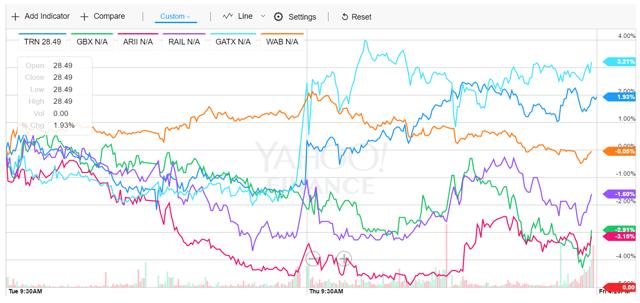 Source: Yahoo! Finance
For railcar manufacturers and lessors, GATX Corporation (NYSE:GATX) led performance as the market was receptive the company's revenue and earnings beat. Other than that, other peers were mostly muted to negative for the week. Laggards included American Railcar Industries (NASDAQ:ARII) and The Greenbrier Companies (NYSE:GBX).
Now that Class Is have begun to report their outlook for 2017, things are shaping up for modest carload and intermodal traffic growth based on these early projections. I am not confident that the tides will be turning this year for railcar manufacturers. I don't see a lot of value for railcar manufacturers and lessors at the moment.
Truckload Carriers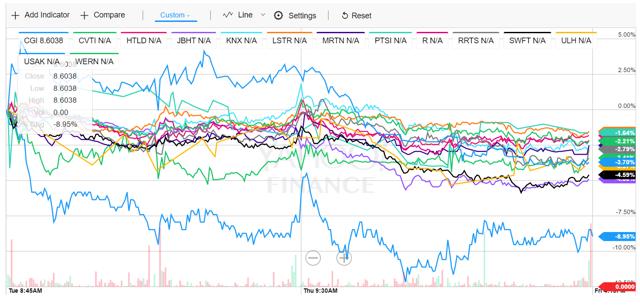 Source: Yahoo! Finance
Truckload carriers had their first broad-based down week for the year this past week. Every company was down for the week, with the majority being down 1.5 to five percent. The laggard for the week was USA Truck (NASDAQ:USAK). JB Hunt Transport (NASDAQ:JBHT) was the sole trucking company to report this week. Revenue and earnings results were solid, but the stock still declined greater than three percent.
The focus for 2017 with trucking will continue to be the possibility of a tightening market based on drivers and equipment; versus demand. In the event demand increases, and if tightening does occur to a degree, the prospects for shareholder performance will improve. The wild card is weighted more with demand right now. My two companies I am watching are Swift Transportation (SWFT) and the upcoming IPO for Schneider National (NYSE:SNDR).
Less-Than-Truckload Carriers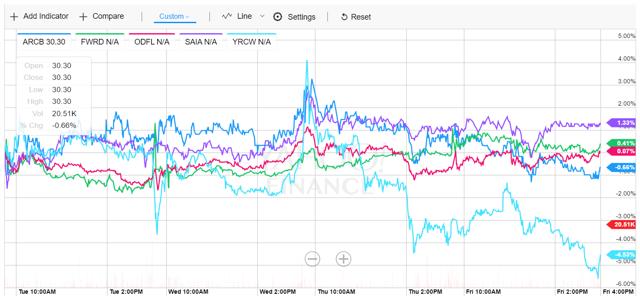 Source: Yahoo! Finance
Less-than-truckload, LTL peers were mostly flat for the week. The exceptions were Saia (NASDAQ:SAIA) which was up over one percent, and YRC Worldwide (NASDAQ:YRCW) which was down 4.5 percent.
Like the trucking industry, the relationship of tightening and demand within the market will be key. For LTL peers, the expectation is for an improving industrial sector to serve as a catalyst for positive performance. Most LTL carriers have a 60-40 split with industrial customers reflecting the majority. The play for LTL for me continues to be YRC Worldwide. But the unionized labor risks will likely keep the company's valuation metrics below non-union peers.
Air Freight, Package & Delivery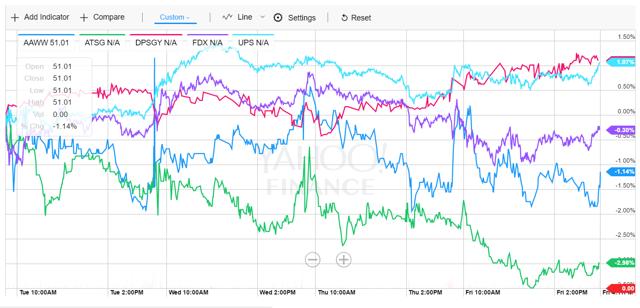 Source: Yahoo! Finance
For air freight package and delivery peers, air freight lessors were at the low-end of performance for the week. The laggard was Air Transport Group (NASDAQ:ATSG), down nearly three percent. FedEx Corporation (NYSE:FDX) has entered a trading range towards the mid-$180s. It is on my radar for a position add if it breaks to the $175 per share level.
Gross domestic product (NYSEMKT:GDP) and retail sales, e-commerce sales in particular will continue to be economic indicators for the health of air freight and package delivery companies. Other than FedEx, there is not much value in this group.
Contract Logistics, Forwarding & Brokerage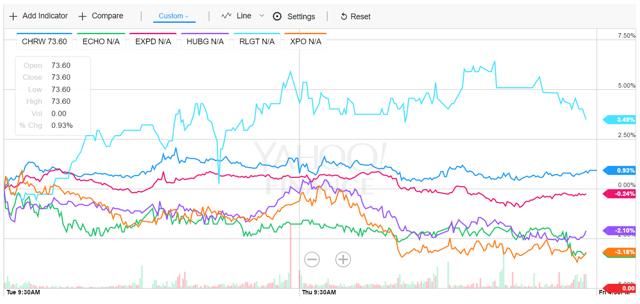 Source: Yahoo! Finance
Contract logistics companies were mostly down during the week, led by Echo Global Logistics (NASDAQ:ECHO) and XPO Logistics (NYSEMKT:XPO). For the long-term, XPO continues to be my favorite company to own within this group; an addition to the existing position was added on Friday.
Many contract logistics companies provide services including air and ocean freight forwarding, customs brokerage, and other import/export services. These companies may gyrate some due to the uncertainties surrounding President Trump's new administration and their approach to foreign trade.
Container Shipping Lines, Charter Owners & Container Lessors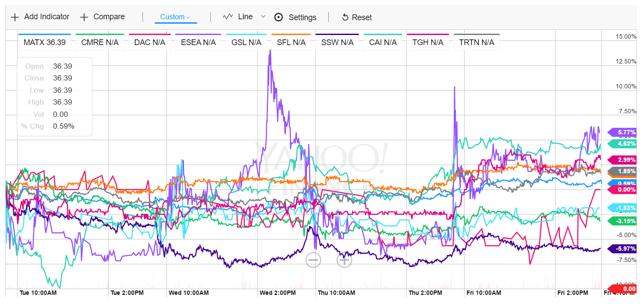 Source: Yahoo! Finance
The container shipping industry has gotten off to a great start to 2017. But the third week of the year was a subtle reminder regarding volatility. Most peers were positive for the week. But both Seaspan Corporation (NYSE:SSW) and Costamare (NYSE:CMRE) were down six and three percent.
Without even taking President Trump's import trade policy focus into account, the container shipping industry would still be in uncertain waters for 2017. In particular, the Trans-Pacific trade lane will be an important focal point as Trump has singled out both China and Japan. I continue to find value in Matson (NYSE:MATX), and not much else; I would still wait for a pull-back however.
Airlines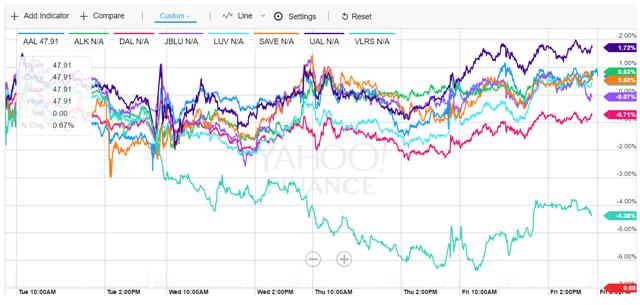 Source: Yahoo! Finance
Airline stocks were mostly flat for the week. United Continental Holdings (NYSE:UAL) was up nearly two percent. For the second straight week, the laggard during was Controladora Vuela Compania de Aviaion (NYSE:VLRS).
The primary threat to airline operations for 2017 is the possibility of an increasing price of oil. Views are highly mixed with some believing oil will remain flat, while others have espoused contradicting viewpoints between higher and lower price levels. Time will tell.
Demand Trends
Key demand-based indicators that are monitored include Class I rail traffic, trucking industry tonnage, shipments, and loads, air cargo tonnage, container shipping line twenty-foot equivalent units, TEUs, North America seaport TEUs, shipping lane port calls, North America cross-border trade, and freight rates for most of these indicators.
U.S. & Canada Class I Rail Traffic - Carloads & Intermodal Units Carried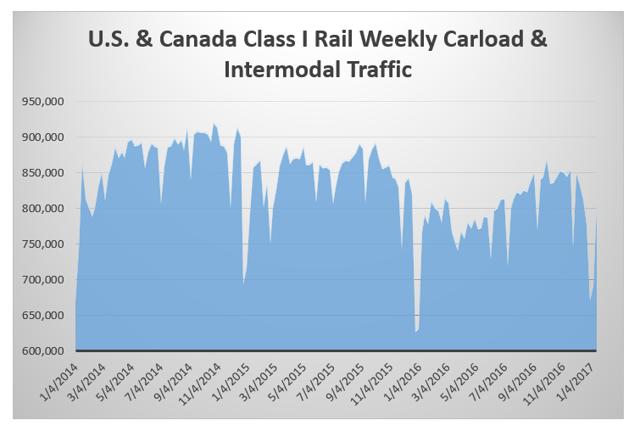 Source: Class I websites and personal database, carload and intermodal units carried
For the second week of 2017, total traffic was at -4 percent with carload traffic at -1.6 percent, a 460-bps improvement; and intermodal traffic at -6.8 percent, a 710-bps improvement. Week two's performance has already displayed substantial improvement.
Container traffic was at -6.7 percent, a 680-bps improvement. As of early December, eastbound intermodal container weekly rates remained positive in the single digits with the exception being the Northwest to Midwest average rate which was up 24 percent. Westbound average pricing was down four to 20 percent.
Week 2 witnessed weekly coal carload traffic at 108,000 carried carloads. This reflected a 10 percent increase versus last year. Coal is expected to be much stronger than in 2016. Grain performance was up four percent versus last year.
Motor vehicles and equipment carload traffic remained substantially below 40,000 carloads due to seasonality, performance was down two percent versus last year for the second consecutive week. Chemicals were down one percent, petroleum products were down 17 percent and crushed stone, gravel and sand was up 4.5 percent. Petroleum products displayed a six-percentage point improvement from the previous week.
Trucking Industry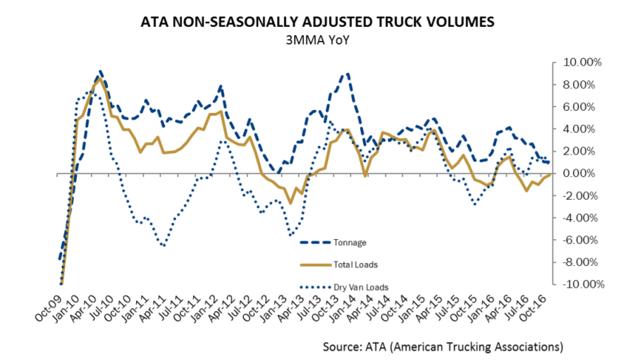 Source: Cass Information Systems, Cass Freight Index
As the trucking industry continues to have discussions regarding the projected driver shortage for both the near- and long-term, the topic of autonomous trucks continues to grow. While every major automobile manufacturer is expecting to have a fully autonomous passenger vehicle within the next two to three years, the trucking industry is more complex.
Issues surrounding cargo security as well as federal guidelines and rules are just a couple examples of these challenges. The benefits of safety, efficiency and productivity will continue to be measured against the need for drivers. Automation will continue to press forward throughout manufacturing, warehousing/distribution and freight industries.
Air Cargo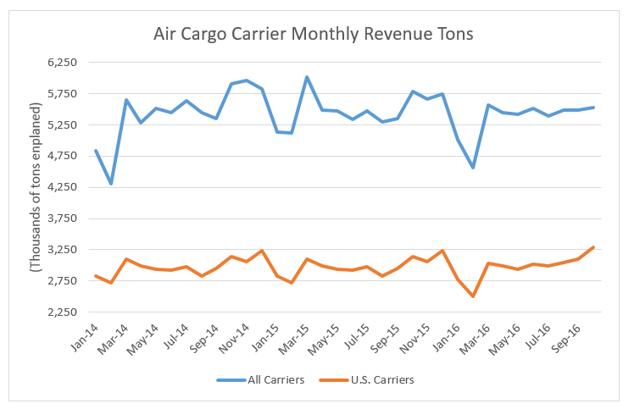 Source: U.S. Dept. of Transportation, Bureau of Transportation Statistics, Air Cargo Summary Data
The recent strength in air cargo tonnage during the peak shipping season has some experts thinking that the momentum could be sustained through 2017. One commodity type which has benefited of late has been increases in shipments for silicon materials used in high-value consumer electronics products.
Some experts believe that a modal shift has occurred resulting from the Hanjin Shipping bankruptcy last year. Business outlooks have improved their positive levels of late, but air cargo carriers will need to continue to provide strong value propositions for customers to maintain freight demand.
Container Shipping Lines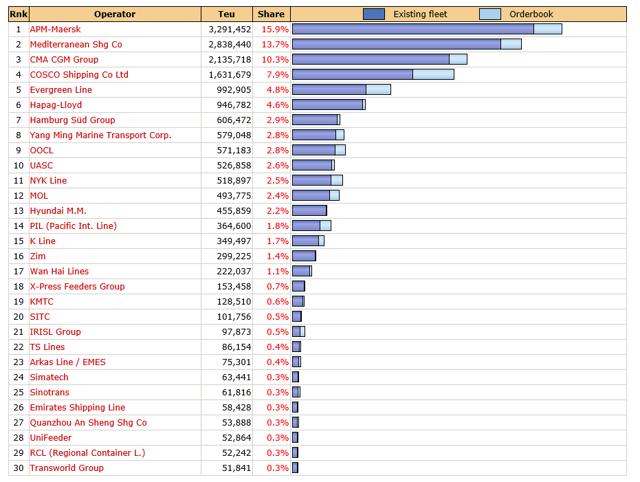 Source: Alphaliner - Top 100 Operated Fleets as Per January 21, 2017
Average spot market container pricing has remained strong through the third week of January for both import and export moves in the Trans-Pacific trade lane. Rates have also been strong and/or stable for the Asia-Europe trade lane. The Trans-Atlantic continued to witness weaker rates through the end of 2016, with greater weakness from Europe to the U.S.
On Friday during President Trump's inauguration, the Port of Oakland's International Container Terminal shut down with longshoremen protesting the inauguration. The other container terminals were open for yard and gate operations, but not for vessel loading/unloading. Most U.S. ports will be vulnerable to sensitivities surrounding Trump's inevitable attempts at increasing trade tariffs for imported goods to the U.S.
North America Seaports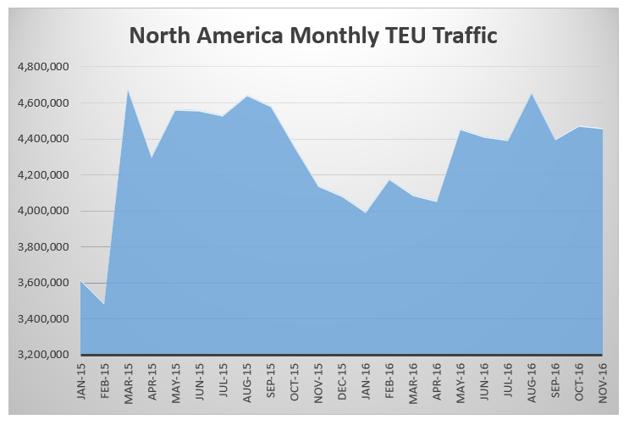 Source: North America seaport websites and personal database
With last week's early port numbers indicating that the end of 2016 will witness strong TEU performance, the natural question is to what degree 2017's performance expectations should be at. Early Class I railroad container units carried suggest that January may be down versus last year.
This makes sense as both January and February of 2016 witnessed very strong performance against 2015's lower baseline comparable, especially on the West Coast. This stemmed from the labor union issues which led to a substantial decline in cargo handling through February. Predictability for TEU traffic this year is not clear as a result.
North America Cross-Border Trade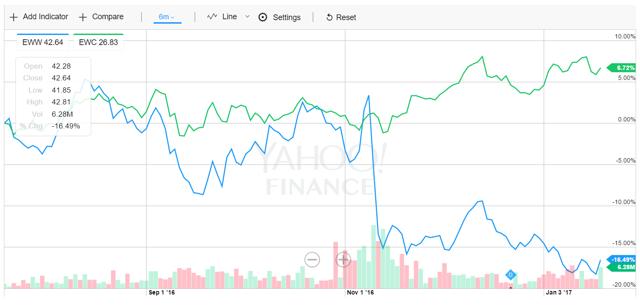 Source: Yahoo! Finance
The iShares MSCI Mexico Capped (NYSEARCA:EWW) has continued to substantially underperform the iShares MSCI Canada ETF (NYSEARCA:EWC). Despite the pressure which has been placed on the Mexico Peso and broader indices, some individual companies have displayed some strength of late. As an example, Grupo Aeorportuario del Pacifico (NYSE:PAC) was up over three percent on Trump's inauguration day.
Kansas City Southern reported its earnings today, the same day President Trump was inaugurated. As one might expect, most of the questions surrounding the companies call were geared towards the potential impacts to NAFTA. Obviously, Kansas City Southern did not have clear answers for many questions, but the company is poised to maximize its opportunities, whatever they may continue, or adjust to be.
Summary
Overall, this past week was marginally lower for broader indices and transports. The excitement regarding the possibilities of a new Trump administration may have worn off. Now it is time to roll up the sleeves and get some work done. In other words, tangible results are coming, and there will be ramifications.
The most interesting part of the Trump administration's near-term undertakings will be the foreign trade policy adjustments. This will have far-reaching effects upon the entire freight sector. Volatility will likely increase, especially as Mr. Trump continues to tweet his next moves.
Disclosure: I am/we are long FDX, JBHT, KSU, MATX, XPO.
I wrote this article myself, and it expresses my own opinions. I am not receiving compensation for it (other than from Seeking Alpha). I have no business relationship with any company whose stock is mentioned in this article.
Editor's Note: This article covers one or more stocks trading at less than $1 per share and/or with less than a $100 million market cap. Please be aware of the risks associated with these stocks.