Natural gas (NYSEARCA:UNG) prices finished the week down 6.43%.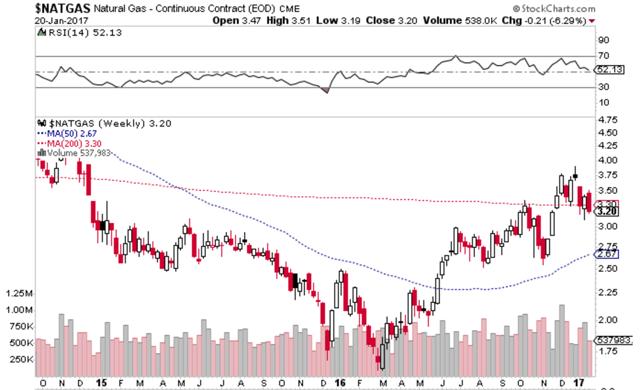 Most of the decline in the week came on Friday as the long-range (11 to 15 day outlook) flip-flopped from bullish to neutral. We noted the importance of watching out for these model flip-flops in our last week's weekly natural gas recap. Most natural gas traders we talk to continue to hold very short-term positions rather than take outright bullish or bearish bets.
The winter so far has not proven to be in favor of the bulls as HDDs on average are materially below normal. Storage draws on the other hand have been higher than the average and bringing a surplus storage back to the five-year average. Storage draws for 1/20 and 1/27 will bring storage back to a surplus to the average, but that won't last long with normal weather conditions to start the first week of Feb.
Latest Feb Outlook: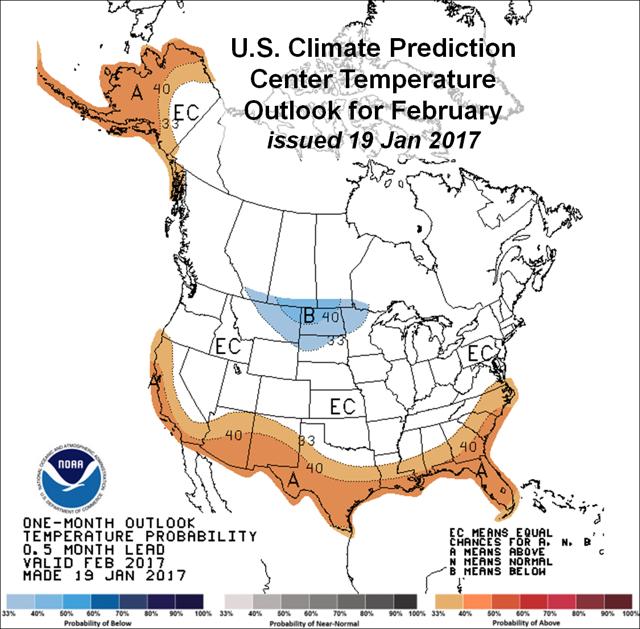 The 3.5 - 4 Bcf/d structural deficit we are seeing in the market will remain there and possibly widen in the coming months as more demand channels come online. Factoring normal weather outlook for Feb and March, our updated April EOS is at 1.6 Tcf and up sharply from the 1.41 Tcf we went into Jan with. The reduction in storage deficit comes on the back of three relatively bearish storage reports. Out of all the weeks, 1/27 is expected to be the most bearish and to produce a storage draw that's 70 Bcf lower than the average.
As we look ahead, weather model uncertainty will remain, but what won't change is the structural deficit. Our outlook as written here remains bullish for 2017 as our base case of normal weather projects materially lower injection figures post April. Somewhere along the way, supply will need to increase much faster than what's currently being projected, or demand needs to be destroyed via coal replacement.
If you find our NGDs and Weekly Natural Gas Recaps to be insightful, we think you will find our premium service to be much more valuable, you can sign up here.
Disclosure: I/we have no positions in any stocks mentioned, and no plans to initiate any positions within the next 72 hours.
I wrote this article myself, and it expresses my own opinions. I am not receiving compensation for it (other than from Seeking Alpha). I have no business relationship with any company whose stock is mentioned in this article.