On January 19, 2017, Goldman Sachs downgraded shares of GNC (NYSE:GNC), placing a sell rating on shares and decreasing their price target from $12 to $8. The day before the downgrade, GNC's shares closed at $11.15. Incidentally, although I don't have the screenshot to capture it, in after hours trading, GNC traded under $11 on the 18th. Perhaps, some of Goldman's select and lucrative hedge fund clients got a copy of the downgrade a few hours in advance of firm wide distribution. There is nothing illegal about this and it is standard practice for shops like Goldman to share their research first with their better clients.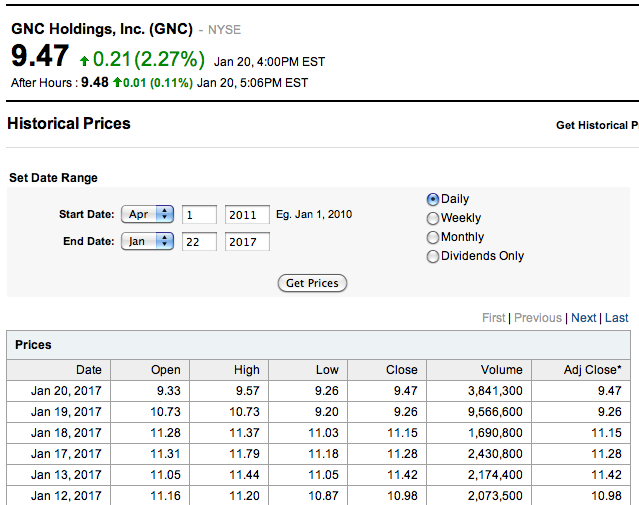 Anyway, the timing of the research report release is neither here nor there and not the thrust of this article. Instead, I will address lead analyst, Stephen Tanal's, sell rating and the qualitative specifics that led him to justify the downgrade. Incidentally, I find the timing of this downgrade puzzling, as shares of GNC were trading at $31 on the last trading day of 2015 and touched a high watermark of $60 in November 2013. This seems like classic sell side group think behavior of upgrading and downgrading stocks well after the fact, but I digress.
Goldman Sachs' report made the following four bearish arguments:
1) Price Cuts: The price cuts and product price simplifications from four prices to one standard price will "meaningfully negatively impact margins" and this will have little effect as prices still remain sharply higher than Amazon. Per Goldman's Exhibit 83, across 15 select items, they found a median price cut of 13%.
2) Elimination of $15 Gold Card: The end of the Gold Card could impact margins. They estimate at 6 million members x $15 per year, that margins could be negatively impacted, as they cited that 19% of GNC's EBIT was from Gold Card membership dollars. They also argue that the new myGNC Rewards and myGNC Pro Acess at $39.99, per year, isn't compelling.
3) Weak Traffic Trends: Per their channel checks and December 31, 2016 visit to two, yes two, GNC stores the "New GNC" will fail and there wasn't much new about the pivot.
4) Sharply reduced EBITDA estimates: Goldman dramatically cut their FY17 and FY18 EBITDA estimates from $346.2 million to $293.4 million and $339.2 million to $287.4 million, respectively. These sharp revisions are based on anticipated weaker same store sales (SSS), higher SG&A for the relaunch, and lower margins from the new Gold Card and reduced prices.
My point by point rebuttal to Goldman Sachs' four arguments:
1) In late December 2016, GNC's management announced the bold decision to eliminate cross channel price conflicts and address customers confusion with four different prices per item. Management fully acknowledge and cited weaker SSS and traffic trends and wanted to directly combat the perception that GNC's prices were too high. Therefore, they took the bold actions of reducing prices for Key Value Items (KVI). As management and Goldman correctly cited, GNC will reduce prices for 50% of items, maintain prices for 25% of items, and raise prices, using the term harvesting on the Q3 2016 call.
Yes, Goldman Sachs is correct about the price cuts, but this was clearly discussed and signaled on GNC's Q3 2016 earnings call and subsequent press releases. I am not sure what is new about this insights. Moreover, Goldman provides no definitive analyses proving that prices reduction will not drive incremental traffic and thus net-net become a headwind to margins. Goldman's premature and sweeping conclusions are frankly silly as they don't have the empirical data points to back it up. They haven't published any sensitivity analyses that model out the effects of customer traffic and volume, and if these increases will offset their 13% price cuts on the small sample size of SKUs.
2) $15 Gold Card Elimination: This one really bothers me as JP Morgan analyst, Christopher Michael Horvers specifically asked this question on the Q3 2016 GNC conference call.
Here is the excerpts from the October 27, 2016 call.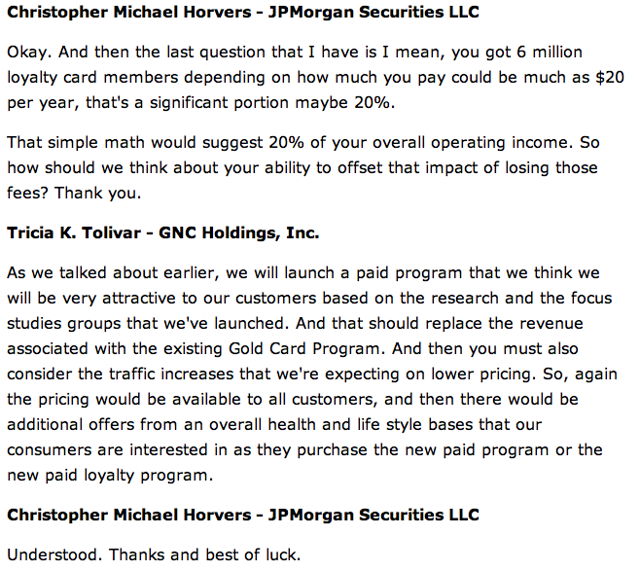 As you can see above, this specific question was raised in late October. Clearly management has modeled this extensively and GNC's CFO has done the math that $6 million x $15 less the amount of discounts Gold Card members received will have its short term impact. Other free financial media websites cited Goldman's concerns as groundbreaking, yet JP Morgan addressed this point three months prior.
To prove that I read Goldman's report in great detail, here is a snapshot of their Exhibit 84.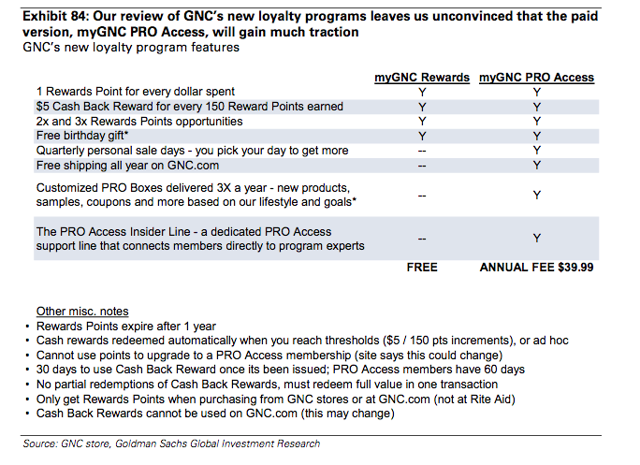 This pretty graph looks official and well researched. Lo and behold, I visited a local GNC store in my area and spoke with the store manager for 15 minutes. This was a company owned store and this manager has been with the company for 11 years. He gave me the new myGNC Pro handout, which compares the new free myGNC card and myGNC Pro. Please see the snapshots below.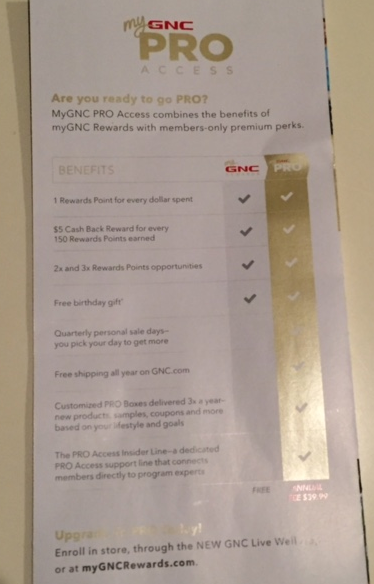 Source: In store pamphlet picture taken using my iPhone.
Here is a picture of the outside of the customized Pro Boxes that myGNC Pro members will get, three times per year, as part of their $39.99 annual subscription fee.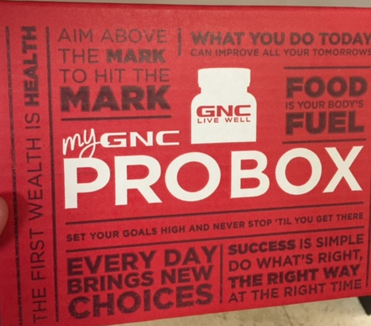 Source: In store picture using my iPhone.
Goldman's argument that the new myGNC Pro, at $39.99, offers no "discerning value proposition" is a subjective opinion. The new plan comes with free shipping (this works well for Amazon and its prime members), the customized Pro boxes (this works well for Birch Box), quarterly personal sales days (per the store manager - this a variation of a popular former option in years' past for Gold Card members), and Pro Access Insider Line (very engaged members may find value in this customization). Again, it is premature to make sweeping claims that margins will get dinged and the new myGNC Pro subscriptions isn't compelling.
3) Weak Traffic Trends: Everyone knows that GNC's mall traffic (30% of store base and 35% of revenues per the Q2 2016 GNC earnings call) have been weak, but in line with mall traffic. Management has very transparently cited this and since Robert Morgan's new leadership selection in July 2016, they are actively focusing on this issue.
Here are important comments from Robert Moran's Q3 2016 conference call opening remarks. See below, they eliminated bulk sales. As an aside, I learned some important lessons from some of my B school classes. One of them was the importance of leadership and the willingness to cannibalize once cash cows, like a $15 Gold Card, in order to adapt and adjusted to a new competitive environment. Mr. Moran is a seasoned and successful executive that held the top job at Petsmart, so I am quite confident that he understands the rough retail terrain. Isn't it a bit silly for a 31 or 32 year old from Goldman Sachs to make sweeping comments, three week into a bold turnaround plan.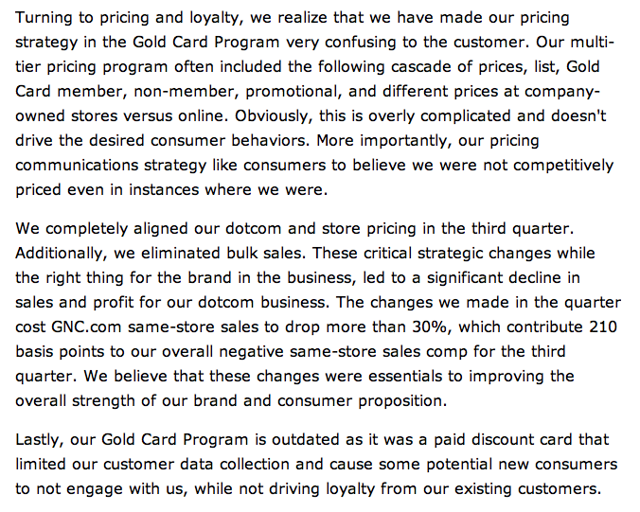 Here are CFO, Tricia Tolivar's, comments discussing mall traffic from the Q2 2016 conference call.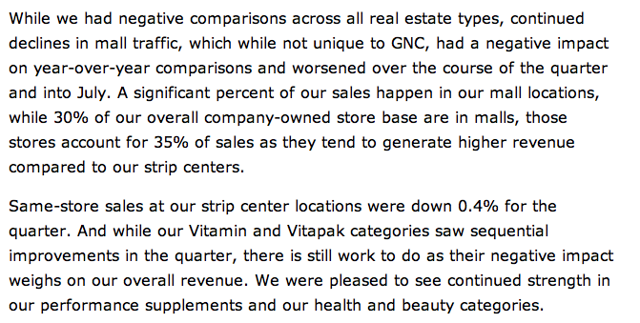 Incidentally, I find it ironic that Mr. Tanal asked on the Q2 2016 earnings call about closing mall stores when leases expire. Per the CFO, 95% of mall stores are earnings above their cost of capital despite the weak traffic patterns.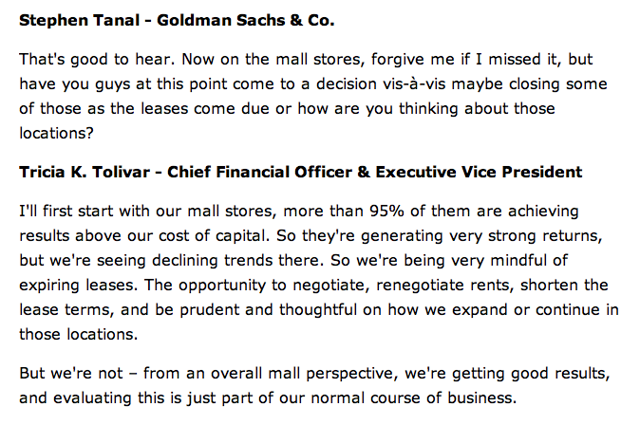 Finally to wrap up point #3, Goldman's Q4 2016 estimates are calling for SSS to be down 9.5%. A down 9.5% SSS number is well above Q3 2016 numbers due to the elimination of bulk sales and BOGO (buy one, get one) and this is a basic extrapolation of recent trends. How is this surprising or new information?
4) Goldman's sharply reduced EBITDA for FY17 & FY18: Given the uncertainty surrounding the success of the New GNC, it is a fool's errand to try and pretend that FY17 and FY18 earnings can be accurately modeled. The scenario analyses required to stress test the effects of new lower prices, the new myGNC Pro program, how the insights from the new free myGNC will effect traffic make it nearly impossible to model. Let's face it, Mr. Tanal, along with every other sell side analyst is merely guessing as they don't have access to the required internal data analytics needed to even publish a good estimates. And we know that on the Q2 2016 earnings call management temporarily suspended earnings guidance. Strong opinions are great when they are well researched and well argued using empirical data, but Goldman's half baked pricing studies and limited visits to two stores is laughable for a company with over 9,000 stores.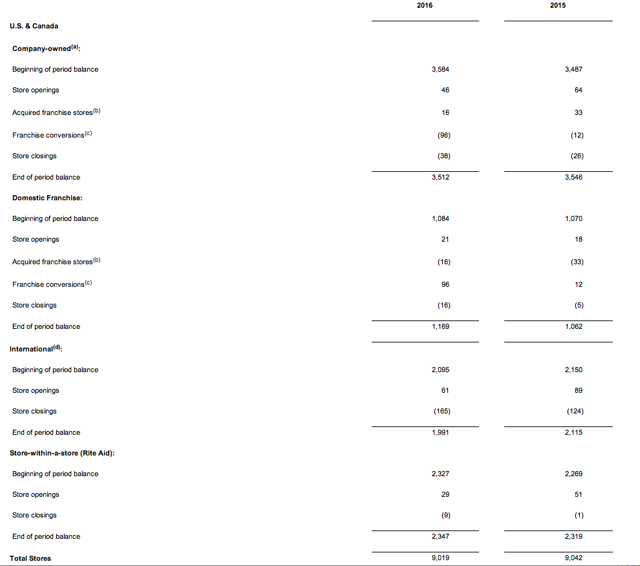 Source: GNC's Q3 2016 earnings release
Takeaway
We dipped our toes into shares of GNC in early January 2017 in the low to mid $11s. After reading Goldman Sachs' January 19, 2017 downgrade, we added more shares of GNC at an average of $9.65. I have read GNC's Q2 and Q3 2016 conference calls, multiple times, and I am a big fan of Robert Moran. I love his vision for transformation and I think his plan could work. He has the wisdom and leadership to navigate this rugged retail terrain and his bold actions are the shot in the arm needed to revive the patient. Let's face it, the prior CEOs got lazy and wasted valuable resources issuing debt and using free cash flow to buyback stock. This is never a good strategy and the New GNC plan by Mr. Moran is a strategic pivot 180 degrees.
I think his strategy of putting the customer first, lowering prices, and becoming trusted advisors are important to combat the category expansions in GNC's sweet spots from Grocery, Online, and Big Box. I would argue that items that are consumed are different than buying electronics and therefore, the Radio Shack bankruptcy comparisons are nonsensical and poorly thought out. Moreover, GNC's business model is inherently a good one with healthy margins. Its 9,000 store footprint is unmatched and a key attribute as upwards of 50% of its products are proprietary and manufactured in house. Also, given GNC's reach and presence, they have the ability to attract exclusive products offerings that can't be found on Amazon or by other race to the bottom website purveyors.
Also, I want to make a few other key observations during my weekend in store visit. This company owned store had a new point of sales (Toshiba) register there, and all of products had updated and one price label. The iPad hadn't yet arrived, but management cited a Q1 2017 date, so Goldman's ding from their December 31, 2016 visit is disingenuous. If you read management Q3 2016 conference call closely, Mr. Moran cited lots of low hang fruit. Prior management mismanaged inventories, and during his 90 deep dive review, there were out of stock items. They created a Chief Supply Chain Officer to combat this. He was very forthright and admitted that BOGO has become "crack cocaine" and drives the wrong type of buying behavior. GNC's management understands that they need to reengage their customer base and drive traffic, which will create positive operating leverage, so the bold steps are logic and well thought out.
In terms of Q4 2016 earnings, I have no idea if GNC will meet or beat consensus view or will I forecast FY17 numbers. There are way too many moving parts and I would be merely guessing. In closing, I am gravitationally drawn to turnaround as the upside is "huge" when you get it right, so I am willing to weather the short term turbulence and risk of weak stock price action, in the pursuit of intermediate term favorable stock prices returns. Lastly, every professional money manager can read a balance sheet and is well aware of GNC's relatively high debt, albeit at low interest rates. I love suddenly reading articles in the popular press citing GNC's debt and then how they immediately draw a straight line towards bankruptcy. We can call this emotional group think. I try to avoid group think and basic extrapolation. Had Mr. Moran not taken this bold and decisive action then, perhaps, I would have joined the herd and been bearish. Let's give Mr. Moran and his team for time to share their vision.
Disclosure: I am/we are long GNC.
I wrote this article myself, and it expresses my own opinions. I am not receiving compensation for it (other than from Seeking Alpha). I have no business relationship with any company whose stock is mentioned in this article.