Bristol Myers (NYSE:BMY), the $100 billion market cap drug maker now calls billionaire activist Barry Rosenstein of JANA Partners as a shareholder. Per JANA's fourth quarter investor letter, it has made Bristol-Myers a top holding. Although it hasn't waged a 'full blown' activist campaign, it could be working behind the scenes. Plus, JANA is no stranger to waging proxy battles to force change. And there's plenty of 'change' opportunities at Bristol-Myers. The stock is down 20% over the last year and trading at 52-week lows. This comes after its immuno-oncology drug Opdivo failed to meet a Phase II trial, and Merck (NYSE:MRK) grabbed some market share. Still, Bristol-Myers has a huge opportunity with Opdivo - which is expected to become one of the best selling drugs in the world and move from sales of just $1 billion to over $13 billion in a few years.
Opdivo, which is being heavily advertised in the media, had sales near $1 billion in 2015, but analysts predict it could go much, much higher, hitting nearly $13 billion annually within a few years. Despite that failure, Opdivo is in more than 50 clinical trials, which means the drug could become one of the best-selling drugs in the world.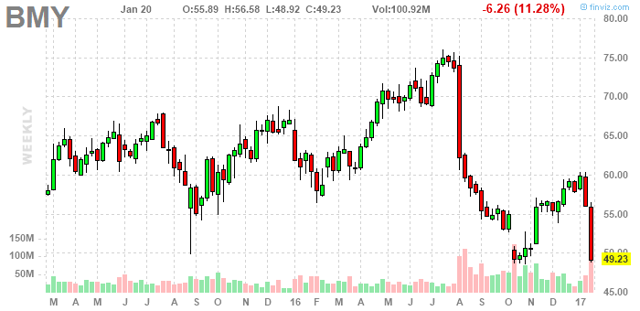 Be on the lookout for JANA to step it up over the next couple weeks, if they plan to push for management and board change - where the board nominee deadline for Bristol-Myers hits Feb. 2. JANA did effectively just end its campaign at Walgreens (NASDAQ:WBA) recently and is likely on the hunt for a new target. Yet, it's more likely that JANA stays in the shadows for now, seeing how Bristol-Myers progresses over the next few months. In all likelihood, JANA will want to stay constructive with these holding, offering positive feedback and possible theses for unlocking value.
The key play is to convince Bristol-Myers to diversify a bit, and take away its reliance on cancer drug Opdivo. The answer to that is acquisitions, although I'm not a huge fan of forced acquisitions. The other - and more likely - diversification answer is to merge with another major pharma company. Major mergers should be a key theme for 2017 (thanks to Donald Trump's de-regulation plans) and pharma is ripe, with the likes of Pfizer (NYSE:PFE) already on the prowl - as Pfizer is looking to build its own in-house program of immuno-oncology. As well, Merck could also be a suitable buyer for Bristol-Myers - being its largest direct competitor. But Pfizer is one of the few companies with the wherewithal, and it's hungry after its planned merger with Allergan (NYSE:AGN) fell through.
In the end, Bristol-Myers is one of the more appealing healthcare stocks. It's now even more interesting with JANA Partners involved. It's not entirely cheap, which helps with getting the company overlooked. But all the better. It's still a growth story, with the best expected five year earnings growth of any major drug maker. It's a growth story with a solid 3.2% dividend yield, and with plenty of optionality in the form of JANA, spin offs or buyouts. Part of Bristol-Myers' issue is the suggested over-reliance on one key drug, but the immuno-oncology space is attractive and Bristol-Myers should attract buyers should it decide to put on the auction block.
Disclosure: I/we have no positions in any stocks mentioned, and no plans to initiate any positions within the next 72 hours.
I wrote this article myself, and it expresses my own opinions. I am not receiving compensation for it (other than from Seeking Alpha). I have no business relationship with any company whose stock is mentioned in this article.