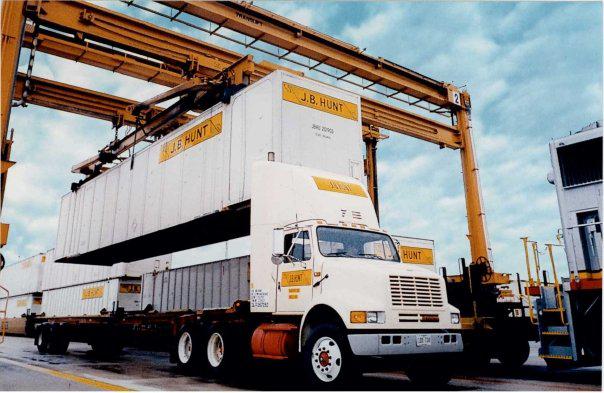 Source: Google Images
For transports the past couple of years have been rough. Most companies ranging from railroads, to truckload carriers have witnessed substantial declines for both operating revenues and profits. The two major headwinds for transports have been the energy and industrial sector downturns, which led to what some have termed as the "freight recession". The freight recession generally occurred from 2015 to mid-2016.
JB Hunt Transport (NASDAQ:JBHT) was not unaffected by these impacts. But the company has displayed strength in managing its assets through the past couple of years. Investors should remember that 2014 was a record year for many freight companies, especially railroads.
For the end of 2014 and through 2016, JB Hunt witnessed operating revenue and net income growth of six and 15 percent respectively. Compared to a company like Union Pacific (NYSE:UNP), that witnessed declines of 17 and 18 percent over this period, JB Hunt's numbers have been the exception to the norm. Even a company like Swift Transportation (SWFT), which has also been a stronger performer during the past couple of years, has not outperformed JB Hunt.
We are still early in the fourth quarter earnings season, so many more peers will be reporting for comparison. But based on the numbers through the first nine months of 2016, it is highly likely that JB Hunt will have performed stronger than any other truckload peer over the previous two years.
During 2015, JB Hunt's operating revenue growth was flat, but net income improved by 14 percent. Overall volumes were positive for 2015, but revenue per equipment had begun its decline impacting revenues. The record performance during 2014 masked the prolonged issues leading to overcapacity and substantially weaker freight rates during 2016.
While most freight carriers witnessed the dual impacts of weaker volumes and substantially reduced spot market pricing activity, JB Hunt offset these events by taking market share through its intermodal, dedicated and capacity solution operating segments.
The company's intermodal scale and service are second to none for North America shipping needs. While other competitors struggled during 2016 on revenue per load and volume, JB Hunt grew volume by eight percent versus last year while revenue per load weakened to -4 percent.
The company was caught in a tough situation as purchased rail transportation costs remained elevated versus the company's revenue per load weakness. Additionally, driver compensation and insurance costs were impactful to the intermodal business. Overall, this led to a 120-basis point (bps) decline for operating margin.
JB Hunt's dedicated and capacity solution segments were able to offset the weakness in intermodal and truckload service operating income. Dedicated improved by 25 percent to $205 million and capacity solutions was marginally positive at $36 million. The truckload segment decreased by 25 percent to $30 million.
Overall, JB Hunt has been able to take market share over the past two years. It has relied upon the profitability strength of its dedicated services to offset truckload spot market sensitivity, as well as allowing for growth in the intermodal market. Combined these strategies have led to leading performance within the truckload industry.
Looking to 2017, JB Hunt is positioned well if a positive growth scenario plays out as expected. The company has a strong exposure to retail through its intermodal market. Gross domestic product (NYSEMKT:GDP) is anticipated to increase from 2016 levels, driven by sustained consumer spending. Energy prices appear to have stabilized for the moment. During the fourth quarter, JB Hunt witnessed nine percent improvement for fuel surcharge revenues versus last year.
Expectations are also positive now, for improved energy and industrial sector performance for 2017. This may possibly lead to improved performance for the company's truckload services, as average spot market pricing should improve. This year will also shed further light on impacts from electronic logging device (NYSEARCA:ELD) mandates which will come into effect by December 2017. Many shippers have already begun ensuring that their shipping needs will be met throughout the year by compliant carriers. Any reduced drivers will tighten capacity constraints, leading to stronger pricing power for carriers.
The primary unknown stems from President Trump's expressed commitment to increasing an import tariff for goods entering the U.S. JB Hunt is the primary capacity provider utilizing BNSF's (NYSE:BRK.A) (NYSE:BRK.B) intermodal network. This network connects to other major Class Is, notably Norfolk Southern (NYSE:NSC) of which JB Hunt also has exclusive intermodal capacity. In addition to highway conversion to intermodal rail, there is a strong correlation between laden twenty-foot equivalent container units (TEUs) and both international and domestic container performance.
In the event trade policies developed by the Trump administration would be passed by Congress, and JB Hunt's intermodal business could be impacted. If such trade policies became more restrictive, JB Hunt would possibly see a decline in volumes and an increase in capacity leading to lower revenues. There are a wide variety of retail industries connected to imports and exports.
Today, JB Hunt's stock price is at $94.50 per share. Many analysts cover the stock and the average price target sits at $103 per share. This reflects a discount of nine percent; including JB Hunt's dividend payout and the total potential return sits at 10 percent.
As a long-term shareholder of the company, I would feel comfortable adding to my existing position if trade structures would remain as they are today. But with the new Trump administration being set to begin making changes, announcements of plans could create jitters swaying markets. Other near-term events that could have an impact include Brexit, energy-related volatility or geopolitical tensions.
From a risk/reward standpoint, I would feel more comfortable adding to the position closer to $90 per share. JB Hunt clearly deserves a premium valuation amongst its peers. The company has a rare combination of a strong comprehensive operating ratio and superior scale in a consolidated market with its intermodal business. These factors are largely why the company has outperformed its peers. Management has also developed one of the largest dedicated contract services in North America with a superior operating ratio. This blend of services from a total revenue perspective is the largest truckload company in North America.
Disclosure: I am/we are long JBHT.
I wrote this article myself, and it expresses my own opinions. I am not receiving compensation for it (other than from Seeking Alpha). I have no business relationship with any company whose stock is mentioned in this article.