Just as in the past several weeks, oil prices have remained volatile lately, driven by a combination of uncertainty regarding OPEC and non-OPEC output, global demand, and political issues. That said, some data came out over the past week that gives some insight into the fundamentals of the oil market that I believe warrant a discussion. In what follows, I will look over this data and give my thoughts on what it should mean for investors in companies like Whiting Petroleum (NYSE:WLL), Chesapeake Energy Corp. (NYSE:CHK), Approach Resources (NASDAQ:AREX), and Legacy Reserves (NASDAQ:LGCY), as well as for the United States Oil ETF (NYSEARCA:USO) and other oil-related ETFs moving forward.
Inventories were mixed but generally bullish
Over the past week, the EIA's (Energy Information Administration's) oil data showed some rather intriguing developments on the inventory front. Take, for instance, the fact that their estimates showed crude stocks climbing by 2.4 million barrels, rising from 483.1 million barrels to 485.5 million barrels. In and of itself, this was not too terrible but was bearish. What really hurt was seeing that this increase was supposed to be, according to analysts, a decrease of about 1 million barrels or, if the API (American Petroleum Institute) had been correct, a drop of over 5 million barrels. In the graph below, you can see the trend that crude oil stocks have taken over the past 52 weeks.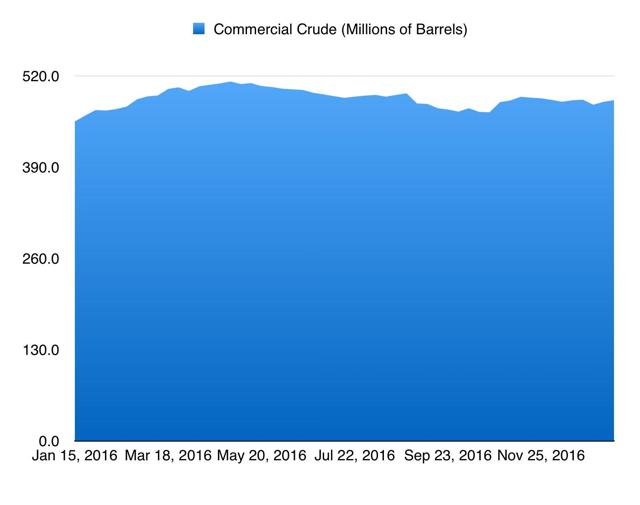 *Created by Author using EIA Data
If you looked solely at the crude picture, you'd have thought the situation was worsening. The same could be said for other categories of petroleum products, such as motor gasoline, which saw stocks soar by 5.9 million barrels to 246.4 million barrels, or fuel ethanol, which reported a build of 1.1 million barrels to 21.1 million. Another negative for oil bulls was kerosene-type jet fuel, which reported an increase in inventories totaling 0.4 million barrels, climbing from 42.9 million barrels to 43.3 million barrels.
Thankfully, however, some other categories more than offset these increases. The single largest mover during the week was propane/propylene, which saw stocks plummet by 7.5 million barrels, falling from 79.7 million barrels to just 72.2 million barrels. Residual fuel stocks also dropped at a nice clip, declining by 2 million barrels to 39.8 million, while the "Other" category of petroleum products dropped by 1.3 million barrels to 256 million. Distillate fuel also posted an improvement, declining by a modest 0.9 million barrels to 169.1 million. Thanks to these changes, total crude plus petroleum products dipped slightly, dropping 2 million barrels from 1.3353 billion barrels to 1.3333 billion barrels.
Stable production but mixed demand
Putting aside inventories, let's focus a bit on domestic oil production during the week. According to the EIA, output in the US during the week came out to 8.944 million barrels per day. This really isn't good or bad, per se, because it represents a decline of just 2 thousand barrels per day (or 14 thousand barrels for the week) compared to the 8.946 million barrels per day seen a week earlier. What's more is that the decline came from Alaska as opposed to the Lower 48 states where production changes count the most. All-in-all, the decline we did see was pretty much a rounding error no matter how you look at it. To put it in perspective, you need only look at the graph below, which shows production trends over the past 52-weeks.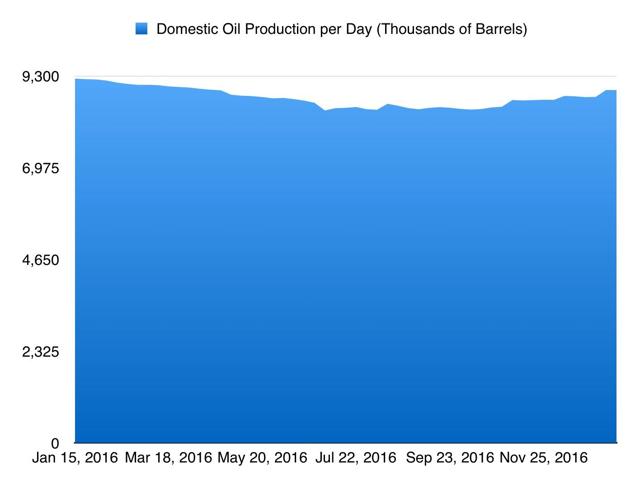 *Created by Author using EIA Data
While the production side was pretty uneventful, the demand picture was anything but. According to the EIA, total motor gasoline demand for the week came out to 8.069 million barrels per day. This represents a pretty sizable decline compared to the 8.470 million barrels per day seen a week earlier and is well below the 9.079 million barrels experienced the same week a year ago. Using the four-week average, the picture is a little better, but not much, with demand falling 2.4% year-over-year, declining from 8.783 million barrels per day to 8.571 million barrels per day. Using the four-week average for distillate fuel, however, demand is still up nicely, climbing 6.6% from 3.294 million barrels per day last year to 3.513 million barrels per day this year. This is enough to just barely offset the year-over-year decline (using the four-week average) in motor gasoline demand.
Rig counts surged
Overall, I would say that the data presented over the past week, despite being volatile, was more positive for bulls than negative. That said, there was one piece of data that came across to me in a very negative light; rig counts. According to Baker Hughes (BHI), the oil rig count in the US surged by 29 units to hit 551 units. This happens to be far lower than in most recent years but is 8% above the 510 units seen a year ago. The same trend happened in Canada, with the oil rig count rising 23 units to 193. This compares unfavorably to the 134 units seen a year ago. While it is uncertain, at this time, the full impact these will have on output, the fact of the matter is that, at some point, more rigs will result in more production.
Will motor gasoline demand continue?
Up above, you might notice me lamenting at the year-over-year declines in motor gasoline demand that we've been seeing. Certainly, as one of the major uses of fuel in the US, the health of this market is of the utmost importance for oil bulls. Over the past several weeks now, we've seen this trend, where motor gasoline demand has just been really weak, so this prompted me to ask if this is likely to hold over this year or not. Well, according to the EIA, the answer is probably not. You see, if their estimates posted in their monthly Short-Term Energy Outlook are correct, demand for the product in 2017 should average about 9.32 million barrels per day. This would compare favorably to the 9.28 million barrels per day seen last year, indicating that investors shouldn't worry too much about it right now.
Also over the past several weeks, I've seen the opposite happen with distillate fuel on a year-over-year basis. After seeing demand suffer for a good portion of early and mid 2016, demand surged toward the end of the year and continues this year. Is this also a short-term trend likely to reverse, a move that would harm oil bulls? Unlike in the case of motor gasoline, where investors should expect a shift sometime soon, the same cannot be said of distillate fuel. You see, according to the EIA's numbers, demand this year should average 3.97 million barrels per day, significantly higher than this past week's numbers and a nice 2.8% above last year's number of 3.86 million barrels per day.
Takeaway
Right now, there's no doubt that some aspects of the energy market don't look the best. With crude stocks having increased, as well as stocks for motor gasoline climbing as much as they did, investors can be excused for being scared. That said, even though these numbers are bad, especially when you add to that the fact that rig counts are rising at a nice clip, the drop in overall stocks, so-far stable production after a few weekly increases, and a positive outlook for both motor gasoline demand and distillate fuel demand, the good still clearly outweighs the bad in my mind.
Disclosure: I am/we are long LGCY, AREX, WLL.
I wrote this article myself, and it expresses my own opinions. I am not receiving compensation for it (other than from Seeking Alpha). I have no business relationship with any company whose stock is mentioned in this article.
Additional disclosure: I own LGCY and LGCYO. I may buy CHK at any time.