As far as the markets were concerned, Trump Inauguration Week, a.k.a. Week 3 of January 2017, was a really lackluster experience where the S&P 500 mainly drifted sideways.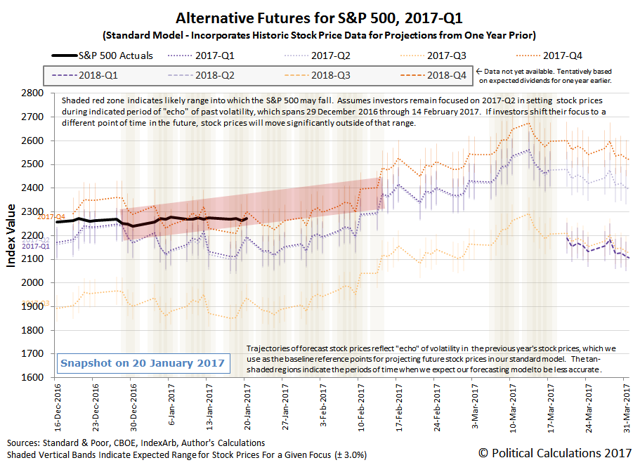 Believe it or not, the sideways market is remarkable because U.S. stocks have been going nowhere for longer than at any time since 1957. CNBC describes what that means for the Dow:
If it seems like the stock market's crawl to nowhere over the past month has been particularly strange, that's because it has been. It turns out the gap between the Dow's high and low prices over the past month is a tiny 1.4 percent — the narrowest gap in data going back to 1957....

Before this 1.4 percent range (1.42 to be precise), the previous records for lowest one-month ranges were 1.85 percent in August 2005, 2.17 percent in December 2004 and 2.25 percent all the way back in November 1964. Yes, 1964.

We don't know what this means for future performance. Some traders have suggested a narrow range indicates increased volatility to come. But there hasn't been anything else like this: the narrowest range we've ever seen, while the market is at an all-time high.
We don't know what it means for future performance either, but we can offer some insight. Given how stock prices work, they either need to absorb as yet unannounced changes in the fundamental expectations for dividends that will be paid at specific points of time in the future, or investors need to shift their time horizon from where they've currently fixed their forward-looking attention (we think to the end of 2017-Q2, coinciding with when the Fed is next expected to hike short term interest rates), to another point of time in the future that has different expectations for dividends associated with it.
As for the upcoming week, there's nothing in the news as yet to suggest a significant change in course at this writing, but perhaps we'll get some noise out of Washington D.C. now that the U.S. government has a new boss.
Looking back at Week 3 of January 2017, here are the headlines that seemed notable, although not much new information was revealed from a market-moving perspective.
Tuesday, 17 January 2017Wednesday, 18 January 2017Thursday, 19 January 2017Friday, 20 January 2017
Barry Ritholtz summarized the week's markets and economic news in terms of its positives and negatives .