This article is a follow-up to my previous "Dividend Coverage" and "Pricing Articles" discussing methods to assess dividend coverage, which is necessary for valuing business development companies ("BDCs").
Previous articles in this series:
Most retail investors do not have access to research that properly assesses BDC pricing, dividend coverage and relative risk. This series is my attempt to help BDC investors properly value investments in a sector that is notoriously opaque. BDC stock prices can be volatile providing opportunities for investors that have identified proper values based on dividend returns and risk. Throughout this series of articles, I will discuss some of my pricing methodologies, including general market timing for purchases and assessing dividend coverage and relative risk, which are primarily responsible for driving a wide range of values for BDCs. It is important to realize that BDCs do not report consistently, so investors need to look beyond changes to net asset value ("NAV") per share and dividend coverage from reported net investment income ("NII").
Assessing Dividend Coverage for BDCs:
The following are the three categories of methods that I use for comparing dividend coverage:
Historical dividend coverage: using adjusted earnings (excludes certain onetime expenses) taking into account recurring vs. one-time revenues, cash vs. PIK interest income, etc.
Projected dividend coverage: using best, base and worst case scenarios taking into account potential credit issues, portfolio growth/decline, changes to portfolio yield, various amounts of non-recurring income from dividends and fees, changes to borrowing and operational expenses
Optimal Leverage Analysis: assessing future dividend coverage based on portfolio growth using available cash and borrowings (leverage) as well as changes in portfolio yield, apples-to-apples comparison of BDC dividend coverage using similar amounts of leverage
Historical Dividend Coverage:
Most investors rely on historical dividend coverage for assessing potential dividend coverage. However, when it comes to weighting the previously mentioned three categories of dividend coverage, historical is the least relevant of an indicator for future coverage. There are many reasons for this including constantly changing income and expense trends as well as portfolio credit issues. Most of the BDCs that cut dividends in 2016 (see list below), announced that the primary drivers of the reduced distributions were related to potentially lower yields on investments either due to yield compression, rotating into safer investments or portfolio credit issues. Most of these BDCs had spillover or excess distributable income and gains that could have been used to cover shortfalls but management decided to align the dividends with projected earnings.
BDCs that reduced dividends in 2016: Apollo Investment (NASDAQ:AINV), Capitala Finance (NASDAQ:CPTA), CM Finance (NASDAQ:CMFN), Garrison Capital (NASDAQ:GARS), Horizon Technology Finance (NASDAQ:HRZN), KCAP Financial (NASDAQ:KCAP), Medley Capital (NYSE:MCC), PennantPark Investment (NASDAQ:PNNT), Triangle Capital (NYSE:TCAP), and THL Credit (NASDAQ:TCRD). Please see "Reaching For Yield Part 3: BDC Risk Profiles" for discussion on why most of these companies reduced their dividends.
Calendar Q3 2016 Dividend Coverage: It should be noted that Prospect Capital (NASDAQ:PSEC), FS Investment Corp. (NYSE:FSIC), PNNT, KCAP, TCRD and TCAP were among the BDCs with lowest coverage of dividend during the recent quarter (PNNT, KCAP, TCRD and TCAP already cut dividends). Please read "Prospect Capital: Material Declines In Portfolio Yield And Distributable Income" for discussion of the results for PSEC.
Calendar Q4 2016 Dividend Coverage: BDCs will begin reporting Q4 results two weeks. It is important for investors to "read between the lines" of reported results and listen to earnings calls looking for the trends to dividend coverage discussed below.
Projected Dividend Coverage:
Projecting dividend coverage is mostly about reading the trends for income and expenses. This includes general sector and specific company trends, watching for portfolio credit issues, changes to capital structure and borrowing costs as well as estimating a range of performance for portfolio growth and non-recurring income.
Optimal Leverage Analysis:
This is a longer term run rate analysis of dividend coverage that takes into account the potential for portfolio growth with available capital (excluding equity issuances). I use lower portfolio yields and minimal amounts of non-recurring income to project dividend coverage with a fully ramped portfolio using "optimal leverage". For an example of this analysis, please see the table below from my article, "Upcoming Dividend Cuts For BDCs: Part 1", that correctly forecasted the dividend cut for MCC. Ultimately, MCC reduced its quarterly dividend from $0.30 to $0.22 which was exactly the projected earnings during a "worst case scenario" of reduced portfolio yield and lower amounts of non-recurring income as shown in the table below. My pricing for MCC anticipated this quarterly dividend reduction to $0.22 well before it was announced. For all previous articles on dividend coverage potential, risk rankings, interest rate discussion, expense ratios, the timing of BDC purchases, suggested BDC portfolios, my upcoming/historical purchases and current positions, please see "Index to Free BDC Research".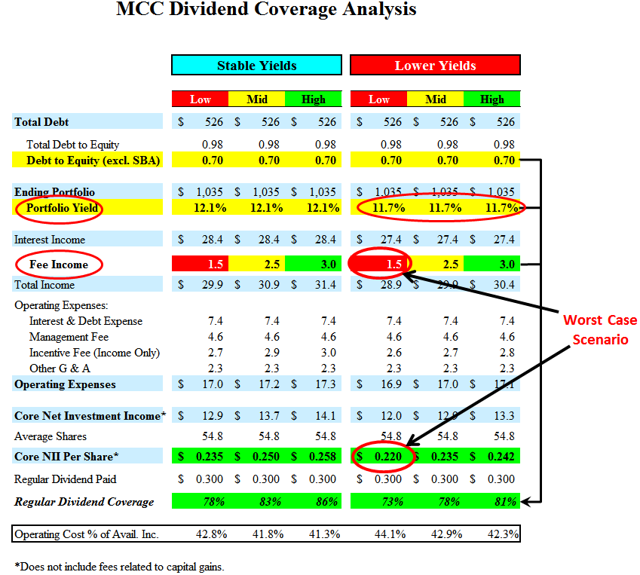 SBA Borrowings: As noted in the previous table, I take into account "regulatory leverage" that excludes Small Business Administration ("SBA") debentures. BDCs with Small Business Investment Company ("SBIC") licenses are able to use higher leverage which is why they usually trade at a premium (unless they are likely to have credit issues and/or cut the dividend). BDCs with access to SBA leverage include Ares Capital (NASDAQ:ARCC), Fidus Investment (NASDAQ:FDUS), Fifth Street Finance (NYSE:FSC), Golub Capital BDC (NASDAQ:GBDC), Hercules Capital (NASDAQ:HTGC), Main Street Capital (NYSE:MAIN), Monroe Capital (NASDAQ:MRCC), New Mountain Finance (NYSE:NMFC), TCP Capital (NASDAQ:TCPC), Saratoga Investment (NYSE:SAR), Stellus Capital Investment (NYSE:SCM), TCAP, CPTA, GARS, and PNNT. There is a good chance that TriplePoint Venture Growth (NYSE:TPVG) will be pursuing an SBIC license in 2017 along with a few others.
So how are BDCs valued?
My question to investors is, why do you invest in BDCs? Most investors choose BDCs as an income-oriented investment rather than for capital gains. Consequently, BDCs are usually valued based on potential risk-adjusted returns to shareholders, which is measured by assessing capital preservation, which is closely tied to the ability to sustain its dividend payment.
In the following articles in this series, I will cover:
Measures of relative risk and what to look for
BDC pricing based on yield, multiples and total returns
Target pricing ranges for BDCs
Limit orders and timing
To be a successful BDC investor:
Identify BDCs that fit your risk profile (there are over 50 publicly traded BDCs, please be selective)
Diversify your BDC portfolio with at least 5 companies
Establish appropriate price targets based on relative risk and returns (mostly from dividends)
Be ready to make purchases during market volatility, and look for opportunistic buying points
Closely monitor your BDCs, including dividend coverage potential and portfolio credit quality
Personal note: I have updated my positions to reflect changes in my holdings, but please keep in mind that some of the positions are very small and mostly for research purposes. There are over 50 publicly traded BDCs and I try to cover as many as possible, but I do not have the bandwidth to include each company for each article.
Disclosure: I am/we are long ABDC, AINV, ARCC, BKCC, FDUS, FSC, FSFR, FSIC, GAIN, GARS, GBDC, GLAD, GSBD, HCAP, HTGC, MAIN, MCC, MRCC, NMFC, PFLT, PNNT, PSEC, SLRC, SUNS, TCAP, TCPC, TPVG, TSLX.
I wrote this article myself, and it expresses my own opinions. I am not receiving compensation for it (other than from Seeking Alpha). I have no business relationship with any company whose stock is mentioned in this article.