Just like that, the U.S. stock market suddenly became a whole lot cheaper. The flipping of the calendar to 2017 brought with it the first estimates for 2018 from S&P Global. And as would be completely expected, the consensus outlook for 2018 is absolutely fabulous! Grab your television remotes and your salt shakers, as analysts now have a fresh new point to reference in discussing how attractively valued stocks actually are today despite effectively trading at all-time highs. Of course, our wildest dreams for the future often prove elusive once time moves closer to reality. And this includes the outlook for U.S. stocks.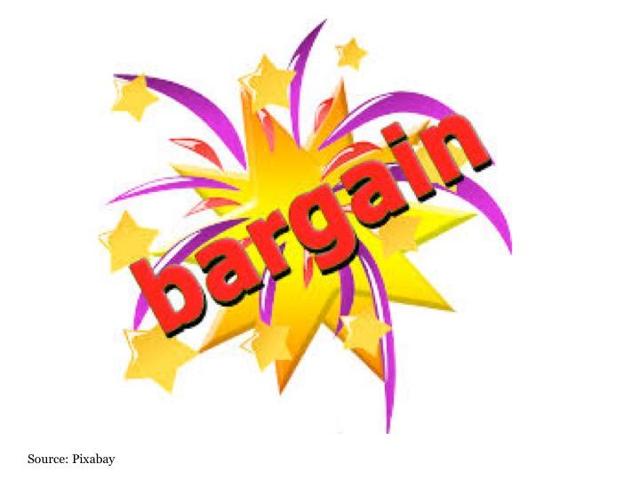 What A Bargain!
It makes for a great narrative for those on the box or in the papers that have a vested interest in the stock market (NYSEARCA:DIA) soaring to new heights.
"Stocks are actually not expensive today but are instead attractively valued with the broader market trading at just 15 times forward earnings."
Wow! Stocks trading at 15 times earnings does sound cheap. Almost as if all of the pro-growth hopes and dreams that investors supposedly have been having since the election if you believe the financial media have suddenly come to fruition.
Except they haven't. Instead, nothing more has happened than a Wall Street data source in S&P Global just released its first estimates for forecasted earnings over the four quarters in 2018. And knowing that analysts are a wildly optimistic bunch, these earnings projections are rosy to say the least.
So what were the first projections for 2018 earnings according to S&P Global.
First, let's take a look at projections for as reported earnings. As a point of reference, as reported earnings for the most recently completed quarter (where the numbers are actually in the books and are now history, not forecast) in 2016 Q3 were $89.09 per share on the S&P 500 Index. With this in mind, here are the numbers:
2018 Q1: $124.32
2018 Q2: $126.15
2018 Q3: $127.09
2018 Q4: $129.51
OK. So here's the deal. According to the forecasts, corporate earnings on an operating basis are going to increase by nearly +50% over the next two years through 2018 Q4. Now this would be awesome if it actually happens. And it's not as though such a move is without precedent. After all, operating earnings increased by more than +1,000% over a comparable period from the end of 2009 to the end of 2011. Of course, the magnitude of this jump had a lot to do with how much earnings were smashed during the financial crisis, as they dropped as $6.86 per share during the depths of the crisis in 2009 Q1. But we also saw a magnitude of earnings gains that were more than double on a percentage basis over a comparable period in 2004 and 2005 in the aftermath of the bursting of the tech bubble as well as in 1994 and 1995 when the tech bubble was starting to get up and running.
In short, such an advance is certainly extraordinary, but also with recent precedent. Of course, the three past instances highlighted above were all following recessions or "soft landings" where corporate earnings were in recession but not the overall economy. Then again, one could say the same about the current environment, as we are now in the process of emerging from an earnings recession that began in 2014 Q3. So maybe the market could actually pull off this earnings advance off over the next eight quarters.
Where Have I Seen This Before?
Maybe. But then again, maybe not. For 2018 would not be the first time we have seen such robust earnings hopes. And in the past, such lofty expectations proved difficult to achieve.
Case in point. Let's go back in time exactly one year ago to January 2016. It was at this moment that the first forecasts for 2017 earnings were released by S&P Global. The following were the forecasted as reported earnings as of January 21, 2016:
2017 Q1: $123.36
2017 Q2: $125.13
2017 Q3: $127.50
2017 Q4: $129.91
Put simply, the first projections for the GAAP earnings forecast for 2017 in January 2016 look almost exactly the same as the first forecast that we are seeing for 2018 in January 2017.
So how has the market progressed in working toward achieving these corporate earnings forecasts over the past year? The following are the latest readings through January 19, 2017:
2017 Q1: $105.23
2017 Q2: $111.84
2017 Q3: $117.91
2017 Q4: $121.98
In short, the latest estimate for 2017 Q1 is down -15% from the first estimate, while the remaining quarters have fallen back between -6% to -11%. And for those that might counter by saying that the 2017 Q4 number still looks like it is holding up reasonably well, it is important to note that we still have four more quarters for this number to be hacked lower week after week until companies actually start reporting for this quarter in January 2018.
So while the first release of projections for 2018 corporate earnings provide some reason for fresh new hope as well as top notch talking points for those trying to explain why the stock market is not really as expensive as it might otherwise look, it is important to sprinkle salt all over these forecasts before consuming, as they are likely to end up coming in considerably below current expectations. Who knows, we may be looking at the effectively the same exact numbers once again for 2019 once January 2018 rolls around. It will be interesting to see.
But what about the operating earnings side of the equation? When it comes to evaluating corporate earnings on the S&P 500 Index (NYSEARCA:SPY), I favor as reported earnings over operating earnings. First, GAAP earnings are of higher quality than operating earnings. Also, when considering an aggregate index of 500 stocks, things like one time charges are no longer "one time" but instead become recurring. Instead, it should be expected that a certain amount of "one time" charges will be taking place against earnings for this collective group of stocks each quarter.
But even if we did the same exact exercise on the operating earnings side, we would find almost exactly the same outcome. Of course, it is on this lesser quality operating earnings projection for 2018 Q4 at $147.23 per share on the S&P 500 Index that the 15 times forward earnings number you may hear on the financial news from time to time is based.
Latest On The Current Earnings Season
So how is the current quarterly reporting season for 2016 Q4 shaping up so far? It has actually been rather good so far. Just over 15% of companies in the S&P 500 Index have already reported with many more on their way over the next few weeks, yet the latest estimate for 2016 Q4 earnings have only been revised lower by -0.22% from $99.40 at the start of the quarter to $99.18 as of January 19. Normally, we would see the current quarterly estimate revised lower by multiple percentage points by now, so the fact that this number is holding relatively steady is a notable positive and bodes well for the possibility that the market (NASDAQ:QQQ) may enjoy better success in 2017 in progressing toward their 2018 estimates than they had over the past year. Only time will tell and there is a long way to go, but it is notable that things are off to a reasonably good start.
The Bottom Line
Stocks may suddenly be giving appearances that they have become quite a bit less expensive. But this is nothing more than a product of the latest extension of the corporate earnings forecast horizon into 2018 and all of the optimism and dreams that come with these early projections. Ultimately, these numbers will almost certainly come in much lower than current forecasts as time passes toward their actual reporting dates. As a result, investors are well served to take these valuations based on forward earnings estimates with a healthy degree of skepticism. With all of that said, one promising note is being hit for the forecast in the current quarterly reporting season, as projections have been holding up better than expected lately. Monitoring whether this can continue over the coming weeks will be important in determining how well these long-term forecasts may hold up in supporting stock valuations over time.
Special Event, Special Offer: The start of the DIY Investor Summit 2017 is quickly approaching on Monday, January 23. Seeking Alpha has partnered with Brian Bain from Investor In The Family to bring together 25 of the best investors on Seeking Alpha to share detailed tips on their core investment strategies, top advice for DIY investors, and specific positioning and strategies for the year ahead in 2017.
Free registration for this special online event is still open for a limited time. Please click on the link below if you are interested in registering and learning more.
Learn More & Register For The DIY Investing Summit 2017
In recognition of this special event, I am also now offering a FREE TWO WEEK TRIAL to The Universal, my premium service on Seeking Alpha, for a limited time through Friday, January 27. This is a risk-free trial - simply cancel by the end of the two-week trial and pay nothing. Please click on the link below if you are interested in taking advantage of this limited time offer.
FREE TWO WEEK TRIAL to The Universal
Thanks and I look forward to meeting up at the DIY Investing Summit 2017.
Disclosure: This article is for information purposes only. There are risks involved with investing including loss of principal. Gerring Capital Partners makes no explicit or implicit guarantee with respect to performance or the outcome of any investment or projections made. There is no guarantee that the goals of the strategies discussed by Gerring Capital Partners will be met.
Disclosure: I/we have no positions in any stocks mentioned, and no plans to initiate any positions within the next 72 hours.
I wrote this article myself, and it expresses my own opinions. I am not receiving compensation for it (other than from Seeking Alpha). I have no business relationship with any company whose stock is mentioned in this article.
Additional disclosure: I am long selected individual stocks. I also hold a meaningful allocation to cash at the present time.