We know what Donald Trump's words were. Now, let's see the action.
That is the attitude the market is taking, with the main indexes suffering a correction over the past two weeks. Most sectors with a pro Trump bent, such as in energy and financials, are now well down on the year.
And here is the big fat problem for the market. My time in the White House Press Corps under Ronald Reagan taught me that even when everyone agrees, it is almost impossible to get anything done in Washington.
This is because we have a form of government that has changed little since the 18th century. The Electoral College was set up to prevent Virginia from running everything, and to give tiny Rhode Island, New Hampshire, and Vermont a say in their governance.
Since then we have gone from 13 states to 50. Washington and Jefferson never imagined, in their wildest dreams, that the United States would ever grow to more than 20 states, as all land west of the Mississippi River was then controlled by France, Spain, and Britain.
Today, that means a candidate can win the popular vote by 3 million, but lose 31 of 50 states.
Another relic from the past are the 10,000 lobbyists in DC working largely for narrow local constituencies. Want to get rid of government subsidies? Good luck axing the ethanol program.
Are you really going to war with China to bail out high cost manufacturing at the expense of agriculture which is primarily produced in red states?
And you're going to do all of this while balancing the budget? In your dreams!
While Trump's many supporters may have infinite patience with their new leader, markets don't. That explains the feeble market action since January 3rd.
The consequences of the early Trump proposals of tax cuts and deregulation can be substantial, thus the market's levitation on pure hopium.
Deregulation is easy. You just tell government workers not to show up. Talk about pushing on an open door.
Banks will deregulate on their own with the knowledge that the surprise auditors have been sent on extended vacations. Traders don't have to be told twice to get aggressive.
The best case scenario for a tax cut is six months. This is when Trump finds out how many of his supporters are dependent on special tax breaks and government handouts.
I have studied this issue for decades and have concluded that the US government is a giant recycling machine that sucks money off of the coasts and spends it inland.
Iowa gets $1.15 back in government spending for every dollar of taxes paid, and Oklahoma reaps $1.17. California gets only 78 cents and New York 77 cents.
And Trump is going to stop this? It is a challenge that would vex Solomon, how to divide the baby in half.
For me, the best revenge is to get rich, and I have been helping you do so as well. We have enjoyed the best start to the trading year since the inception of The Mad Hedge Fund Trader more than nine years ago.
With the iShares Russell 2000 ETF (NYSEARCA:IWM) bull call spread expiring at maximum potential profit last Friday, we are now up a handsome 7.53%. Eight out of nine trades, or 89%, have been profitable and our one stop loss in Biogen (NASDAQ:BIIB) proved to be the correct thing to do.
Our trailing one-year return is now an eye popping 34.41%.
It is also a lesson in the utility of option call spreads. While we took in a substantial short-term profit, the underlying Russell 2000 small cap index basically didn't move.
All the money we took in was through time decay. Long stock owners didn't earn this.
My bet that the markets would flat line going into the presidential inauguration paid off big time.
As for the data in the coming week:
On Monday, January 23rd, there is no economic data to speak of, a hangover of the Friday inauguration. However, there could be some market reaction to the emergency executive orders President Trump issued on Friday.
On Tuesday, January 24th, at 10:00 AM EST we receive Existing Home Sales, which should show a slowdown caused by rising rates and the slow December selling period.
On Wednesday, January 25th, we get the usual raft of energy inventory numbers mid day.
Thursday, January 26th, we learn the Weekly Jobless Claims at 8:30 AM EST. We are still plumbing 43-year lows and all time lows when adjusted for population growth.
On Friday, January 27th, we get an update on Q4 GDP. The last update showed the economy was running at a red hot 3.5%, the best in years. We also will learn another new Baker-Hughes Rig Count.
As for me, I am headed for Tahoe this week to enjoy the ten feet of new snow. Nonstop demonstrations throughout the San Francisco Bay Area will make travel here impossible.
Good luck and good trading.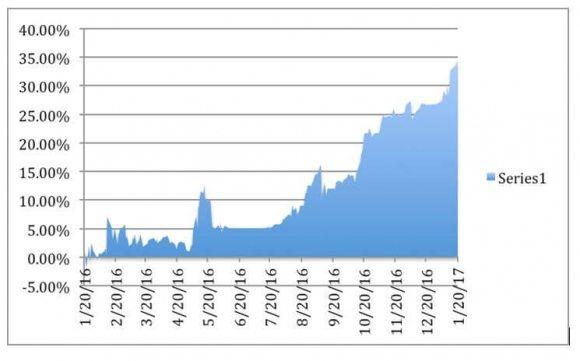 34.41% Trailing One-Year Return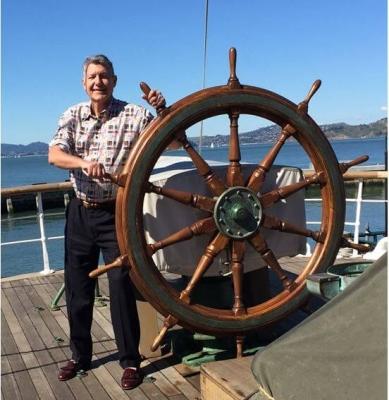 If you'd like to receive The Diary of the Mad Hedge Fund Trader in your inbox every day premarket and Trade Alerts which have averaged 35.92% annually since inception (11/29/10), Learn More @madhedgefundtrader.com or Subscribe Through Seeking Alpha Premium Authors* @https://seekingalpha.com/account/research/subscribe?slug=the-mad-hedge-fund-trader
*Value-Added Investment Services From Top SA Contributors
Disclosure: I/we have no positions in any stocks mentioned, and no plans to initiate any positions within the next 72 hours.
I wrote this article myself, and it expresses my own opinions. I am not receiving compensation for it. I have no business relationship with any company whose stock is mentioned in this article.