Qualcomm (NASDAQ:QCOM) is really taking some hits at present with respect to its licensing practices. Up till now it has mainly been regulatory bodies which have filed complaints against the company but now Apple (NASDAQ:AAPL) is getting its hands dirty. Qualcomm is expected to defend Apple's accusation vigorously but investors at this stage seem disinterested. The stock sold off on Friday to under $63 a share and sentiment appears to be getting bleaker and bleaker. Events like this really peak my interest. Why? Well basically you have a $90+ billion company which is down over 6% in just over a month and things look like they might become even bleaker in the near term.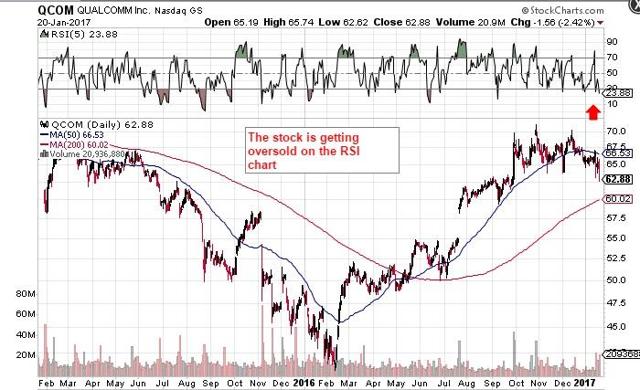 The company already has had to deal with a hefty fine in China but astute investors will have taken note that Qualcomm is still doing business with practically all the former companies in that region, albeit at slightly reduced royalty rates. As an investor what I am looking for there if for the company to excel in other parts of its business (Qualcomm is transitioning away from the smartphone area) but for its stock to get crushed for its past endeavors in licensing. The company derives well over 30% of its top line from its smart phone licensing which have been set up in an anti competitive way state the multiple regulatory bodies. Now that these bodies seem to be on a roll, companies (as stated) are now joining the bandwagon which should surpress the share price even more. A ripe opportunity could be brimming here.
Personally, I feel that what will come out of these hearings (if they ever come to that) will be a slap on the wrist for Qualcomm. Qualcomm will vigorously appeal whatever is thrown at it and for good reason. It needs to buy itself as much time as possible so it can build up the other parts of the business such as its Snapdragon 835 chips taking Intel (NASDAQ:INTC) head on in the PC area and the whole IoT area. This is not to mention the upcoming acquisition of NXP (NASDAQ:NXPI) semiconductors will also help in IoT but more so in the hugely promising automotive area. However I expect the share price to continue getting hit in the near term over its licensing practices which definitely could spell opportunity for value investors.
Why? Well besides the growth areas as mentioned above, I still expect Qualcomm to be collecting royalties in this space for many years to come. In fact Qualcomm holds patents for many 4G technologies due to the similarities between 4G & 3G. Who is to say that this will not continue beyond 5G? Many analysts believe it will which would mean Qualcomm would be in a position to collect royalties for the next 10 years+ at least. What I would be hoping for is more downward pressure on the share price until these complaints blow over.
All of this noise is a distraction from the deal which could really move the needle for Qualcomm - the pending NXP Semiconductors acquisition. In fact, both the IoT market (Internet of Things) and the automotive market have the potential to become huge growth drivers for the company in the future which will essentially take the pressure off its present licensing income.
We saw at the recent CES 2017 trade show that NXP is really progressing in its efforts to simplify connected car device technology with the launch of its SAF4000. This piece of technology will result in hardware prices coming down meaningfully as the SAF4000 will do away with items such as circuit boards and the like. This really is up Qualcomm's alley here as system integration is at the core of what engineers are doing over at NXP.
Technically, the stock could find some nice support at its 200 day moving average. If that fails, I would wait for a weekly swing before going long this name.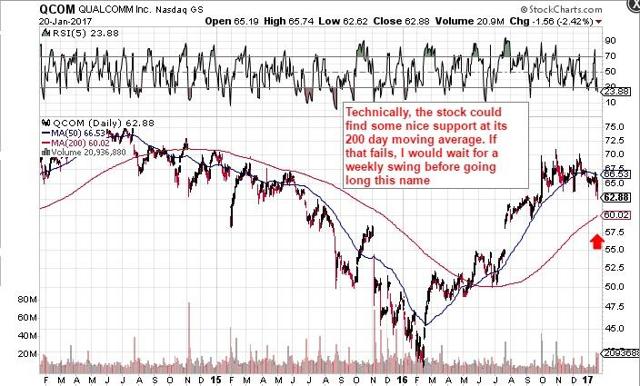 To sum up, I feel that recent weakness in Qualcomm could end being a nice buying opportunity. The company is having to fight fires at present and the stock is suffering as a result. Wait for a weekly swing here or for sentiment to get really depressed before going long here.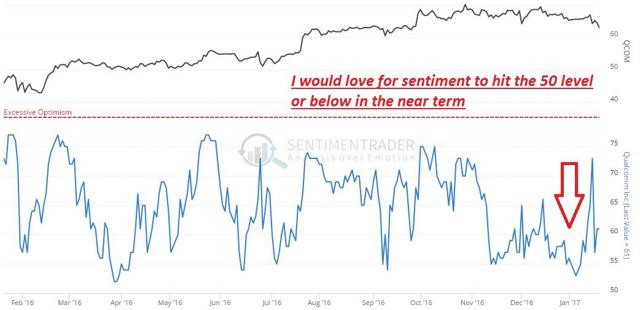 Source : Sentimentrader.com
Disclosure: I/we have no positions in any stocks mentioned, and no plans to initiate any positions within the next 72 hours.
I wrote this article myself, and it expresses my own opinions. I am not receiving compensation for it (other than from Seeking Alpha). I have no business relationship with any company whose stock is mentioned in this article.