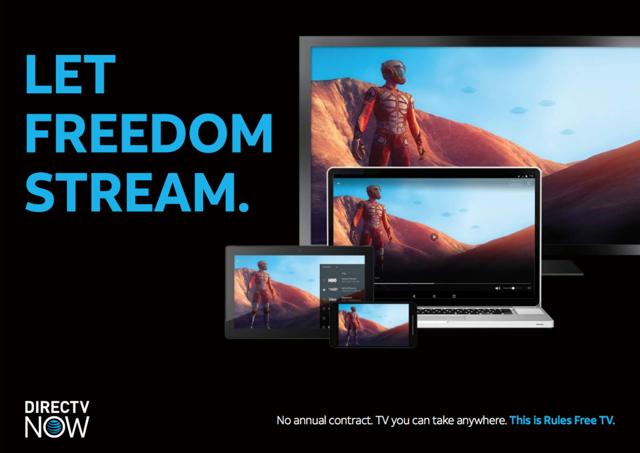 AT&T (NYSE: T) has received widespread criticism with regards to the service quality of its DirecTV Now video streaming service. Launched in November last year, investors will be keeping a close eye on the service's development as the company reports its fourth quarter earnings on January 25.
According to reports from a number of media sources such as the Wall Street Journal and Verge, it appears that DirecTV Now has been plagued with technical issues like user experience problems with live content. Other problems being reported by AT&T's users include reduced video quality, frequent buffering, loading content and error messages.
However, investors shouldn't be too quick to write-off the service as it's important to remember that AT&T isn't the only over the top (OTT) service encountering these technical glitches. Dish Network's (NYSE: DISH) Sling which according to analysts' estimates currently has around 1 million subscribers, encountered similar issues during the college basketball's March Madness tournament back in 2015.
A section of analysts have expressed their skepticism at the thought of OTT 'skinny' bundles that lack any powerful live event gaining mass acceptance. This is because live events such as the NFL and Super Bowl games get the most attention but usually require deals with major broadcast networks and station affiliate groups in order to secure the right to live broadcast them.
Luckily, DirecTV Now includes stations that belong to major networks owners which so far bodes well for the company. Although services like Dish's Sling TV and Sony's (NYSE: SNE) Playstation Vue have been around for some time, AT&T planned to challenge these services by offering a cable-like package at a heavily discounted price.
Sling TV offers 20 channels for $20 while PlayStation Vue offers 90 channels for $54.99. DirecTV Now initially offered more than 100 channels for a promotional subscription fee of $35, with the low introductory offer designed to kick start the service.
With traditional cable packages being more expensive compared to OTT services, the popularity of streaming services has grown considerably as an increasing number of viewers watch more and more content online. In fact, according to a recently released video trend report from Digital Smith, Netflix (NASDAQ: NFLX) which leads the OTT market was able to grow its market share to 54 percent while its closest rival Amazon (NASGAQ: AMZN) commanded about 24 percent of the market.
So the main question for investors is really how DirecTV Now stacks up in comparison to peers. On its part, Dish has stated that it views the DirecTV Now service as a bigger bundle targeted towards traditional Pay-Tv subscribers while Sling views itself as a skinny bundle that gives more flexibility to its subscribers.
In spite of the fact that DirecTV Now is a still in its infancy, the service will need to do a lot more should it really want to compete effectively in the OTT space. For instance, apart from the technical issues being reported by some users, AT&T's service lacks a cloud DVR feature and only offers a limited ability to pause live TV which is viewed as a major shortcoming considering it is available on both PlayStation Vue and Sling TV.
Taking the above shortcoming into consideration and reconciling with the fact that the service may spend years lagging behind well established players like Netflix which has perfected the delivery of on-demand TV shows and movies to homes, there are a couple of things that AT&T could do to improve the service and differentiate it from its rivals.
One way to do this could be for DirecTV Now to follow Amazon's lead and permit downloading of at least a select mix of it programming either through DVR-like capability or a mix of download options in order to better serve the customers outside of the home. Even better, it could also do so at a capacity that doesn't limit the users in regards to data caps. Most certainly, failure to do so would be like creating a limited version of cable programming that is less convenient for the consumer.
Also, as long as established players like Netflix and Hulu continue doing a less than stellar job of facilitating the discovery of new content or connecting users to library content that they might want to watch, AT&T has the opportunity to come out strongly with new innovations to change this narrative.
This could be achieved with the integration of artificial intelligence and personal identification of users which could prove to be successful in bringing a far better user interface and give it an edge over rival platforms.
Looking forward
The introductory offer for DirecTV Now closed on the 9 th January and the price will go up from $35 to $60 per month. The theory here is that the initial subscribers who took advantage of the offer should be able to continue paying at the rate at which they subscribed at, though AT&T reserves the right to change the channels in the bundle.
As such, we can expect to see a fall-off in the number of subscriber additions but this was an undoubtedly great strategy by the telecommunications company. This is because it forced consumers considering the service to quickly make a decision while at the same time allowing the company to evaluate whether there is enough interest in live streaming TV since both Sling TV and PlayStation Vue appeared to be a great idea in theory but fell far short of expectations.
Ultimately, investors won't know with complete certainty whether DirecTV Now is a failure or a success until the company breaks out the number in the earnings release later this month.
Disclosure: I/we have no positions in any stocks mentioned, and no plans to initiate any positions within the next 72 hours.
I wrote this article myself, and it expresses my own opinions. I am not receiving compensation for it (other than from Seeking Alpha). I have no business relationship with any company whose stock is mentioned in this article.