Memorial Production Partners LP (NASDAQ:MEMP) unitholders will receive 2% of the stock and 5-year warrants in a newly organized Memorial Parent NewCo (a corporation and not a master limited partnership). Holders of the two note issues will receive 98% and management could eventually get up to 10% of the new stock under an incentive plan according to the disclosure statement (docket 19). Distributions to equity holders is rare in bankruptcy, but valuing their recovery is complicated by very complex income tax issues.
Reorganization Plan
Memorial's master limited partnership business model of using hedging and bank borrowing leverage caused them to implode as energy prices dropped and the semi-annual determination base amount were decreased. This caused a cash crisis. They announced on December 23 that an agreement was reached for a in-court restructuring and they filed for Chapter 11 bankruptcy on January 16.
Under the pre-packaged plan, there is a very complex exchange of debt held by certain institutions that attempts to avoid transferability and marketability issues associated with the Securities Act of 1933 and to maximize tax deductions for holders of master limited partnership units. Holders of the notes will receive a pro rata share of $24.6 million cash and 98% of the new stock, subject to future dilution. Unit holders would receive a pro rata share of 2% of the new stock plus 5-year warrants to purchase 8% of the new stock at the claim amount of the unsecured noteholders, about $1.1 billion.
It is very unusual for equity to receive an actual distribution under a reorganization plan when a higher priority class does not get full recovery. This is an actual distribution and not just some payment for releases. Bonanza Creek Energy, Inc (NYSE:BCEI) shareholders, for example, are getting paid for releases, but technically are not receiving a distribution under the bankruptcy reorganization plan. Under Section 1289 of the bankruptcy code, a plan is "fair and equitable" if the holder of any "claim or interest that is junior to the claims of such class will not receive or retain under the plan on account of such junior claim or interest any property". Since a junior claim, equity unit holders, is receiving a very modest distribution, I wonder if a noteholder files an objection to the plan.
(Note: In my opinion, I think the benefit of a very modest equity distribution to shareholders, which increases the liquidity and market interest for the new equity distributed to debt holders, is greater than the modest cost.)
Current RBL lenders will participate in an exit credit facility that matures March 2021 with a rate of Libor+300-400. They will also receive the proceeds of closing all hedges, except $80 million of hedges will remain.
Management will receive up to 10% of the stock under a long-term incentive plan. It does not seem that there is any immediate payment of equity to management on the emergence date.
Disclosure Statement Financials
Management's financial projections were based on December 30 NYMEX strip natural gas and oil prices. These base prices were then adjusted for the differentials to reflect the estimated prices actually received. Both natural gas and oil prices, however, have dropped since December 30, especially natural gas strip prices for 2017.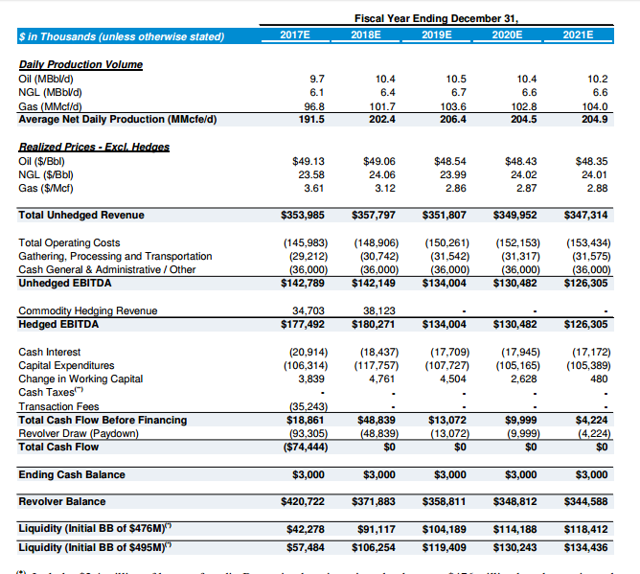 Valuations
Perella Weinberg Partners (PWP) estimated the enterprise value to be $700 million-$900 million, which implies multiples of 4.9x-6.3x using 2018 unhedged EBITDA of $142.1 million. Using a multiple of 7x, the enterprise value would be $995 million. Since the estimated net debt is $445 million, PWP estimated equity value would be between $255 million and $455 million. Using a 7x multiple, the equity value would be $550 million. Not only is there a large variance from high and low for equity valuation, but it is a fairly highly leveraged capital structure.
The two notes issues are trading around 45. That would imply a total equity valuation, prior to potential future dilution, of approximately $480 million. [There are about $1.1 billion in notes trading at 45 have a market value of $495 million. After deducting the $24.6 million cash distribution to noteholders, the value for the 98% equity distribution is about $470 million, which would indicate a $480 million total equity value ($470 million/0.98 = $480 million).] These values are prior to any future dilution from both the management incentive plan and warrants.
The disclosure statement estimated recovery for note holders to be 22%-39%, which is based on PWP's equity estimates of $255 million-$455 million. The stated distribution to current equity holders is $6 million-$12 million. With almost 84 million units outstanding, that would be $0.07-$0.14 per unit. The 2% distribution of the new equity, estimated at $255 million-$455 million, works out to be $6 million-$10 million. Therefore, it seems they are valuing the 5-year warrants to purchase 8% of the stock at only $0.0-$2 million.
Estimating the value of the warrants is almost impossible without knowing the future dividend policy. If no or very low dividends are paid, available money could be used for larger capital expenditures, which would increase the stock's value/price. That dividend policy would, therefore, increase the potential that the warrants would be in the money before they expire. Looking at the financial projections, it seems all cash-flow is used for paying down debt, interest, and capital expenditures. There does not seem to be any estimated future dividend payments. With an exercise price at over $1.1 billion, the new equity would have to more than double from PWP's highest estimated value to be in the money. Even using a 7x multiple on 2018 EBITDA for the equity value when it exits bankruptcy, the stock price would have to increase about 14% annually to be at about the exercise price.
Time Table
* February 27-- hearing to approve adequacy of disclosure statement
* Within 90 days after the January 16 filing-- hearing to confirm the plan
* Within 15 days after the confirmation hearing-- effective date and exit bankruptcy.
Tax Issues
Warning: It is extremely important to note that the following income tax information is merely a discussion of possible tax issues. It is not meant to be tax advice.
Because there will be cancellation of debt and MEMP is taxed as a partnership, there will be cancellation of debt income (CODI) allocated to MEMP unit holders. (I am assuming it will be allocated to holders of record on the effective day for the plan.) The new entity will be a corporation and new shareholders will not face this problem in the future. Management tried to structure the plan so that there will also be a reduction in asset valuation that would enable unit holders to take this deduction. These two events are not directly offset. They will be reported as two different items - not a net item. The amount of the deduction for the lower asset valuation is limited to an individual investor's adjusted cost basis for their MEMP units. The CODI liability does not have a limit.
I may write additional tax information in an InstaBlog based on questions and comments from readers posted below.
Conclusion
MEMP notes are not trading at a large discount from estimated fair value to justify their purchase. As usual during most bankruptcy proceedings, I would expect high volatility for the securities based on filed motions and hearings.
Because of the CODI tax issues and that current price seems actually below estimated recovery, I recommend selling MEMP units. Those with very high adjusted cost basis for MEMP should consult with a qualified CPA to get detailed information for their own specific case to determine the tax impact when determining whether to hold or sell MEMP units.
Disclosure: I/we have no positions in any stocks mentioned, and no plans to initiate any positions within the next 72 hours. I wrote this article myself, and it expresses my own opinions. I am not receiving compensation for it (other than from Seeking Alpha). I have no business relationship with any company whose stock is mentioned in this article.
Editor's Note: This article covers one or more microcap stocks. Please be aware of the risks associated with these stocks.