The trading week ahead is bound to be eventful. Executive orders will be the talk of the nation and traders' reactions will be pasted on the front page of the The Wall Street Journal. In evaluating the efficacy of Treasuries (NYSEARCA:TLT) as an investment right now, the pro-inflationary track of policies that will led by the new president may mean that these securities see continued outflows, thus making the inverse ETF (NYSEARCA:TBT) a better option. Last quarter, I told investors to wait on Treasuries as the plunge was in full effect and it looked as though the bond market was in freefall. Now that trends have stabilized, I will reiterate my bearish thesis on Treasury prices such that TLT should continue to see losses throughout Q1 2017.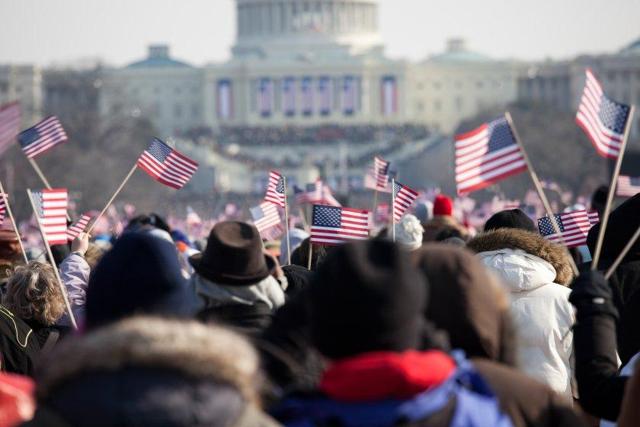 Source: Time
Performance Has Become Stagnant
Take a look at the below one year chart for TLT vs. TBT. The 2016 trend would've largely followed the previous bull market years in bonds, with an increase through most of the year for Treasuries being commonplace. However, the drastic shift on November 8 represents a large fundamental change for bonds moving forward. I want to reiterate that I don't believe that this is a "buy on the dip" opportunity. Rather, I'd fully suggest allocating funds towards TBT rather than TLT. With such a drastic shift in fundamentals and a large inflationary agenda set for the next four years, I expect TLT to not recover materially any time soon, absent a new development.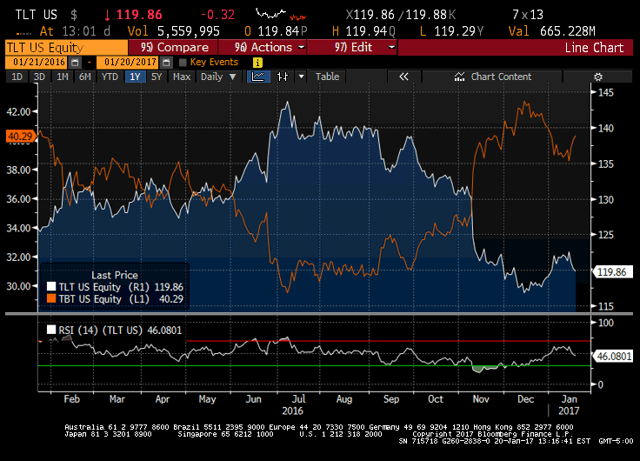 Source: Bloomberg
On a much shorter-time frame, the last three months have really shown quite the wide swings in TLT. After the rapid bond sell-off post-election, the outflows continued really through the last week of the trading year before reversing course slightly this month. We're just about 1% above where we closed out 2016, so the notion that there's a reversal trend forming is largely inaccurate based upon price action.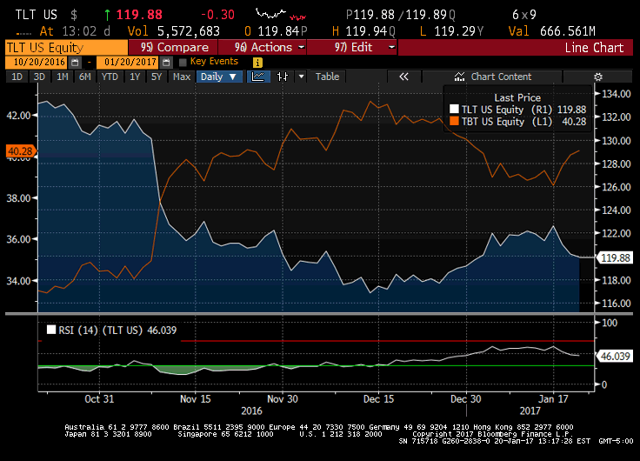 Source: Bloomberg
One important indicator to keep in mind here is the RSI, which shows momentum for TLT. Right now, TLT's momentum reading is 46, which is pretty close to neutral amount of momentum. Directly after the election, we saw the RSI show a heavy oversold reading for nearly two weeks before other prices started to see some normality. However, the momentum has ticked back up to neutral which largely tells me that the bond market is waiting for another catalyst, in either direction, to create a non-range bound trend. Perhaps that'll be policy implementations by Trump or even another major event that isn't front and center in headlines at the moment.
Yield Curve Heightening
We've seen the yield curve almost exclusively heighten since the election victory of now President Trump. We have the 10-year sitting just around 2.5% and the 30-year now crossing the 3% mark. There is still a long, long way to go before we see yields of significant value, but the progress in really just three months has been remarkable and one of the fastest shifts in yields that I've seen.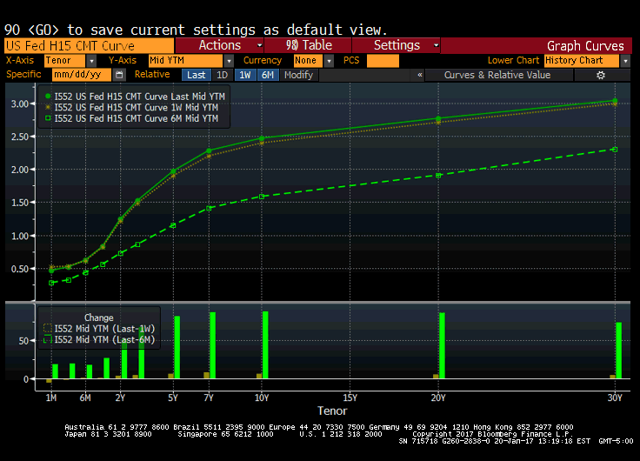 Source: Bloomberg
In the near-term, I largely expect the yield curve to continue heightening, but to flatten out. I say the former because Trump's agenda calls for a slew of inflationary policies. Really, what I'm watching in terms of how the yield curve might change and how trends in Treasury prices might change are the keys given to us by the Federal Reserve.
Right now, there's several FOMC meetings on deck in the short-term, notably the one at the end of this month. This will be the first FOMC meeting that Trump will have had some time in office for and gives the President about 10 days to sign and enact executive orders. That could drastically change things at the upcoming FOMC meeting, so watching comments from the board and from Yellen will be key to understanding how Treasuries might trade this year. If all goes smoothly and the original guidance of two, potentially three rate hikes occurs, then I fully expect more outflows to be seen in Treasuries.

Source: Federal Reserve
Conclusion
While Treasuries can add a solid stream of income to a very safe portfolio, trading the corresponding ETFs gives investors a bit more simplified exposure. With that being said, I really expect TLT to see weakness this year and its counterpart TBT to see strength, despite both stalling in trends right now. It's going to be critical to watch how the Federal Reserve's meetings dictate policy for the full-year and what President Trump's reaction is, as well as if any executive orders interfere with or aid current interest rate guidance.
ETFs: TMV, TBF, IEF, SHY, EDV
Disclosure: I/we have no positions in any stocks mentioned, but may initiate a long position in TBT over the next 72 hours.
I wrote this article myself, and it expresses my own opinions. I am not receiving compensation for it (other than from Seeking Alpha). I have no business relationship with any company whose stock is mentioned in this article.