Nuri Telecom is listed on the KOSDAQ in Korea with ticker 040160 and has about US$95.1M market cap. Apivio (OTC:APVVF) is listed on the TSX Venture Exchange in Canada with a market cap of about US$15.5M.
All-cash bid
Nuri Telecom made the offer on January, 17th. To be precise the offeror is a wholly-owned subsidiary of Nuri Telecom, but I will call it just Nuri. The offer is for all outstanding shares of Apivio. The consideration is C$0.40 cash.
Apivio advised their shareholders not to accept the offer for the time being:
"Consistent with its fiduciary duties, the Board of Directors will carefully review and evaluate the offer. We are commencing a process to solicit potential alternative transactions that may provide greater value to shareholders, and shareholders should wait for the outcome of that process before making any decision with respect to their Apivio common shares. We have established a Special Committee of independent directors to evaluate the Nuri offer and manage the value maximization process. The Special Committee, together with its legal and financial advisors, will carefully and thoroughly evaluate the full spectrum of alternatives to maximize shareholder value and make a recommendation to the full Board of Directors of Apivio. The Board must caution that such a process will not necessarily result in a transaction."
As the offer is open for acceptance until May, 2nd, there is no need to hurry. Although it is possible to withdraw shares. The statement of Apivio sounds good. They are trying to find a better alternative.
Their rejection is natural as Apivio already rejected the offer from Nuri Telecom twice according to the bid circular. In late October/November Nuri proposed formally to acquire Apivio in an all-cash transaction for C$0.38 per share. Then on December 19th Nuri increased the offer to C$0.40, but Apivio refused to continue negotiations with Nuri.
After negotiations failed Nuri decided to go take action on their own. Nuri secured the vote of approximately 10.69% of Apivio's outstanding shares through lock-up agreements with shareholders between January, 10th and 16th. One noteworthy lock-up shareholder is C.W. Lee, founder and former CEO of Moimstone, and former board member of Apivio. Moimstone is Apivio's wholly-owned Korean subsidiary, which provides about 95% of overall revenues. If a competing offer has a higher value, the lock-up shareholders can accept it unless Nuri does match it.
Risk of the deal not going through
The good thing is, the Offer is not subject to financing. Nuri would fund the offer from available cash.
On the other hand two thirds of fully diluted shares have to be tendered. Although if Nuri gets just more than 50% of shares, they may waive this condition or extend the acceptance period.
Also all convertible securities have to have been converted before close "on terms satisfactory to the offeror" or Nuri will have the right to cancel the offer. There were as at September, 30th 9,522,795 warrants with an exercise price of C$0.55 outstanding. I do not know why anyone would exercise these warrants for C$0.55 to get one common share and tender into an offer for C$0.40. You can see from the chart, the warrants were last above water in 2015. At a share price of C$0.40 the warrants are C$0.15 under water.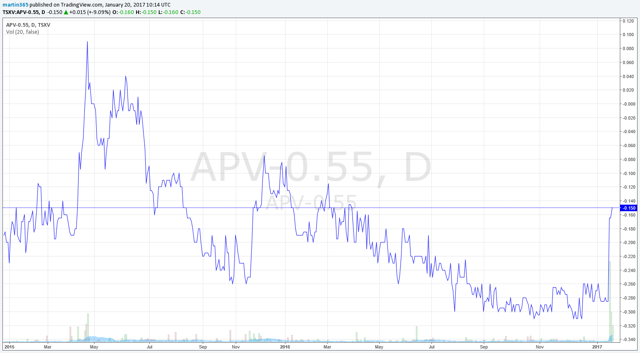 This means by not waiving this condition Nuri has an easy out from their offer. The warrants resulted from a 2015 private placement.
In my opinion the offer is not tight enough to force Nuri to go through with it. They have many outs, if the wish to. Already approximately 10.69% of shares are committed to be tendered, but it is to be seen whether two third of shares will be tendered.
If the deal does not go through and there is no better offer, which would be upside risk, we are looking at a considerable downside. As you can see Apivio traded way below the offer of C$0.40 for most of 2016. Although in 2015 the price was higher.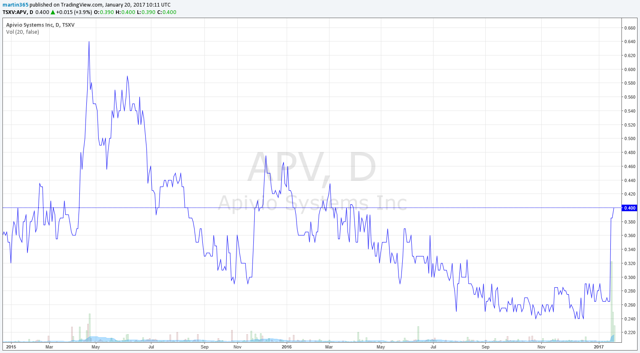 All in all, I think this special situation is not enough to warrant an investment into Apivio, because the offer is not tight and downside is too large. The merit of an investment would depend on the intrinsic value of Apivio.
Some thoughts on the value of Apivio
The balance sheet looks clean. Apivio has debt of 1,731K (long-term) and 5,736K (short-term) for a total of 7,449K. The short-term borrowings are mostly in Korean Won and all long-term borrowings are, which I think is a good hedge with the main part of their revenues in Korea. Interest rates on the long-term borrowings are 5.19% and 4.29% respectively. The Bank of Korea base rate is currently 1.250%. The spread is Ok for such a small company in my opinion. With cash of 6,768K net debt is just 681K. Also working capital is positive. Receivables (5,558K) are about 1MM larger than payables (4,535K) and inventories are 4,985K. Equity is 6,104K and with a market cap of about $21,137K the price to book ratio (P/B) is 3.46.
Also worth noting is the deficit of 11,671K in equity, which shows low profitability in the past. There is also a net liability of 843K from their Korean defined benefit pension plan. The balance sheet does not protect the investor's downside compared to a price of C$0.40 here.
So this all depends on the cash flow and P&L. Apivio is a company listed in Canada but the bulk of their business is in Korea (see table). This means it is easy to guess, that there are some costs to cut, if Apivio is acquired by a Korean company like Nuri. With customer concentration this high (see table) it is very important that their key customers agree with Apivio being acquired. I generally do prefer lower concentration, as the loss of one customer would nearly inevitably send the share price way lower.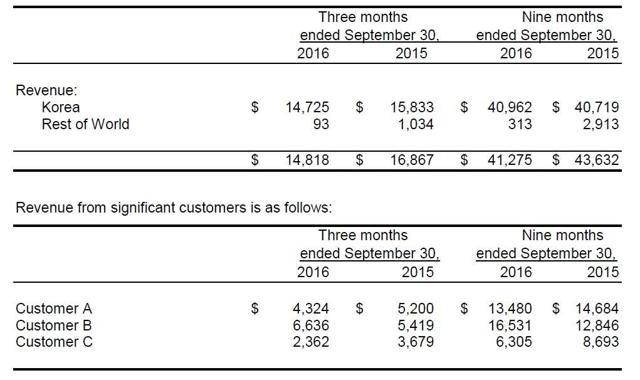 Research and development expenses were 3,526K for 2015 and 3,261K for 2014. So far for 2016 they grew slightly compared to 2015. Those are significant expenses compared to Apivio's market cap and nothing was capitalized on the balance sheet. The low amount of intangibles on the balance sheet were acquired instead as additions match the cash flow statement outflow. This looks like conservative accounting.
The selling, general and administrative expenses look as follows: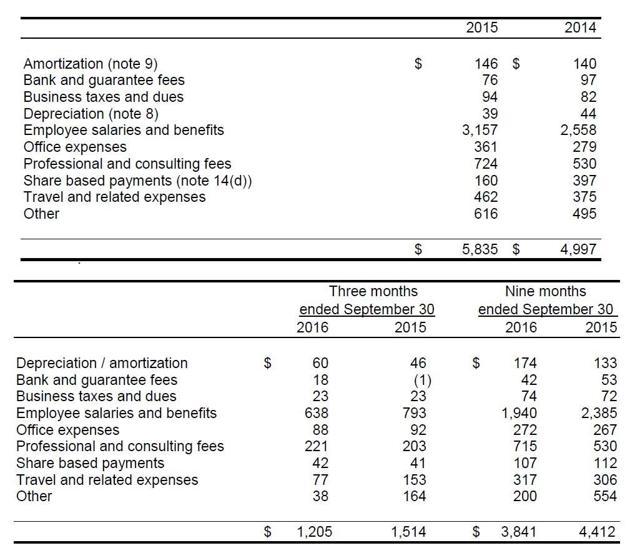 Key management compensation looks as follows:

An acquirer could cut some of the costs there. Apivio could be delisted and the north American operations, which do not contribute to cash flow currently, could be shut down. Top management could be cut, depending on how far the Apivio can get integrated.
The cash flow before changes in non-cash working capital for the year 2015 and 2014 looks as follows: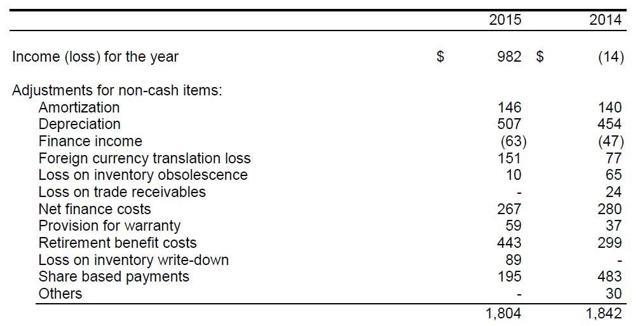 I would subtract share based compensation, provision for warranty, depreciation and amortization again. Adding this all up would leave a cash flow of about 900K before further adjustments (for example adding back growth capex) and synergies.
Depreciation is mainly for tooling, for which Apivio uses estimated useful live of 5 years for calculation. Additions to tooling were 282K (2015) and 255K (2014), while depreciation for tooling was 437K and 384K respectively. This means depreciation maybe was a little bit overstated in 2015 with net carrying value of tooling of 987K as of December 2015. For the first nine month of 2016 depreciation was just 2k less than for 2015.
Market cap plus net debt divided by the 900K cash flow would result in EV/CF of 24 ((21,137+681)/900) assuming no growth capex.
Before synergies, cost cuts and growth Apivio is not cheap, so we have to assume either happening. You can find a bullish research report here. If you think management's adjusted EBITDA useful, this could also make you more bullish: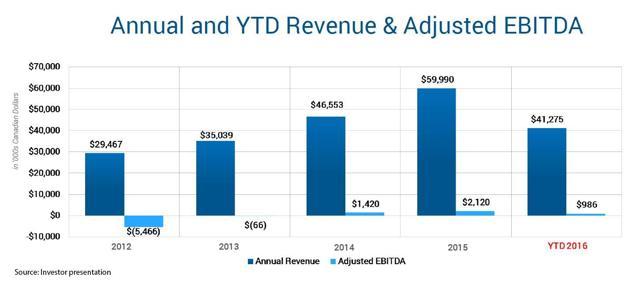 Revenues and adjusted EBITDA actually increased nicely over the last couple of years. The question is how much of the research and development expenses were actually growth capex. Those would have to be added back to arrive at current steady state value. Nonetheless, if one were to do a full DCF valuation, the value of the enterprise would really lie in the future cash flows and therefore the valuation is more inaccurate compared to higher current cash flows. The result would be a high terminal value and high sensitivity to uncertain variables like growth and future return on capital. Revenues can be lumpy, but the decline in revenues for the first nine month of 2016 compared to 2015 nonetheless gives pause. Although Korean revenues decreased only slightly (see regional revenue table above). The company gives no quarterly guidance.
Conclusion
Despite liking the current special situation and the possibility of a higher bid, the downside is too high for me. Current no growth valuation offers no downside protection. Growth is the probable trajectory here, but difficult to handicap in amount and timing (see first nine month of 2016). To use synergies and cost cuts one has to be sure of a corporate action happening here. Yet, Nuri has many ways to back out of their offer and management does not seem to like the prospect of being sold to Nuri anyway. Their past negotiations have failed. On the other hand if you are more comfortable than me with technology and growth investing Apivio may look promising.
Disclosure: I/we have no positions in any stocks mentioned, and no plans to initiate any positions within the next 72 hours.
I wrote this article myself, and it expresses my own opinions. I am not receiving compensation for it (other than from Seeking Alpha). I have no business relationship with any company whose stock is mentioned in this article.