Wabtec (Westinghouse Air Brake Technologies Corporation) (NYSE:WAB) provides its products and services through two principal business segments, the Freight Segment and the Transit Segment, both of which have different market characteristics and business drivers.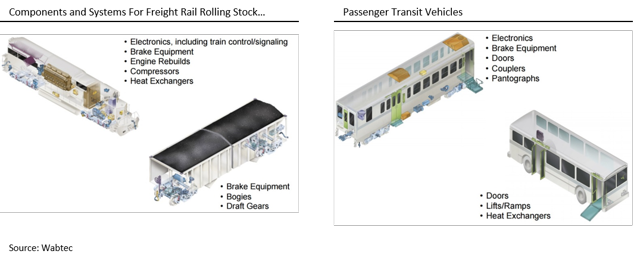 The Freight Segment primarily manufactures and services components for new and existing locomotive and freight cars, supplies railway electronics, positive train control equipment, signal design and engineering services, builds switcher locomotives, rebuilds freight locomotives and provides heat exchangers and cooling systems for rail and other industrial markets. Demand in the railway market is driven by rail traffic and deliveries of new locomotives and freight cars.
The Transit Segment primarily manufactures and services components for new and existing passenger transit vehicles, typically subway cars and buses, builds new commuter locomotives and refurbishes subway cars. Demand in the transit market is primarily driven by government funding at all levels and passenger ridership.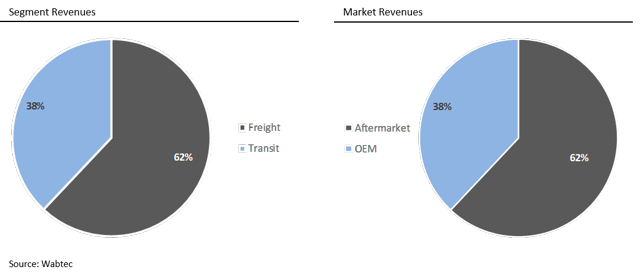 Based on the Company presentation from November 2016, the Freight Segment accounted for 62% of total sales (o/w more than 1/2 of those sales are in the aftermarket), while the Transit Segment accounted for 38% of total sales (o/w 2/3rd of those sales comes from the aftermarket). On average, over the last several years, more than 60% of Wabtec's total sales have come from the aftermarket products and services business.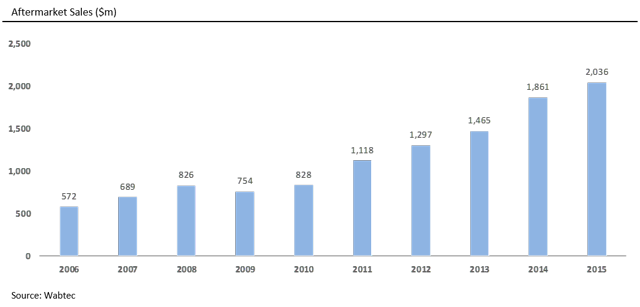 Substantial installed base with high barriers to entry
What is it that separates companies that thrive for decades from the ones that struggle for years? The answer is moat or competitive advantage. Some companies' economic moats are sustained for decades, while others' moats disappear quickly.
Moats can appear in many different forms. In Wabtec's case, there are several sources of the moats:
a) Strong/leading market position in core products - Wabtec holds approximately a 50% market share in North America for its primary braking-related equipment and a leading position in North America for most of its other product lines. It is very difficult to enter the market because the break-related equipment is extremely important for the rolling stocks and producers don't want to change suppliers.
b) Leading design and engineering capabilities - The Company has assembled a wide range of patented products, which provide it with a competitive advantage.
c) Knowledge of industry regulations and requirements - The freight rail and passenger transit industries are governed by various government agencies and regulators in each country and region. These groups mandate rigorous manufacturer certification, new product testing and approval processes that are difficult for new entrants to meet cost-effectively and efficiently without the scale and extensive experience.
d) Wabtec's substantial installed base of products with end-users such as the railroads and the passenger transit authorities is a significant competitive advantage for providing products and services to the aftermarket, because these customers often look to purchase safety and performance-related replacement parts from the original equipment components supplier.
The most important factor is the longevity of the moat. The longer a company can harvest profits, the greater the benefits reaped for itself and its shareholders. Wabtec operates in a stable industry with favorable secular trends.
Combination with Faiveley Transport
Last year, Wabtec finalized the acquisition of the majority ownership of Faiveley Transport (a leading global provider of value-added, integrated systems and services for the railway industry with annual sales of about $1.2 billion), valuing it at an enterprise value of approximately $1.7 billion (c.16x EBITDA).
The strategic combination of Wabtec and Faiveley Transport creates one of the world's leading rail equipment companies, with revenues of about $4.2 billion and a presence in all key transit and freight rail regions worldwide. Excluding restructuring and transaction-related costs, the adjusted operating margin is expected to be about 15-16%. Regarding synergies, Wabtec expects to realize at least $50 million in annual pre-tax synergies from the combination by year three.
Due to the complementary of Wabtec and Faiveley Transport's operations, the Group would benefit from a strengthened and well-balanced business portfolio, both in terms of products and services mix (c.45% of revenues in Freight, c.55% in Transit) and geographic mix (c.50% of revenues in North America, c.30% in Europe and c.20% in Asia-Pacific).
Risks
Macroeconomic risks can have a wide range of causes. Economic risks arise from unfavorable developments on global or regional markets. Ever shorter economic cycles and greater market volatility have the effect of reducing planning certainty. Further macroeconomic risks can arise from price increases for required raw materials.
Currency exchange rates can also change for the worse (currency risks). The devaluation of other currencies against the U.S. dollar can also have a negative impact on competitiveness in certain sales regions and lead to profit margin losses in existing projects.
Moreover, geopolitical tensions can negatively affect product sales (political risks). The occurrence of such risks can have a seriously negative impact on the sales performance of Wabtec and result in underutilization of capacities, with a corresponding negative effect on the earnings and liquidity situation.
Changes in the sector-specific environment can also have a negative impact on the earnings power and financial situation. For example, risks can arise from a concentration among customers, which can cause the market volume to drop and the buying power of certain customers to increase.
Outlook
Medium- and long-term prospects for Wabtec (and Faiveley Transport) are favored by global megatrends such as increasing urbanization, the growing mobility of the population as a whole, the long-term upward tendency in world trade and the above-average growth rates in emerging markets, which are, in turn, leading to an increasing need for transportation facilities and infrastructure.
Growing urbanization represents one of the main drivers in the growth of the global railway rolling stock market. Whilst only 15% of the world population lived in urban or suburban areas in 1900, this figure recently grew to more than 50% and is expected to rise to 80% by 2050, according to UN estimates. This urban demographic "explosion" creates high demand for urban and intercity public transport.
Investment in rail transport, particularly in urban areas, brings wide-ranging advantages to society such as energy and cost savings, and improvements in health due to less traffic congestion and pollution. For example, a tramway carries as many people as 3 buses or 150 cars.
The aging of passenger transport fleets or the requirement to extend their service life represent development opportunities for the rail equipment market.
Over the past few decades, the global economy has undergone major changes with the expansion of world trade, the relocation of production platforms to low-cost regions, and consequently, increased demand for raw materials by emerging countries. Rail freight is an attractive means of transport which benefits from the growth of trade.
Conclusion
We live in an era of risk and instability. Globalisation, new technologies, and greater transparency have combined to upend the business environment and give many investors a deep sense of unease. Since 1980, the volatility of business operating margins has more than doubled. So, when you find a company which has a leading market position in its core products, a stable mix of OEM and aftermarket business, significant barriers to entry, and operating in the old-school industry, it is worth taking the time to stop and check that name.
It is obvious that organic growth rate is a low-single digit. Thus, you need to be a very careful not to pay a high price for the Company. Acquisition of Faiveley Transport makes valuation more difficult. If we use an estimate of combined revenues (Wabtec and Faiveley Transport = $4.2 billion) and adjusted operating margin of 15-16%, then we get operating profit of around $650 million. That translates into P/EBIT of around 12x.
Disclosure: I/we have no positions in any stocks mentioned, and no plans to initiate any positions within the next 72 hours.
I wrote this article myself, and it expresses my own opinions. I am not receiving compensation for it (other than from Seeking Alpha). I have no business relationship with any company whose stock is mentioned in this article.