So far this year, the picture for the oil market, from a fundamental perspective at least, appears to be getting better than it has been in a while. Just the other day, for instance, the IEA (International Energy Agency) released a report wherein it discussed the current energy picture. If their findings are accurate, the implications for oil investors could be quite significant. In what follows, I will look over this data and give my thoughts on what it should mean for investors in companies like Whiting Petroleum (NYSE:WLL), Chesapeake Energy Corp. (NYSE:CHK), Approach Resources (NASDAQ:AREX), and Legacy Reserves (NASDAQ:LGCY), as well as for the United States Oil ETF (NYSEARCA:USO) and other oil-related ETFs moving forward.
Global demand is looking much, much better
For a few months now, I have been critical of global demand forecasts. My own theory on the matter has been that, absent an unpredictable event like China's housing bubble bursting, the demand picture for crude should be better than organizations have let on. As one example that doesn't relate to the IEA, please see the following article here, which shows demand expectations according to the EIA (Energy Information Administration) compared to their previous expectations.
Now, fortunately, the IEA is jumping on this bandwagon. In November of last year, the organization said that they believed oil demand growth in 2016 would average 1.3 million barrels per day (all numbers rounded to the nearest 0.1 million barrels per day). In December's report, they upped this forecast to 1.4 million barrels per day but now, in their January release, the group said that, due to "industrial-driven growth" in Asia, as well as colder weather in Europe, demand growth in 2016 likely averaged 1.5 million barrels per day. This puts their data on par with the 1.5 million barrel-per-day increase seen according to the EIA for last year.
Just as in the case of 2016, the picture this year should also be better than previously forecast. If the IEA is accurate in its assessment, global demand growth this year should come out to 1.3 million barrels per day. This represents a drop compared to 2016 due to higher prices and is the same estimate given in December of last year for 2017, but it's a bit higher than the 1.2 million barrel increase in demand estimated in the IEA's November report.
The balance of supply has shifted
In the image below, you can see the quarterly supply and demand figures for oil through the second quarter of 2017. The IEA's report suggests, on the whole, that demand during the first six months of this year should outstrip supply to the tune of about 0.7 million barrels per day. In addition to certain non-OPEC nations cutting production, which will bring total non-OPEC growth in output to 385 thousand barrels per day this year (320 thousand barrels per day of which comes from the US), OPEC output, after adjusting for assumptions that OPEC will mostly adhere to their plan but not necessarily adhere perfectly, should decline this year.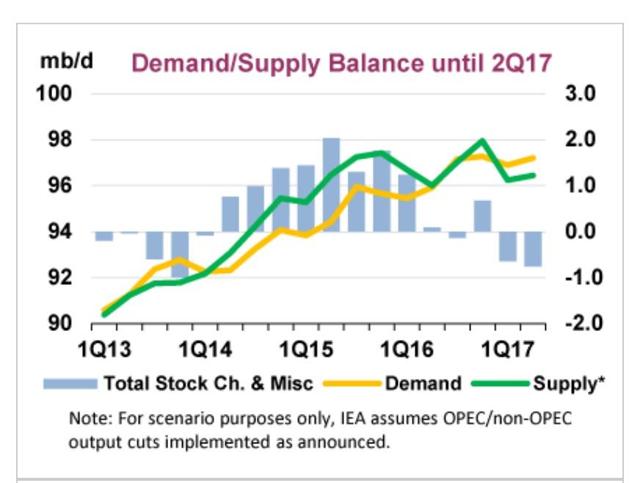 *Taken from the IEA
This trend has already been shown to start. In December of 2016, for instance, the IEA said that total global supplies dropped by 0.6 million barrels per day, declining to 97.6 million barrels per day. This was driven largely by Saudi Arabia's reduction in production, combined with issues in Nigeria that I have alluded to. Thanks to this, since July of 2016, OECD commercial stocks of oil and petroleum products have dropped by a total of 82 million barrels and, if the IEA's numbers are correct for the first half of 2017, they could fall up to another 127 million to 128 million barrels in the months to come.
From the supply side, I think it's hard to tell what is likely to happen because, yes, US oil rigs are coming back online and that data is, within reason, not too hard to forecast, but the major issue relates to what happens in exempt OPEC nations like Libya and Nigeria, as well as in semi-exempt Iran, not to mention uncertainty relating to the deal being adhered to. Regarding demand, however, I believe the picture will continue to improve for the world within reason (and assuming that nothing unexpected happens). The EIA recently said that it's looking like global oil demand growth in 2017 will average 1.63 million barrels per day and that it will grow a further 1.51 million barrels per day in 2018. Much of the economic data I'm seeing seems to support increases that make these numbers more realistic, which could make the drop in inventories over the next few months (if growing US production doesn't offset it) even larger.
Takeaway
Right now, some market participants are cautious regarding oil markets and they have every right to be. However, after seeing not only the EIA earlier this month come out with some upbeat data (though some data was certainly negative too), but also seeing the IEA come out with a stronger demand outlook than they thought previously expected, not to mention shrinking inventories both over the past several months and for the months to come, I can't help but to remain more bullish than bearish.
Disclosure: I am/we are long LGCY, AREX, WLL. I wrote this article myself, and it expresses my own opinions. I am not receiving compensation for it (other than from Seeking Alpha). I have no business relationship with any company whose stock is mentioned in this article.
Additional disclosure: I own LGCYO and LGCY. I may buy CHK at some point.