I had argued last month that Plexus Corporation (NASDAQ:PLXS) looked like it was pricing in a lot of success in its fiscal 2017 (ending September), and the reaction to the company's fiscal Q1 report on Wednesday seemed to confirm that thesis. PLXS met the midpoint of its revenue guidance, and on the bottom line beat both its guidance and Street consensus rather handily. While late quarter, "budget flush," revenue in the Communications business helped, the quarter still looked strong regardless, and the company reiterated its projections for a jump in growth in the back half of the year. In response, investors basically yawned.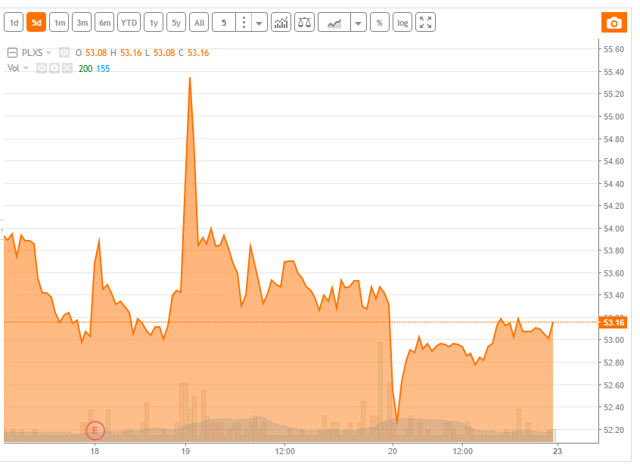 Source: Seeking Alpha
From my perspective, Q1 helped the bull case, but not quite enough to get me tempted at $53. I missed the early 2016 rally in PLXS (shares actually dipped near $30 amid broad market weakness last January), and since then I've hoping for a pullback that hasn't yet come. Coming out of the quarter, I still feel the same way: I'd love to see PLXS get closer to $45, particularly ahead of Q3 and Q4 reports that management believes will be strong. At $53, PLXS looks good, but not quite compelling enough.
Q1 Earnings
For the most part, Plexus' Q1 was good news. As noted, revenue was in line with expectations. Revenue likely would have disappointed without the late quarter sales in the Communications business, which probably contributed ~2 points of the 3% consolidated year-over-year growth in the quarter. (Post-Q4 guidance for the segment had been for a high single-digit decline sequentially; it instead grew 2%, about a $12-$13 million delta.) But Q4 and Q1 results also have been hurt by delayed revenue from a large customer in the Industrial/Commercial segment.
Ironically, the relative strength in Communications in Q1 came as the company admitted on the Q1 conference call that the segment was likely to perform worse than expected on a full-year basis. That's a smaller problem than it used to be: the segment generated just 23% of revenue in FY16, down from ~45% at the beginning of the decade. That decline has come in part due to a concerted effort by Plexus to limit exposure to the segment, particularly in networking. (The company has in past presentations argued that it deserves a premium to peers because of its lower concentration of tech-related revenue). But delays in I/C aside, the rest of the business looks well positioned. The Defense/Security/Aeropsace business had a soft quarter, though one that was relatively expected: guidance was for a mid-single-digit decline sequentially, though sales fell 15%. But the largest segment, Healthcare/Life Sciences revenue rose 9% Q/Q, at the high end of the guided range, enough to keep overall revenue relatively in line.
Looking forward, Plexus still sees a big jump in second half revenue, with the company targeting a $3 billion run rate by the end of FY17. That should imply ~$750 million in Q4 - up sharply from $635 million in Q1 and Q2 (at the midpoint of guidance). New ramps - mostly from expanding penetration at existing customers - are expected to be the driver, and current win rates support management's optimism. The company added ~$217 million in annualized revenue in the quarter, above its targets and the highest number in almost two years: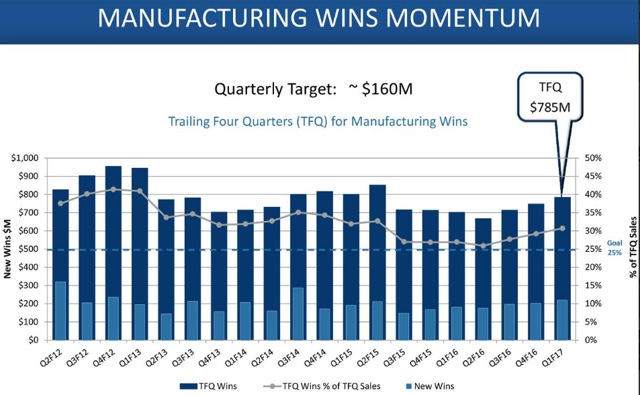 Source: PLXS Q1 earnings slides
On the top line, then, the story heading into the quarter is largely intact, with Plexus still projecting a strong back half and a $3 billion-plus number for fiscal 2018. Below the top line, the news looked good as well. Supply chain efforts were the key driver behind a 200 bps increase in gross margin; operating margin of 5.3% was above the company's long-term 5% target, with Q2 guidance of 4.9-5.3% staying at relatively elevated levels. EPS grew 74% year over year (using the year-prior adjusted figure) as a result; cash flow of $73 million (over $2 per share) was driven by both earnings and improved working capital management.
The P&L looks solid, the cash flow statement better, and the balance sheet clean: Plexus exited the quarter with almost $7 per share in net cash. The Trump Administration and GOP control of Congress offer a number of potential benefits over the next few quarters as well. Plexus held 95.7% of its cash outside the U.S. as of the end of FY16, according to the 10-K; a 5% tax rate under a repatriation holiday would be worth $3+ per share to the company at current levels. (The most likely use of repatriated cash would be a special dividend, which itself could boost the stock.) Potentially increased defense spending could drive demand, and a modest tailwind to sales (though the defense vertical is a 3-4% portion of overall revenue). And Plexus has a large amount of unused U.S. capacity that could be leveraged if domestic manufacturers are prohibited and/or jawboned from moving production overseas. All told, there's a lot to like here, and the company looks ready for what should be a strong 2017 and 2018.
Skepticism And Valuation
Again, however, I still think most of the good news here is relatively priced in. Q1 and Q2 EPS numbers (the midpoint of guidance suggests a 36% increase Y/Y) are benefiting from soft comparisons. PLXS shares have gained ~15% since the election: investors seem to be anticipating politically driven tailwinds that may not necessarily materialize. Q1 and Q2 revenue numbers aren't that great; Plexus management seemed extremely confident about their projections on the Q1 call, but CEO Todd Kelsey also emphasized that the $3 billion run rate target wasn't necessarily guidance, or guaranteed. (To be fair, Kelsey seemed to cite potential macro weakness as the main possible impediment; Plexus seems reasonably confident that new program ramps will hit in the back half and drive solid revenue growth.)
Trailing twelve-month EPS assuming the midpoint of Q2 guidance is $3.21; net of $6.80 per share in cash, PLXS trades at about 14.5x EPS. That's still a premium to peers in a tough, cyclical space: Celestica (NYSE:CLS) is at about 8x EPS, and Jabil Circuit (NYSE:JBL) and Flex Ltd. (NASDAQ:FLEX) in the 11-12x range. I certainly think PLXS deserves some premium to peers given back-half opportunities (and, somewhat, the diversification away from tech) - but it's getting that premium. And while back-half revenue seems likely to increase, it will come at a cost in both capex and opex spend related to the new programs. I'm not sure EPS growth will be quite as impressive, even if sales hit the targeted level. The easy benefits appear to have been made in terms of gross profit; with first-half operating margin likely above 5%, there's not a ton of room for leverage in FY18. A 15x-16x enterprise value/EPS multiple (giving some discount for the overseas cash) doesn't seem terribly outlandish given what is likely to be normalized net income growth in the mid-single-digits post-FY17. There is a "cash flow compounder" argument for $60 or so over the next twelve months: 15x FY18 EPS of $3.50 or so plus cash likely gets PLXS shares to those levels, about 12% upside.
But there's also a strong cyclical component to earnings, which (depending on one's macro view at the moment) might suggest using closer-to-peak multiples to value the stock. Longer term, even Plexus' targets don't seem to drive hugely impressive upside. Kelsey said the company had capacity to drive about $3.5 billion in revenue at the moment. At that level, and assuming an above-target 5.2% EBIT margin and a 10% tax rate (in line with FY17 guidance), EPS would be about $4.75. Aggressive growth projections ($3-$3.1 billion in FY18 revenue, plus mid-single-digit increases in FY19 and FY20) could get Plexus to that level in CY20. A 15x multiple plus ~$10 per share in cash (including cash generated over the next 10-12 quarters) gets shares to $81, or about $64 discounted back. That scenario seems something close to perfect execution and end market cooperation, and upside is in the ~50% range over three years. (I suppose there's an argument that the 15x multiple is too conservative; but it's actually toward the higher end of PLXS' post-crisis valuation and one would think what would then be an 11-year expansion would merit some sort of cyclical adjustment.
So while I like PLXS, and while I'm impressed with management and execution of late, I'm just not quite willing to pay $53 a share. That said, it may be difficult to get too much of a discount at this point without a change to the post-Q1 story (either macro disruption or a change in outlook toward the back half). But if PLXS can get closer to $45 or even $48, where little to no growth is priced in post-FY17 and the near-term catalysts (special dividend, U.S. capacity utilization) can have a slightly larger impact, I'd take a long look. There is a great story here - unfortunately, it still looks as if the market is on to it.
Disclosure: I/we have no positions in any stocks mentioned, and no plans to initiate any positions within the next 72 hours. I wrote this article myself, and it expresses my own opinions. I am not receiving compensation for it (other than from Seeking Alpha). I have no business relationship with any company whose stock is mentioned in this article.