Most banks are likely to benefit from the current interest rate increase cycle. The Federal Reserve is projecting to increase interest rates three times in 2017, two or three times in 2018, and three times in 2019. This is positive for banks since higher rates are likely to lead to expanding net interest margins, which will lead to increased profits.
There are positive trends that are likely to help create favorable conditions for banks. U.S. GDP growth is expected to be 2.1% in 2017, 31% higher than 2016's 1.6% growth. Incomes increased 2.9% in 2016. The growing economy and higher incomes will help create more demand for loans and more money for deposits as consumers purchase/rent/furnish homes, purchase vehicles and other higher ticket items. The banks are likely to benefit from increased activity on the commercial side of the economy as businesses expand and seek new loans.
The following banks are expected to grow earnings at strong double-digit rates in 2017 and are valued attractively. This makes them potential takeover targets for larger banks to acquire. Regardless of whether they get acquired or not, these banks are likely to perform well over the next 2 years as a result of favorable economic conditions, attractive valuations and strong earnings growth.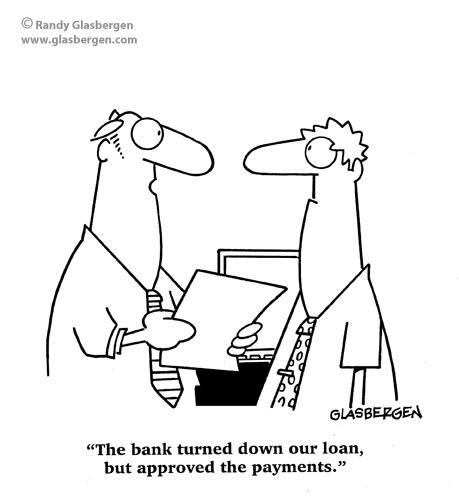 Image source: glasbergen.com
Huntington Bancshares
Huntington Bancshares (NASDAQ:HBAN) is a Midwestern company involved with the banking activities that are likely to benefit from an improving economy. This includes: commercial and small business loans/services, mortgages, car loans, investment management, insurance products, etc. The Chicago Fed expects overall moderate economic growth in 2017 for the Midwestern United States. The growth in the region will help drive Huntington to achieve a sales increase of about 22% (consensus) in 2017.
Huntington is valued 17% below the average regional bank's trailing 12 month price to book ratio of 1.58. Huntington's trailing price to book ratio is 1.31, which is 22% below the Midwestern regional banking industry's average of 1.68.
Huntington's ROE is expected to increase 40% from 7.7% TTM to 10.8% in 2017. This will help drive earnings growth and growth in book value.
Huntington's low valuation is what makes it attractive for a large company to acquire. The other factor that makes Huntington attractive is the bank's strong growth. In addition to the double-digit sales growth, Huntington is expected to increase earnings by 32% in 2017. With a low valuation and strong growth, I expect the stock to be driven higher at a double-digit rate in 2017. The consensus one-year target price is conservative at $14.5, which represents an 11.5% gain over the current price. However, I think the stock can perform better than that considering its strong growth. I think a stock gain of 15% to 20% would be reasonable considering that the bank is growing earnings at 32% this year from a low valuation. Investors will also benefit from Huntington's 2.5% dividend.
ConnectOne Bank
ConnectOne Bank (NASDAQ:CNOB) is a Northeastern regional bank that offers deposit and loan products to consumers and small/mid-sized businesses. ConnectOne also runs a subsidiary, Center Financial Group LLC, which handles insurance & annuities, brokerage services, mutual funds, and financial planning. ConnectOne is poised to benefit from an expanding net interest margin as interest rates increase.
ConnectOne is valued attractively with a trailing 12 month price to book ratio of 1.47 which is 10% below the Northeast regional banking industry's price to book of 1.62. A few banks with similar market caps in the industry are trading with higher valuations. Bridge Bancorp (NASDAQ:BDGE) and Camden National (NASDAQ:CAC) have price to book ratios of 1.7 and 1.65 respectively.
Although ConnectOne took a hit on its stock after the merger with Center Bancorp in 2014, the bank has stabilized and is positioned for growth. ConnectOne is expected to increase ROE by about 7% from 8.8% TTM to 9.45% in 2017. Consensus estimates show that sales are expected to increase by 10.7% and earnings are expected to increase by 42%. The consensus average one-year target price for the stock is $31, which would be about 26% higher than the current price. That looks reasonable given the valuation and growth that ConnectOne is expected to achieve in 2017. In addition to the stock price appreciation, ConnectOne shareholders will be paid a dividend of 1.2%.
MidWestOne Financial Group
MidWestOne Financial Group (NASDAQ:MOFG) is a Southwestern regional bank that provides retail and commercial banking services through its subsidiaries, MidWestOne Bank and Central Bank. The retail side of the business is likely to benefit from increased deposits and loans as GDP and personal incomes increase. The commercial side is set to benefit from increased deposits and from new loans for business expansion.
MidWestOne is trading with a trailing price to book ratio of 1.32, which has the stock valued 25% below the Southwestern Regional banking industry's price to book ratio of 1.76. Banks with similar market caps in the same industry: QCR Holdings (NASDAQ:QCRH), Southwest Bancorp (NASDAQ:OKSB) and Triumph Bancorp (NASDAQ:TBK) are all trading with higher price to book ratios of 1.96, 1.80 and 1.70 respectively. This demonstrates that MidWestOne is attractively undervalued.
On the growth side, MidWestOne's 2% expected sales growth (consensus) is not all that spectacular. However, sales are expected to grow by nearly 5% in 2018 as the economy picks up steam. The expected earnings growth of 31% for 2017 is much more impressive and more likely to drive the stock. MidWestOne is expected to follow that up with a 9% earnings increase in 2018. So, you're looking at an average of about 20% earnings growth for the next two years. That should drive the stock to achieve double-digit annual gains for the next 2 years. Shareholders will also benefit from the stock's 1.8% dividend yield.
Conclusion
The attractive relative valuations of these banks combined with strong expected earnings growth make them potential takeover targets. Although they may not be acquired, these banks are likely to be strong stock performers over the next year or two as the economy continues to pick up steam and as higher interest rates contribute to higher net interest margins.
Huntington is larger than the other two banks as a mid-cap stock. With that size, Huntington could also be an acquirer of another company. Although ConnectOne and MidWestOne are smaller, it is also possible that they could acquire another smaller company. However, I would put a higher probability of the later two banks being taken over rather than being the acquirer.
Save
Save
Save
Save
Disclosure: I/we have no positions in any stocks mentioned, and no plans to initiate any positions within the next 72 hours.
I wrote this article myself, and it expresses my own opinions. I am not receiving compensation for it (other than from Seeking Alpha). I have no business relationship with any company whose stock is mentioned in this article.
Additional disclosure: If you like my analysis, click on FOLLOW at the top of the article near my name. That will allow my articles to display on your homepage as they are published. The article is for informational purposes only (not a solicitation to buy or sell stocks). I am not a registered investment advisor. Investors should do their own research or consult a financial advisor to determine what investments are appropriate for their individual situation. This article expresses my opinions and I cannot guarantee that the information/results will be accurate.