Let's face it. The population is aging as lifespans increase and birth rates plummet. There will be more and more retirees and fewer people producing goods and services. And labor costs are rising. Companies chase lower labor costs by moving jobs to less expensive countries. But then labor costs begin to rise in those countries as well.
The Global X Robotics & Artificial Intelligence Thematic ETF (NASDAQ:BOTZ) is a new fund that allows investors to gain exposure to companies that may profit from these macro trends. Industrial robotics and automation will reduce labor costs to the absolute minimum. While sending jobs to lower-cost countries reduces costs, replacing workers with robots could save up to 90% by some estimates. Automated manufacturing allows products to be in the target market. Products bound for the U.S. can be built in the U.S. Products bound for Europe can be built in the U.S. Not only will business save on labor cost but transportation cost as well.
Artificial intelligence will assist an aging population to get around, in the form of autonomous vehicles. And smart homes with central AI will help us stay in our homes longer as we grow old. Yes, I said central AI. AI will be more significant to us than central air, at least until climate change becomes severe.
The important take-away in all this is that smart investors look for growing markets. And that is what robotics and AI are, growing markets. The global robotics market is expected to expand over 10% per year from 2014 to 2020. The AI market is estimated to grow by 50% per year.
As I mentioned earlier, BOTZ is a new ETF, trading since Sept 2016 so there is not much technical analysis that can be done.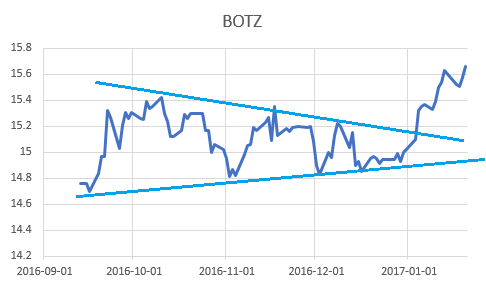 BOTZ Stock Chart
Of note is that BOTZ did not participate in the post-election stock market rally. The shares traded as if the price was consolidating, then there was a breakout in early January.
Checking under the hood
BOTZ - Regional allocation of stocks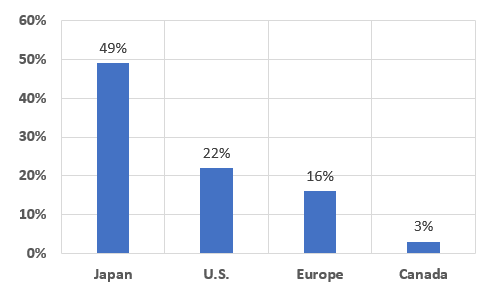 One startling thing that I found while researching BOTZ is that there are relatively few U.S.-based robotics and automated manufacturing stocks. Almost 50% of the companies are located within Japan. Only 22% are located within the United States. Being an engineer myself, I am embarrassed to see robotics dominated by foreign players.
The low U.S. representation in the robotics field may explain why the BOTZ share price was so timid following the presidential-election. U.S. protectionism may be to the detriment of foreign robotics companies.
The sector allocations are shown below.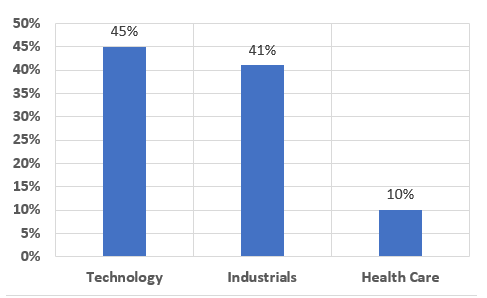 BOTZ - sector allocation of stocks
Price-Earnings Ratio
I felt that the P/E Ratio of BOTS was a little steep, so I decided to compare it to some of its peers, selected based on country and the sector allocations of BOTZ holdings. These ETFs include the iShares Global Industrials ETF (NYSEARCA:EXI), iShares Global Tech ETF (NYSEARCA:IXN), iShares Global Healthcare ETF (NYSEARCA:IXJ), and iShares MSCI Japan ETF (NYSEARCA:EWJ). The chart is shown below.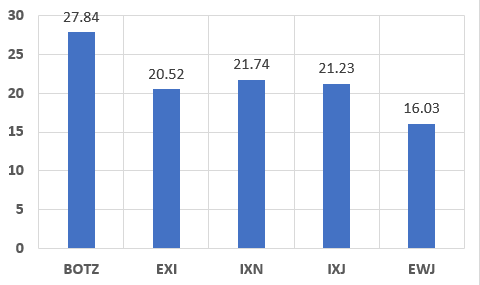 The P/E Ratio for the aggregate holdings of BOTZ is at least 30% higher than its peers. Now I can forgive this figure if the underlying stocks have much higher growth potential. To find out, I decided to do a comparison of the 3-year composite sales growth aggregate for BOTZ stock holdings and the same for the Russell3000. The composite shares growth for the Russell3000 was determined using Portfolio123.
| | |
| --- | --- |
| Company | Sales3YCGr% |
| ABB Ltd | -3.38 |
| Accuray Inc | 8.07 |
| AeroVironment Inc | 3.22 |
| ATS Automation Tooling Systems Inc | 20.71 |
| Brooks Automation Inc | 9.87 |
| Cargotec Oyj | 3.9 |
| Cyberdyne Inc | 63.7 |
| Daifuku Co. Ltd | 18.5 |
| Fanuc Corp | 7.75 |
| FARO Technologies Inc | 5.12 |
| Intuitive Surgical Inc | 3.05 |
| iRobot Corp | 12.24 |
| John Bean Technologies Corp | 6.48 |
| Keyence Corp | 21.05 |
| KUKA AG | 19.5 |
| MacDonald Dettwiler and Associates Ltd | 34 |
| Mitsubishi Electric Corp | 7.14 |
| Mobileye NV | 81.5 |
| Omron Corp | 9.59 |
| Parrot SA | 5.2 |
| Qinetiq Group PLC | -17.1 |
| Renishaw PLC | 7.9 |
| Smc Corp | 3.05 |
| Tecan Group AG | 4.03 |
| Toshiba Machine Co Ltd | -1 |
| TransEnterix Inc | -33 |
| Trimble Inc | 3.93 |
| Yaskawa Electric Corp | 4.2 |
| Average | 11.0 |
3-year composite sales growth - BOTZ holdngs
The difference in sales growth between the stocks held by BOTZ and the Russell3000 is 11% - 7.5% = 3.5%. If it is assumed that future growth is similar to the previous three years, then a 3.5% growth rate advantage per year doesn't justify a 30% premium on earnings, at least not in my opinion.
I did a 3-year backtest of the 15 stocks held by BOTZ using Portfolio123 as shown below. The basket of robotics and AI stocks is plotted in red, the S&P 500 in blue.
Performance of 15 Robotics Stocks (U.S. Markets)

For most of the 3-year period, the stock performance was uninspiring. Therefore, one should not draw conclusions from the short trading history of BOTZ. Hypothetically, the price chart for BOTZ would not have looked so great prior to Feb 2016.
Performance of 2 Robotics Stocks (Canadian Markets)

The two stocks that trade on the Canadian exchange haven't had impressive performance either.
One last observation is that this ETF doesn't appear to be targeting the smart home which is quickly evolving towards AI. The Amazon Echo, Google Home, and I'm sure Siri, are all converging towards this new ecosystem. I wonder why this AI application is being ignored?
Conclusions
I believe that robotics has a strong future, but BOTZ is a wee bit expensive at present. Being an opportunist, I suggest waiting for a pullback before jumping on board.
Disclosure: I/we have no positions in any stocks mentioned, and no plans to initiate any positions within the next 72 hours.
I wrote this article myself, and it expresses my own opinions. I am not receiving compensation for it (other than from Seeking Alpha). I have no business relationship with any company whose stock is mentioned in this article.