It didn't take long. One of President Trump's first actions following his inauguration Friday was to immediately sign the "America First Energy Plan". Part of the plan is to make good on a campaign promise to reinvigorate the coal industry and to embrace "clean coal":
The Trump Administration is also committed to clean coal technology, and to reviving America's coal industry, which has been hurting for too long.
If the first "clean coal" plant in the United States is any indication, doubling down on "clean coal" is a blunder. As the Wall Street Journal reported, Southern Company's (NYSE:SO) supposed "clean coal" Kemper plant has been faced with ever increasing cost overruns and at $4.7 billion (and rising) ranks as one of the most expensive U.S. fossil-fuel projects ever. Labor and material costs have greatly exceeded expectations. The project was originally estimated to cost $2.9 billion.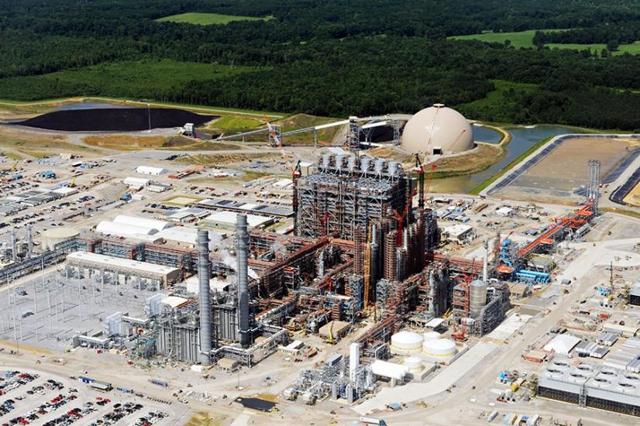 Southern's Kemper "Clean Coal" Plant
Southern's 582 MW Kemper "clean coal" plant is designed to convert low grade lignite into syngas, which is similar to natural gas. The plan is to strip out and capture 65% of the CO2 that would have been released into the atmosphere by burning coal. The thought process is that gasification is necessary for capturing CO2 because efforts to sequester CO2 from plants that burn coal simply have not been practical.
TaxPayers For Common Sense
And yet while Donald Trump said he wanted to get rid of Federal corporate welfare, TaxPayers For Common Sense reports there is a congressional plan that could send billions to the grossly mismanaged Kemper power plant by expanding tax credits for injecting carbon dioxide into oil fields. These so-called "45Q" tax credits would get richer and could even become a permanent part of the federal tax code depending on which of three bills now being considered by Congress becomes law. And that could result in the so-called "clean coal" Kemper facility getting between $789 million and $4.5 billion tax-payer subsidies.
Yet all of this begs the simple question: why go through the hassle and uneconomic expense of gasifying coal when domestic natural gas prices are currently very cheap at around $3.30/MMBtu?
The Environment
Also, while CO2 is one problem associated with burning coal, the other dirty little secret is how to you store (or dispose...) of the toxic heavy metal particulates left over from burning coal? No one know this better than the lesson the Tennessee Valley Authority ("TVA") learned at its plant in Kingston, TN: a fly-ash spill can be very damaging. And expensive. The bottom line is that there is no such thing as "clean coal" - it is an oxymoron if ever there was one.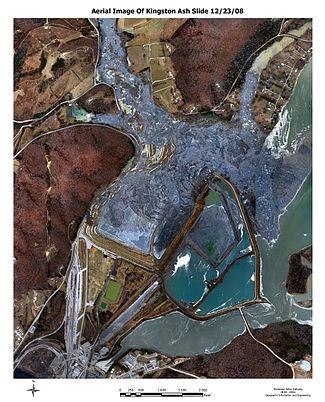 Aerial View Of The Kingston, TN Fly-Ash Release Into The Emory River
As proof that this is true, on Monday December 22, 2008, an ash dike ruptured at an 84-acre fly-ash containment area at the TVA's Kingston plant. 1.1 billion US gallons of coal fly-ash slurry was released into the Emory River, which combines with the Clinch River before emptying into the Tennessee River, one of the largest river systems in the US. The disaster was arguably one of the worst environmental catastrophes in American history. And there are hundreds of coal fly-ash storage sites across the U.S. with billions and billions of tons of the toxic heavy-metal concoction. So while the local Knoxville paper spent a lot of ink trying to figure out who was to blame and how something like this could have happened, I sent in a letter to the editor saying that wasn't the real question that should be asked. The real question was when will the TVA shut down the coal plants and replace them with natural gas electric power generation?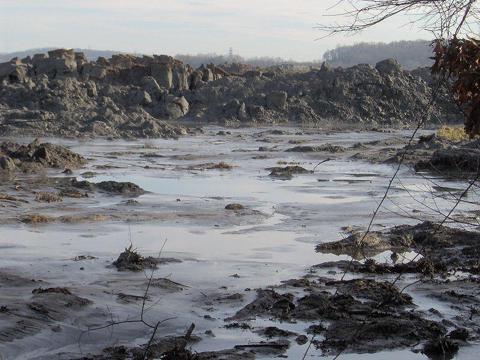 A 25-foot wall of ash ~1 mile from the Kingston retention pond.
Almost 5 years later, that day came. In November of 2014, the TVA, a top-5 coal consumer, decided to close eight coal-fired plants - six in Alabama and two in Kentucky. The TVA said its goal was to reduce coal to 20% of total generating capacity, about half of what it was in 2010. The plant closings are in addition to the 18 coal fired boilers the TVA closed in 2011.
Yet Trump's energy plan says he wants to safeguard the environment:
Lastly, our need for energy must go hand-in-hand with responsible stewardship of the environment. Protecting clean air and clean water, conserving our natural habitats, and preserving our natural reserves and resources will remain a high priority. President Trump will refocus the EPA on its essential mission of protecting our air and water.
However, consider that America's air and water have been kept clean over the past 40 years because of environmental laws enforced by the Environmental Protection Agency, which Trump previously said he wants to abolish. It looks like that may be the case as Trump has appointed one of the EPA's most ardent foes to head the EPA - Oklahoma Attorney General Scott Pruitt, who has sued the EPA 14 times and is involved in a lawsuit aiming to kill one of Obama's most sweeping climate policies.
Summary & Conclusion
Between the economic costs of burning coal, the obvious fly-ash storage and environmental problems, and the availability of low-cost and abundant natural gas, it's clear that burning coal for electric power was on its way out. Or at least should have been. Trump apparently wants to turn back the clock on all the progress that has been made in backing coal out of the U.S. power generation sector. This is hard to rationalize in an era of cheap, clean, and abundant natural gas supplies. As a result, tax-payers should get ready to foot the bill.
If Trump's "clean coal" initiative is any indication of his business savvy management style, it would appear U.S. debt is set to take yet another quantum leap higher. And gold should start moving higher. See my last article of 2016, Gold: The Possibility Of A Trump Induced Bull Run.
Over the past 5 years, clean energy company NextEra Energy (NYSE:NEE) has clearly outperformed traditional coal based utility companies like Southern and American Electric Power (NYSE:AEP) (see comparison chart below). Investors should consider that Trump's plan to reinvigorate the coal market and de-claw the EPA could well reverse the fortunes of these three companies.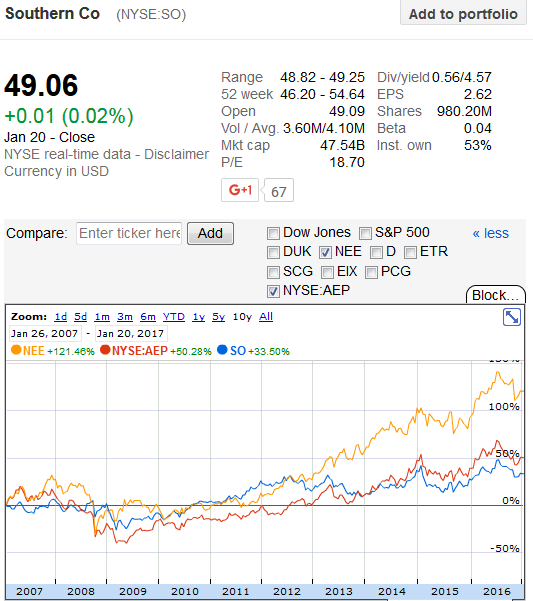 Disclosure: I/we have no positions in any stocks mentioned, and no plans to initiate any positions within the next 72 hours.
I wrote this article myself, and it expresses my own opinions. I am not receiving compensation for it (other than from Seeking Alpha). I have no business relationship with any company whose stock is mentioned in this article.
Additional disclosure: I am an engineer, not a CFA. The information and data presented in this article were obtained from company documents and/or sources believed to be reliable, but have not been independently verified. Therefore, the author cannot guarantee their accuracy. Please do your own research and contact a qualified investment advisor. I am not responsible for investment decisions you make. Thanks for reading and good luck!