On January 20, 2017, General Electric (NYSE:GE) reported Q4 2016 results that met the consensus estimate on the bottom-line (adjusted EPS of $0.46) but that missed on the top-line ($33.1b vs. $33.6b). The company's mixed results were not well-received by the market, as shown by the fact that shares finished the day down ~2%, but, in my opinion, the earnings release was not as bad as some news outlets are reporting. GE's Q4 2016 results are widely viewed as "more of the same" but I believe that this is not necessarily a bad thing --let me explain.
More Of The Same, Since When Is Earnings Growth A Bad Thing?
Q4 2016 marked the 7th consecutive quarter that GE was able to meet (or beat) the consensus EPS estimate. The company reported adjusted EPS of $0.46 for Q4 2016, which was ~11% below the adjusted EPS that GE reported in the same period of the prior year.
The company has had to contend with significant headwinds in 2016, with the most notable example being the pressure felt from the extended downturn in the oil and gas industry, but let's not forget that GE reported a double-digit (~14%) increase in full-year 2016 earnings, i.e. industrial and verticals EPS, and this is after reporting double-digit growth (17%) for full-year 2015.

In addition, management expects for full-year 2017 earnings to be in the range of $1.60-$1.70, which would be another double-digit YoY increase if the mid-point of estimate is achieved. Therefore, if double-digit earnings growth is "more of the same" --I'll take it.
The company's top-line performance, however, was nothing to brag about.
Not All Is Well, A Look At The Company's Revenue Growth, Or Lack Thereof
A metric that should be considered a major disappointment for the quarter is the company's less-than-impressive top-line figure. Investors were expecting more out of the company, especially since the Alstom integration has been going on for some time now, but GE's top-line figure failed to impress the market. Yes, the company barely missed the top-line estimate but the most concerning part about it, in my opinion, was the fact that the results fell short of management's own guidance (estimated for revenue to be flat to up 2%).
The company's Q4 2016 revenue of $33.1b was down 2%, but management provided color on some of the "other factors" that warranted attention.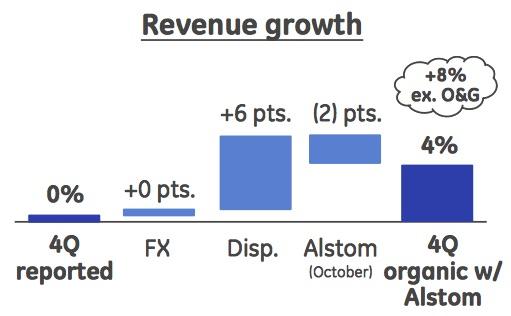 As shown, organically revenue was up 4% if you factor in the Alstom assets for the last two months of 2015 and 2016, which is good but not great. Furthermore, the company's revenue would have been up 8% if the Oil and Gas ("O&G") segment was not factored into the equation (the segment's revenue was down 22%), which is only important to mention because there is a real possibility that this segment will not be in the fold in a year from now, as the company plans to spin-off the O&G segment if the proposed Baker Hughes (BHI) tie-up is approved.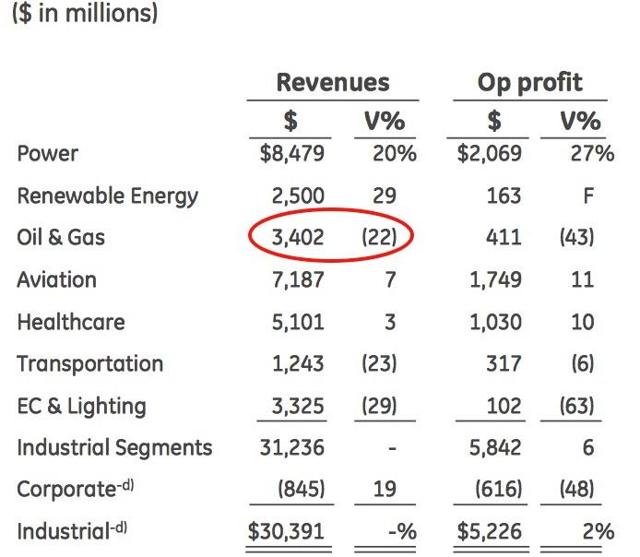 As such, a segment that is no longer viewed as a core operating business for the company, in a complicated kind of way, is a major contributor to the YoY revenue decline.
However, any way you slice it, I believe that management dropped the ball by not meeting their own top-line guidance. Mr. Jeffrey Immelt, President & CEO, tried to talk around the miss during the conference call:
"It's $31 billion or $30 billion to $35 billion a quarter [referring to revenue]. There is going to be puts and takes on a revenue line. But I think if you go down, if you think about 2017 as being an organic guide of up 3 to 5, and you've got 4% organic in Q4 in revenue, I feel pretty secure about the 3 to 5 guide for 2017. I just think you've got to look at it that way."
It is obvious that management is still trying to contend with all of the moving pieces in order to properly assess how the ever-changing environment is impacting the company's revenue on a quarterly basis, but this should not be considered a significant concern at this point in time. Yes, the management team needs to figure it out but slight top-line misses are not enough for me to sell my GE shares. Of course, as long as the company's story is still intact.
It's Not All About The Top- And Bottom-Lines
In my Q4 2016 earnings preview article, I listed the following three things that investors should watch/listen for when GE reported results: (1) orders, (2) digital results, and (3) updates on the Baker Hughes deal.
1. Orders, Finally Starting To Turn Around?
As I described in the preview article, the company's lackluster order numbers over the first three quarters of 2016 has been a concern for the market so I was encouraged by the strength of GE's Q4 2016 orders, especially the service orders.

For Q4 2016, GE reported an impressive 20% increase in the high-margin part of its business, services. The company continued to see strong demand for Power services in the quarter, so this segment was a major contributor to the increase in orders.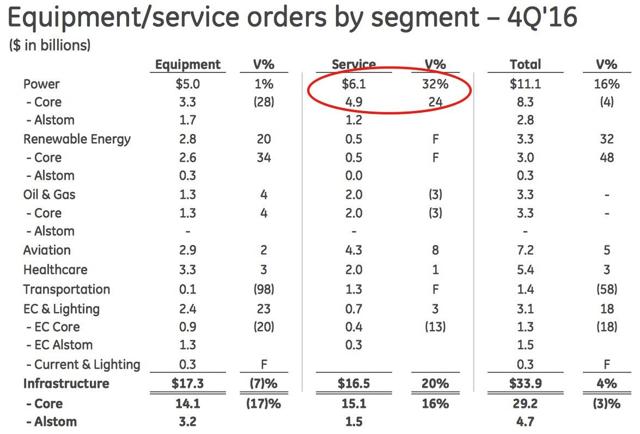 (Source: GE's Supplemental Report)
Management consistently describes the importance of the services business to the company's long-term strategy so the double-digit increase in service orders is encouraging but, on the other hand, the company will need to eventually show strength in equipment orders in order to support this high-margin business.
GE's total orders were up 5% for full-year 2016 but the number that the financial community will focus on, and rightfully so, is the 6% decline in organic orders. In my opinion, GE finished the year by reporting strong Q4 2016 order numbers but further improvements, especially in the organic numbers, will need to be made in 2017.
2. Digital, Just Chugging Along
Anyone that follows me here on Seeking Alpha knows that I believe that GE has a huge market opportunity in the industrial digital space, and this was an area that I was interested in hearing more about when the company reported Q4 2016 results. Management spent time discussing this topic during the conference call:
"Predix and software orders, in other words excluding AGPs, grew by 36% in the quarter...For the year, we signed 427 partnerships and have 22,000 developers on Predix. We created a few big global partnerships including Reliance and Maersk, and we signed a first enterprise-wide software agreement with Exelon to apply Predix across more than 2,000 power generation assets. Lastly, we acquired ServiceMax to extend our analytics across field service."
The digital results are intertwined with the other operating segments so it is hard to get a good feel for exactly how GE did in this space until the Annual Report is released, but, in my opinion, an above 30% increase in Predix-powered and software orders is encouraging. The company has decided to make small tuck-in acquisitions to stimulate growth in this space, i.e. ServiceMax and the other additive manufacturing companies, so I would contend that GE's Q4 2016 results showed that the company is just chugging along. Stay tuned because I will be diving deeper into the Digital results once the Annual report, i.e. 10-k, is released.
3. Baker Hughes, Nothing New
The company is making progress on the integration efforts with BHI by dedicating over 200 people to the project, but management mentioned that there was no real update on the deal, i.e. still expects for the deal to close by mid-2017.
Bottom Line
As I predicted, GE's long-term story was not impacted by the most-recent earnings release. The biggest takeaway from the Q4 2016 results, in my opinion, is the fact that the company still expects for strong operating earnings growth in 2017. Moreover, GE shares are trading at ~18x 2017E operating earnings (low-end of range) so the company's stock is more attractively valued at today's price. Plus, the company pays an above-average dividend.
There is a lot of noise in the numbers but this should be expected because GE is going through a transformative transition in order to become a company that will be viewed as an industrial digital powerhouse. I believe that the Q4 2016 results showed that the company is progressing towards its 2018 goals, so any significant pullbacks in GE's stock price should still be considered buying opportunities.
Full Disclosure: The source for all charts/graphs is GE's Q4 2016 Earnings Presentation, unless stated otherwise.
If you found this article to be informative and would like to hear more about this company, or any other company that I analyze, please consider hitting the "Follow" button above.
Disclaimer: This article is not a recommendation to buy or sell any stock mentioned. These are only my personal opinions. Every investor must do his/her own due diligence before making any investment decision.
Disclosure: I am/we are long GE. I wrote this article myself, and it expresses my own opinions. I am not receiving compensation for it (other than from Seeking Alpha). I have no business relationship with any company whose stock is mentioned in this article.