The company
ThyssenKrupp (OTCPK:TYEKF) is one of the world's largest steel producers, making products for various sectors and industries such as the automotive industry, construction, elevators and escalators and other industrial solutions for manufacturers. The company is actually a conglomerate that holds over 670 companies. The conglomerate itself is divided into 6 main divisions: component technology, elevator technology, industrial solutions, material services, steel Europe and steel Americas.
The stock
ThyssenKrupp is one of the smaller large cap stocks with a market capitalization of about €13.5B. The stock currently trades at €23.88 under the ticker TKA on the German Stock Exchange Xetra. ThyssenKrupp has a daily average volume of 2.7 million shares.

Source: Google Finance
Over the last five years, ThyssenKrupp (in blue) has underperformed significantly in comparison to the German DAX-index (in yellow, index of the 30 largest German blue chips, including ThyssenKrupp) and the Dow Jones Industrial Average (in red). Even though the stock moves very cyclical with the DAX, the average downward volatility is much higher. This led to the company only being up 13.4% over the last five years. In the last year however, ThyssenKrupp stock was already up 58.6%.
After the election of president Trump, the German company profited from the stock rally due to its large steel division in the U.S., and its infrastructural activities. ThyssenKrupp's CEO, Heinrich Hiesinger, stated that Trump's positive outlook on the infrastructure sector will present interesting business opportunities for the company in 2017.
Selling steel divisions and other restructuring
Six months ago, ThyssenKrupp reported to be talking to the Indian company Tata Steel Ltd. with the purpose of combining its European steel divisions with Tata in the form of a joint venture. According to us, joining the companies' operations would be beneficial to both, as it would cause for economies of scale and an increase in margins. ThyssenKrupp also aims to increase their margins as for now, margins are too low in the two steel divisions. Earnings can barely cover financial costs of the divisions. It has become very clear that the steel divisions are creating very few value.

Source: Bloomberg
The problems with ThyssenKrupp's steel divisions have been going on for a while now. EBIT in the Steel Americas division has been negative for multiple years and even doubled down in FY 14/15. In 2016 EBIT margins fell from 5.9% to 4.1% for Steel Europe and was still negative (-1.5%) for Steel Americas. It seems though that Steel Americas is slowly recovering, since its margin has been growing for the past three years. We believe this growth will only improve if Trump's promises for heavy infrastructural works are true. And with the joint venture with Tata Steel, Europe might be recovering sooner than was thought.
The joint venture between the two companies would also give ThyssenKrupp some space to breathe and focus on its high margin divisions such as Elevator technologies, Component Technology and Industrial Solutions, which have been performing extremely well in the nine months of 2016. This focus will allow for more expanding and diversifying its existing divisions. Eventually the company plans to ramp up its Component Technology and its Industrial Solutions margin levels up from about 5% to somewhere between 6% and 8%. Elevator Technologies are targeted to be even up to 15% in 2017. This is a steep increase, which would require a lot of effort, but should be manageable considering the focus shift.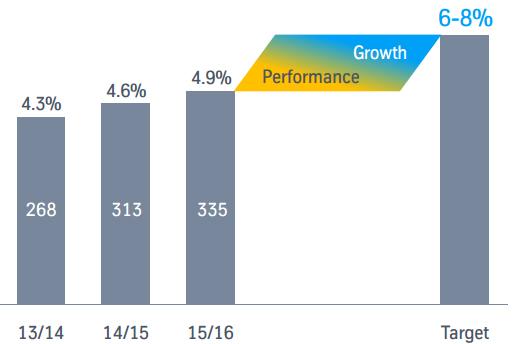 Source: ThyssenKrupp investor presentation
The company plans to reach this target mainly by using efficiency gains from ramping up new plants. Using these economies of scale, the company could grow along with its larger platforms. Unfortunately for now, there is no agreement yet on the possible joint venture between the two companies. We do remain hopeful on the agreement between Tata Steel and ThyssenKrupp in 2017, as it would mean a significant improvement in margins for both companies.
Two more reasons why we like ThyssenKrupp
#1: The company knows how to handle corporate responsibility and sustainable management. The company mentioned in two press releases that it promotes diversity as driving factor for innovation and that coming out at work should be the norm, rather than the exception. To us, this shows the open-mindedness and sense for innovation of the management. Although it might not directly affect revenue and profit, we believe this says a lot about how the company goes for a sustainable development rather than going for quick cash, which is a good trait in our eyes.
#2: The company is back with a steady dividend. After two years of no dividend in 2013 and 2014, the company announced a new dividend of €0.11 per share in 2015. The dividend even grew with 36% to €0.15 in 2016. Even though net income declined ever so slightly this year, CEO Hiesinger has promised to keep the dividend stable at €0.15 per share this year. Furthermore, in 2018 we believe that the dividend might increase as significantly as in 2016 if ThyssenKrupp can indeed improve its margins and subsequently its profit.
Conclusion
We are very bullish on ThyssenKrupp as we see the company working hard on its margins. Steel Europe will increase margins by negotiating a joint venture, and Steel America is slowly recovering on its own. Also other divisions are performing well. Furthermore, we believe in this company because it has an ethical and believable stance on corporate social responsibility and thereby offers a decent dividend. According to us, ThyssenKrupp will continue its uptrend in 2017 and catch up with the German market again.
Disclosure: I/we have no positions in any stocks mentioned, and no plans to initiate any positions within the next 72 hours.
I wrote this article myself, and it expresses my own opinions. I am not receiving compensation for it (other than from Seeking Alpha). I have no business relationship with any company whose stock is mentioned in this article.
Editor's Note: This article discusses one or more securities that do not trade on a major U.S. exchange. Please be aware of the risks associated with these stocks.