Before the open on Friday, Schlumberger (NYSE:SLB) reported on the improving environment in the oilfield services sector. It not a huge surprise, the North America activity is set to pick up in 2017.
The stock though already trades at 52-week highs. In fact, outside of the surge during mid-2014, Schlumberger trades at the highest valuation in recent history questioning the reason to run back into the stock now.
The Q4 results showed the clear inflection point in the sector. Excluding Cameroon operations, Schlumberger reported a year with revenues down 34% and consolidated margin hit by 727 basis points. The sequential results were mostly positive with revenues and profits up slightly highlighting the shift back to growth.
The market generally factored in such expectations as revenues were already forecasted to bounce back 13% in 2017. The question is whether the rally from the lows in 2016 have already factored in the ability of the industry to rebound considering oil prices are still down 50% from the highs.
Looking at historical multiples from the oil market collapse after the financial crisis, Schlumberger now trades at a similar P/S ratio after bouncing off those lows. The stock valuation tends to peak when trading around 4x trailing revenues.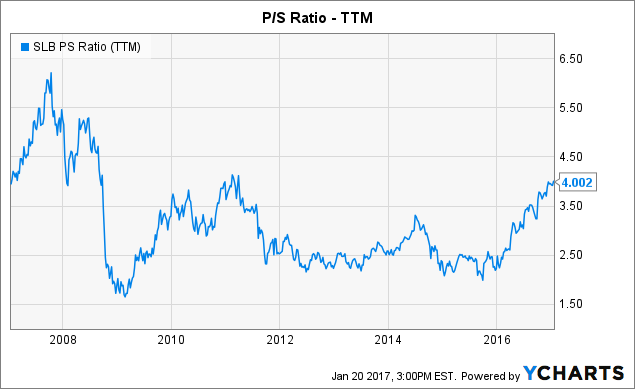 SLB PS Ratio (NYSE:TTM) data by YCharts
A noteworthy part of the move higher is a substantial cut in the quarterly buybacks. In Q4, Schlumberger only spent $116 million to repurchase 1.5 million shares despite having a new $10 billion share authorization approved last year.
For a company now worth a massive $120 billion, the buyback levels are hardly noticeable. Somewhat comforting though a generally bad sign is that management tends to spend on buybacks based on the cycle and stock prices. In essence, the company buys at the highs and pulls back at the lows suggesting the stock continues moving higher.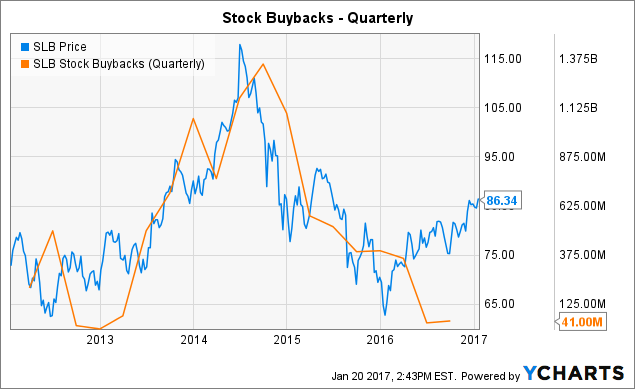 The key investor takeaway is Schlumberger has signaled the sector had indeed hit an inflection point. The company is now pursuing growth initiatives that include price recovery in the service sector that could impact the costs of drilling for E&P firms.
The data points as well suggests the stock has some more upside, but the easy money is clearly over.
Disclosure: I/we have no positions in any stocks mentioned, and no plans to initiate any positions within the next 72 hours.
I wrote this article myself, and it expresses my own opinions. I am not receiving compensation for it (other than from Seeking Alpha). I have no business relationship with any company whose stock is mentioned in this article.
Additional disclosure: The information contained herein is for informational purposes only. Nothing in this article should be taken as a solicitation to purchase or sell securities. Before buying or selling any stock you should do your own research and reach your own conclusion or consult a financial advisor. Investing includes risks, including loss of principal.