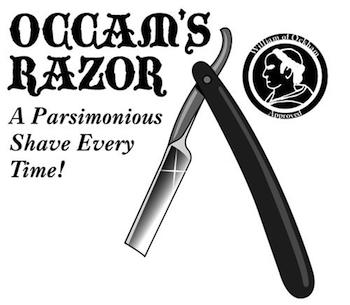 Occam's razor is a principle from philosophy. Suppose there exist two explanations for an occurrence. In this philosophy, the simpler one is usually better. Another way of saying it is that the more (and more complex) assumptions you have to make, the more unlikely an explanation. In this article I am bringing the razor to the valuation of a roll-up.
Two years ago, pharma roll-ups were on a roll. Now they're on a reverse roll.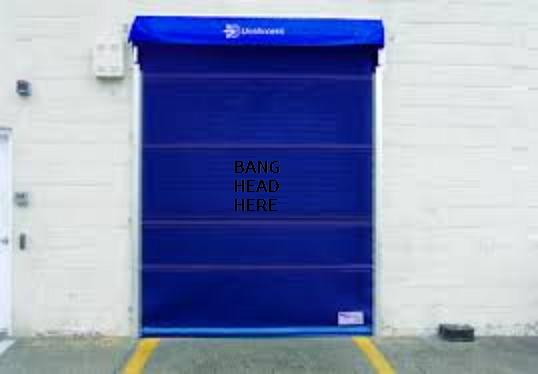 The modern pharma-roll up era began with Michael Pearson, former CEO of the drug maker Valeant (NYSE:VRX). Not long ago, he was heading a company whose stock price had risen more than 4,000% during his tenure. A former McKinsey consultant, Pearson developed a strategy based on highly leveraged acquisitions, extreme cost-cutting, and stupendous price hikes. Pearson reasoned that pharmaceutical R&D was a highly risky and uncertain business. It made more financial sense to buy companies outright, strip out almost all costs which did not directly contribute to revenue, and maximize prices.
Since many pharmaceuticals operate in a monopoly or oligopoly, prices, once raised, are "sticky". Even if a drug is off-patent, it takes many years for a competitor to come to market, due to regulatory barriers to manufacturing, development and approval. Pearson also was also an earlier pioneer of cross-border tax inversion — moving his company to lower tax jurisdiction by engaging with a reverse takeover of Biovail, a Canadian specialty pharma company, whose only product of note was Wellbutrin XL, which it had acquired from GlaxoSmithKline (NYSE:GSK).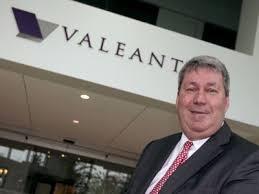 Valeant Ex-CEO Michael Pearson is the father of the R&D-lite pharma poll-up business model.
Pearson's success with Valeant was followed by many others. Some, of course, have become very successful. The most success has been with Allergan (NYSE:AGN) (briefly Actavis)- which started with generic marker Watson and rolled up Warner-Chillcott, P&G Pharmaceuticals, Forest Labs, and Allergan, among many others, most recently assuming the Allergan name.
Allergan, it appears, has achieved escape velocity and has risen into orbit. Ironically, the trajectories of the two companies (VRX and Actavis) separated after they battled for Allergan (inventor of Botox), which Actavis won and Valeant lost. This was followed by the Phillidor scandal, after which the VRX bubble fizzled and Michael Pearson was ousted in March 2016. Pearson cashed in over $100 million in stock options a few months before his departure.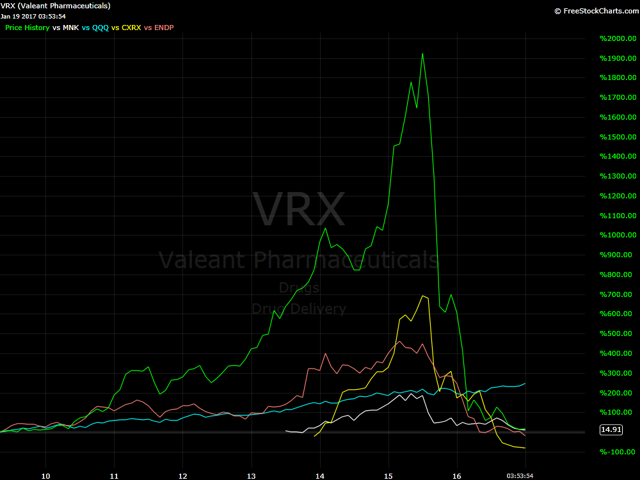 The Rise & Fall of the Pharma Roll-Ups (source: freestockcharts.com)
On a personal note, My investment in Valeant came about accidentally. I had invested into Valeant's predecessor Biovail in 2008 in the depth of the financial crisis attracted by the 10% dividend yield. In 2009, Biovail was acquired by Valeant, and the fun started. In March 2015, I sold half my position in Valeant for a 20+ bagger. I am still holding the other half, which is still considerably above my cost basis. Pearson's success at Valeant inspired many other pharma roll-ups. Many of them, after short-term success, are now floundering. One was Endo Pharmaceuticals (NASDAQ:ENDP), which embarked on the roll-up strategy with the arrival of Rajiv Da Silva, a VRX alumnus, in 2013. He drove a very similar strategy of aggressive roll-ups before he was replaced as CEO in 2016. The other was Mark Thomson, who started Concordia (NASDAQ:CXRX), based in Oakville, Ontario. Thomson was the legal counsel for Biovail and likely watched VRX success from the sidelines when his former company went from zero to hero, and decided to emulate. Other companies that have not blown up, but are fizzling, are Horizon (NASDAQ:HZNP) and Mallinckrodt (NYSE:MNK).
This article looks at the debris to see if there is any value left in Valeant and its brethren. They are all characterized by huge balance sheets: a mountain of debt balanced by a mountain of goodwill (or badwill in some of these cases).
The key question is if they can stave off bankruptcy long enough to sell down assets before the loans come due. It's really a race against time. Since all of them have minimal R&D (which their previous managements have cut it to the bone anyway), it's no use hoping that a Lipitor or a Solvadi might suddenly appear out of the blue. There are low prospects for sustainable growth in the short to medium term, as building an effective R&D organization is not as easy as destroying one — it takes years, if not decades. A big part of the moat of a pharma company like as Roche, Novartis, GSK, Pfizer, or Merck is their R&D group, which the roll-up business model disdains.
I have done an "Occam's Razor" or back-of-the-envelope type of analysis in this article to illustrate how difficult this endeavor is:
For this exercise, I assume a net profit margin of 10% of revenue, which is in line with the Rx pharma industry. I assume no growth in revenues and no change in profitability.
I have taken the revenue and multiplied it with 10% to get the notional net profit. I have then divided this notional profit by the enterprise value. Enterprise Value, or EV for short, is a measure of a company's total value for a buyer. It is calculated as the market capitalization plus debt, minority interest and preferred shares, minus total cash and cash equivalents. (via Investopedia).
This gives me the number of years required before I will be able to recoup my investment in any of these pharma roll-ups.
| | | | | | | |
| --- | --- | --- | --- | --- | --- | --- |
| Company | Valeant Pharmaceuticals International Inc | Mallinckrodt PLC | Horizon Pharma PLC | Concordia International Corp | Endo International PLC | Allergan PLC |
| | | | | | | |
| Revenue ($Mil) | $ 10,029 | $ 3,381 | $ 915 | $ 838 | $ 3,842 | $ 17,093 |
| Net Profit at 10% | $ 1,003 | $ 338 | $ 92 | $ 84 | $ 384 | $ 1,709 |
| Enterprise Value(Mil) | $ 35,282 | $ 11,182 | $ 3,327 | $ 3,180 | $ 10,596 | $ 90,484 |
| Market Cap(Mil) | $ 5,250 | $ 5,418 | $ 2,729 | $ 98 | $ 2,862 | $ 80,172 |
| EV/Market Cap | 6.72 | 2.06 | 1.22 | 32.58 | 3.70 | 1.13 |
| Payback Years | 35 | 33 | 36 | 38 | 28 | 53 |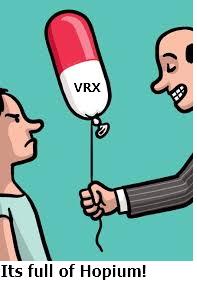 Discussion
The above exercise gives us some idea of what we up against as investors in common equity. Basically you are looking at about 30 years before payback in the status quo situation.
Of the pharma roll-ups, Allergan is the only company that has evolved into a full-fledged, research-based pharma company. It has recently divested its generic division to TEVA, and its value was recently validated by Pfizer's failed bid to acquire it.
Of the rest, Concordia appears to be the most challenged, and Endo the least. I am presently considering opening speculative positions in Endo and Horizon. These companies partially funded their acquisition sprees with equity, so they are not so over-burdened with debt as the others (even though the assets they own are likely overpriced).
I don't have a firm opinion on MNK, but controversy swirls around its main profit driver, Acthar Gel, the price of which increased from $40 to $33,000 a vial in 15 years. The EV/Market Cap ratio gives us an idea as how "distressed" an equity is in the stock market. It appears, for example, that the market has lost complete confidence in Concordia, with Valeant far behind. Concordia is now basically a ball of debt with little equity. Its stock is trading so low it's basically a call option on survival.
Whether Valeant or any of the roll-ups can transcend their debt, regain market confidence, and transform into a rose eventually (like Allergan), is the billion-dollar question. The other alternative is a Lehman-style collapse as the shorts increasingly undermine confidence. If not, then, the best outcome equity investors can hope for is a takeover by another entity willing to take a flyer, while the company sells off the furniture to stay alive.
Given President Donald Trump's tax cuts and proposed tax incentives for bringing back offshore cash, chances of increased M&A activity has distinctly perked up, as a lot of repatriated cash will likely find its way into M&A. As Cornwall Capital's Jamie Mai's commented in Jack Schwager's Hedge Fund Market Wizards:
As a general observation, markets tend to over-discount the uncertainty related to identified risks. Conversely markets tend to under-discount risks that have not yet been expressly identified. Whenever the market is pointing at something and saying 'this is a risk to be concerned about,' in my experience, most of the time, the risk ends up being not as bad as the market anticipated.
Disclosure: I am/we are long VRX.
I wrote this article myself, and it expresses my own opinions. I am not receiving compensation for it (other than from Seeking Alpha). I have no business relationship with any company whose stock is mentioned in this article.