Mariana Resources (OTCPK:MRLDF) released its much-awaited Preliminary Economic Assessment of the Hot Maden project earlier this week. The release was initially planned for November, and the delay made some investors nervous and impatient. I took advantage of the delay and topped up my positions during seasonal gold stock weakness in December.
Mariana is sitting on one of the highest-grade gold projects in the world. I anticipated all-in sustaining cash costs would come in at the lowest quartile in the industry. To my surprise, they came in even lower than I expected. The PEA has put the company on the map in the resource sector. No other junior minor can produce gold at a price anywhere near Mariana's cash costs or rival its grades. The PEA gives the company potential for a significant re-rating and raises my confidence in my position.

(Source: Company Presentation)
Earlier this month, I wrote "Monster Drill Results Make This Junior A Must Own", and reiterated my aggressive weighting in Mariana. I would recommend this article to anyone who has not heard of the company, as it serves as a primer on its resources and how Mariana compares to past high-grade takeover targets. Here is an excerpt:
"Mariana Resources remains my top gold stock for 2017, and my opinion is the best investment opportunity since Ventana Gold in 2009. Ventana Gold was still an early stage explorer in 2009, but its discoveries eventually commanded a valuation of over $1.4 billion. Mariana's drill results dwarf those of Ventana Gold, and I expect the company to see a significant re-rating after the release of its PEA and Pre-Feasibility Study. The market can only ignore Mariana for so long, and I expect it's only a matter of time before the company begins to move towards my fair value of $2.17 US. I remain long in all of my investment accounts, and Mariana is my top holding among the gold space."
While I was right that the company would command a re-rating after the release of its PEA, the result has been very modest thus far. The stock is up 20% since my article, nowhere near the re-rating it deserves.
Enough about my past thoughts on Mariana. Let's dig into the PEA.
The study outlines an underground mining operation with annual production of 300,000 ounces per year. Approximate all-in sustaining cash costs are $450/oz. The Hot Maden project has a mine life of 9 years and an incredible after-tax IRR of 153% using a gold price of $1,250/oz. This would result in a payback of just over 2 years, and closer to 2.5 years using current gold prices.
(Source: Company Presentation)
To some, this mine life may be slightly unattractive, as it represents a rather small-scale operation. In my opinion, the mine life is quite conservative, as it assumes use of less than 70% of the company's resources. The PEA assumes a resource of 2.6 million ounces, but Hot Maden is currently home to over 3.8 million ounces. The true mine life is likely closer to 13 years, and throughput may increase during further studies. I personally believe Hot Maden will ultimately host 5.5-6.0 million ounces of gold, so I envision a mine life of 18-20 years by the time production begins.
Those who think my assumption of 6 million ounces is ambitious may have missed the latest drill results. Here are the best drill intercepts used in the July resource estimate, followed by the most significant intercepts since the July estimate.
Most Significant Drill Intercepts used in July resource estimate:
83 meters of 15.9 grams per tonne gold
95.5 meters of 32.1 grams per tonne gold
71 meters of 32.7 grams per tonne gold
Most Significant Drill Intercepts reported after July estimate:
61 meters of 82.2 grams per tonne gold
69 meters of 62.7 grams per tonne gold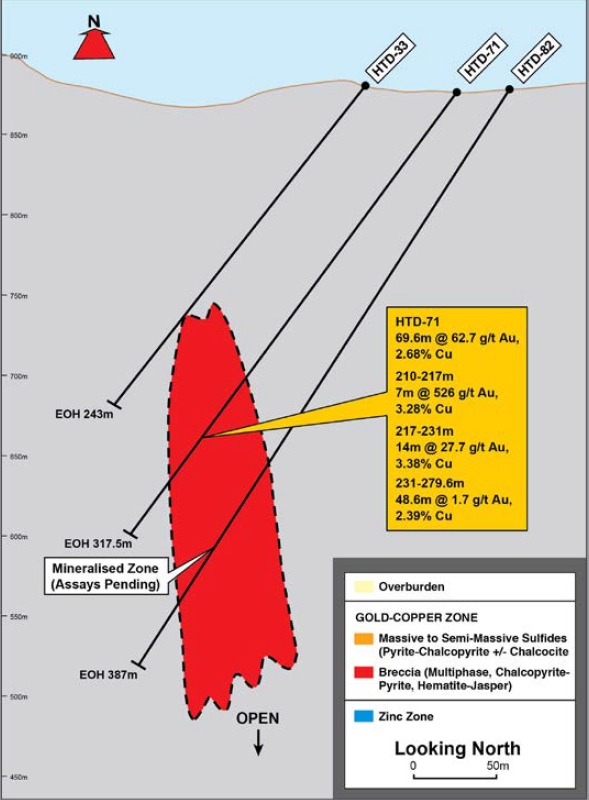 (Source: Company Presentation)
As we can see from the results reported since July, the grades are more than double the previous record intercepts. It is most impressive that the grades have increased, while the thickness of the holes has stayed very close to the previous average. These results are a game-changer. Hot Maden's average grade should now be closer to 20 grams per tonne gold equivalent. This will also probably increase resource size substantially. My new projection for the next resource estimate is 5.6 million ounces at an average grade of 19.0 grams per tonne gold equivalent.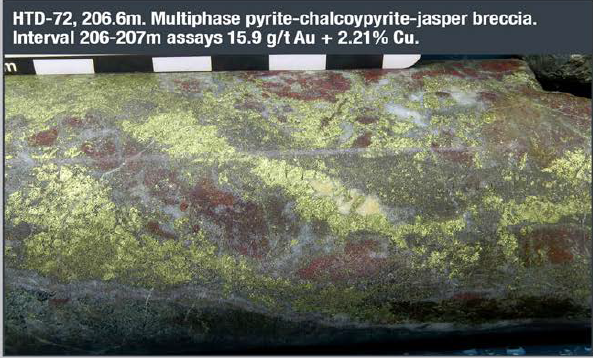 (Source: Company Presentation)
Valuation
I've built the following table to show readers how Hot Maden compares to other high-grade gold projects:

(Source: Author's Table)
Two of the peers in this comparison were much sought-after projects acquired by Kinross (NYSE:KGC) and Brazilian billionaire Eike Batista. The remaining 3 are in the development stage or are producing mines. As we can see, Hot Maden has an average resource size compared to the others, but its grades (at third place) are only 6.8% below the best grades of its peers in this comparison. I have assumed a gold price of $1,200/oz to determine pre-tax earnings and a 35% discount to calculate after-tax earnings.
The highest-grade project in the world today is Pretium's (NYSE:PVG) Brucejack project, home to 8.1 million ounces at an average grade of 16.1 grams per tonne gold. The Hot Maden project has only half the resource of Brucejack, but its grades are very similar. The only other projects that have comparable grades are Roxgold's (OTC:ROGFF) Yaramoko project and Kirkland Lake Gold's (OTCPK:KGILF) Macassa mine. These projects' resources are nowhere near those of Mariana, however. Yaramoko only has 1.5 million ounces of high-grade gold, and Macassa has 1.4 million ounces.
While grades and resources define a project, what matters at the end of the day is the cost of getting the gold out of the ground and its selling price. From this point of view, Hot Maden is similar only to Pretium's Brucejack, which, at projected all-in sustaining cash, will net over $240 million in after-tax earnings per year. By comparison, Hot Maden can net $146.3 million in annual after-tax earnings.
The big difference between the two is valuation. Pretium is valued at $1.95 billion. Hot Maden is valued at $407 million, despite its potential to see 60% of Pretium's projected after-tax earnings.
In other words, Pretium has 5 times the market capitalization of Hot Maden, but it is likely to earn only 1.7 times as much as the latter. While Hot Maden should trade at a discount due to being in a much less favorable jurisdiction, a disparity this large is ridiculous.
Mariana Resources owns only 30% of Hot Maden, so for valuation purposes I have calculated Mariana's 30% share at the bottom of the table. The company's share has the potential to earn $43.9 million after taxes, yet Mariana trades at a valuation of $122.4 million. Its P/E is 2.78, compared to a peer average of 11.36. While the company is still at least 3 years from production, this valuation makes absolutely zero sense.
Taking into account Hot Maden's less favorable jurisdiction and its early stage of development, I believe a fair discount to the peer average is 30%. This would result in a P/E ratio of 7.95 and a share price of $2.88 if Hot Maden is able to move into production. This is almost a 200% increase from today's price of $1.01.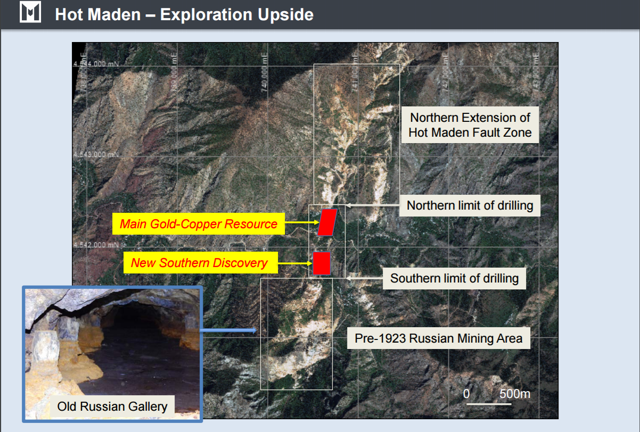 While investors will likely need to wait at least 2-3 years for the project to start producing, this re-rating to $2.88 is based on only 70% of the project's resources and assumes no other discoveries are made. The company has already seen high grades over thicker intervals since the past resource estimate, so the current PEA assumes slightly inferior resources to what we know exist.
I prefer to make conservative assumptions for the purposes of valuation, but it would be foolish to imagine the company will make no further discoveries at Hot Maden. It is the highest grade discovery of the past decade, and I personally believe this is the tip of the iceberg. Having said that, we cannot base a valuation on what might happen, so for now I will sit firm with my fair valuation of $2.88 if Hot Maden can move into production.
So what does Hot Maden require to move into production?
The initial capital costs for the project are a mere $169 million and can easily be funded with minimal dilution by both Lidya and Mariana. Given its potential earnings, the project's initial capital costs are some of the lowest in the industry and are not a deterrent to moving into production.
Summary
Since the fall, I have been quite vocal about how special I believe Mariana Resources is. The PEA has given me even more confidence in my investment thesis. Mariana's potential all-in sustaining cash costs are the second-lowest in the industry, with a robust operation and a payback period of 2.1 years. With these kind of metrics, there is no reason for Lidya and Mariana not to fast-track development and start pumping out gold ounces as soon as possible. At today's valuation, Mariana is a no-brainer takeover target. A buyer that is willing to shell out $122 million today can enjoy $400 million in after-tax earnings, which will begin to be paid a couple of years down the road. This is an extremely lucrative investment, especially since Hot Maden will likely have a mine of life of 20+ years when all is said and done.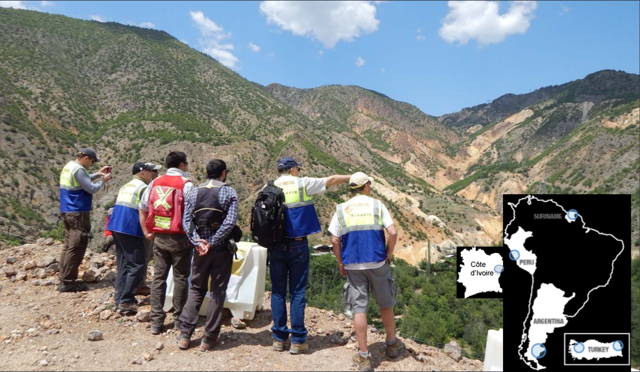 (Source: Company Presentation)
Mariana remains my favorite gold junior. It is not only the largest discovery in the past decade, but also the best opportunity in the junior space. Yes, the company is exploring in Turkey, but suitors do not have a history of ignoring the highest-grade discoveries in the world just because they are in less favorable jurisdictions. Kinross Gold did not hesitate to pay $1.2 billion for Aurelian Resources in Ecuador, and Eike Batista had no problem paying $1.5 billion for Ventana Gold in Colombia. While I would prefer Hot Maden to be in a different jurisdiction, I do not believe this will be a deal breaker. I expect the company will have no problem moving towards production.
I'm also excited about the potential for new discoveries at Hot Maden. I would be very surprised if the company does not make another discovery in 2017. Those who established positions with me ahead of the PEA earlier this year have an exciting year ahead. Mariana is currently my largest position, and I have roughly 8% of my total assets in the company. I have positions in all of my 5 Canadian accounts, and have averaged up on one of my positions this week.
Disclosure: I am/we are long MRLDF, GLD.
I wrote this article myself, and it expresses my own opinions. I am not receiving compensation for it (other than from Seeking Alpha). I have no business relationship with any company whose stock is mentioned in this article.
Additional disclosure: If you liked this article and found it useful, please feel free to follow me by clicking on the orange button next to my name at the top of this article. I also invite you to follow me at www.twitter.com/TaylorDart01 where I routinely share my entries, exits, and stops on new positions, as well as updating followers on sentiment data on markets I am following.
Editor's Note: This article discusses one or more securities that do not trade on a major U.S. exchange. Please be aware of the risks associated with these stocks.