There isn't a food that is more ubiquitous in American culture than pizza. The Department of Agriculture reported in 2014 that on a given day, one out of eight American consumers will eat a slice (or more). That's a staggering number, and it's a trend that has bucked what many view to be the major trends in food consumption: "low carb", "organic", "sustainably sourced" are words that many have seen in the food industry. Pizza, particularly the products from publicly traded options like Domino's Pizza (NYSE:DPZ) and Papa John's (NASDAQ:PZZA), is none of these things. That hasn't stopped both of these companies from seeing stunning price expansion in the value of the common stock: more than 400% from Domino's over the past five years. Will these trends continue?
Business Improvement
Over the past several years, well after the business turnaround that began with the appointment of CEO J. Patrick Doyle in March 2010, earnings have still been improving consistently and dramatically: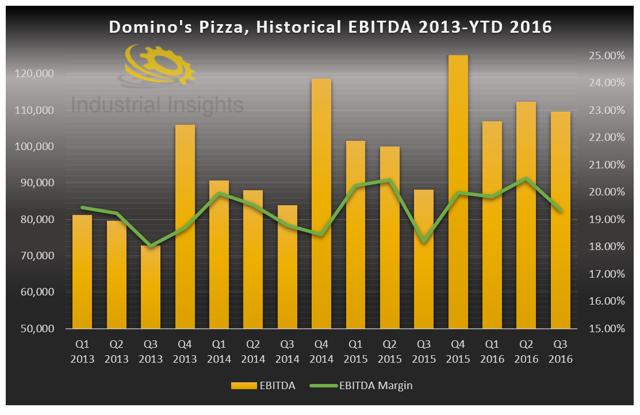 I will note that you have to be particularly careful when looking at measures like revenue growth or margins with companies like Domino's. This is due to the structure of the business, which is changing due to the ongoing shift towards franchised operations that is sweeping most of the restaurant sector, including within pizza. Naturally, this is going to constrict revenue growth (food sales are not consolidated, only royalty fees and other income), while also increasing margins. Looking at trends in the business have to be viewed through this lens.
Elaborating on that point, over the past three fiscal years, domestic company-owned store revenues have grown 8.5% annually. Meanwhile, franchising revenues have grown 13.3% in the domestic market and 11.0% internationally. This naturally increases franchise-sourced mix of profits, which, as mentioned, carry higher margins. So while the increase in EBITDA margin is nice at first glance, the real story here is growth via the surge in nominal EBITDA (38% growth Q3 2016 versus Q3 2013).
That is why the revenue growth here is so compelling, particularly against non-franchising peers. Given Domino's industry-leading margin profile, beaten only by a handful of peers (McDonald's (NYSE:MCD) comes to mind, in line with the other high-profile name Chipotle (NYSE:CMG) pre-2016 collapse), every dollar of growth here is much more accretive to the bottom line. This explains why Domino's carries such a high valuation and why institutional ownership is so high (13-F filers own nearly 90% of the float). The short interest here honestly seems misplaced, particularly when referenced against company guidance on top line growth: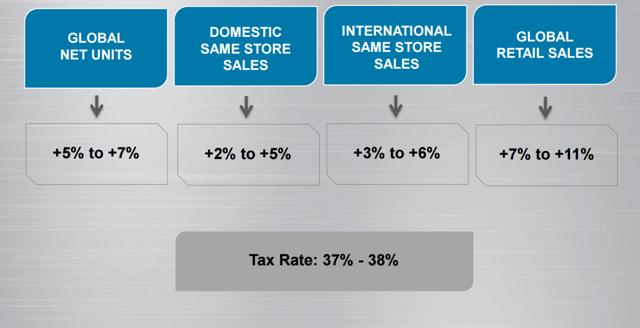 *Domino's Pizza, January 2017 Investor Presentation
This long-term guidance of 7-11% revenue growth largely falls in line with fiscal 2017 sell-side consensus, which is looking for 10% top line growth in fiscal 2017. Given the business model referenced before, that is why 20% earnings per share growth (also sell-side consensus) is more than reasonable. Nonetheless, even after meeting the high bar of expectations, Domino's still trades at more than 32x earnings. Clearly, the company will need to continue to grow, and I believe investors need to consider two questions before going long:
Can Domino's continue to gain pizza delivery and overall pizza market share in the domestic market?
What makes Domino's franchising model so compelling, and will it remain attractive to potential franchisees?
The Domestic Market
It wasn't too long ago that Domino's began the turnaround in the perception of its food quality. Its mea culpa advertising campaign, a stunning act of candor regarding the company's found quality, yielded significant results. However, the company still has ample room to grow: Domino's estimates it owns just 28% of pizza delivery market share and just 14% of the total quick service pizza market share. It has always been strongest on delivery, momentum that has been built on the success of the company's apps and website. While I view many restaurant apps as bluster currently, Domino's has seen massive success. Management now says "well over half" of orders are now digital - a trend that will decrease store operating costs and differentiate the company from peers, particularly independent mom and pop shops.
Generally, I think many investors overestimate how much market share Domino's really has; it's certainly a top national brand, but there is still plenty of meat left on the bone for the company to earn via stealing market share and new store openings. Management believes the environment supports more than 6,000 domestic locations, which should support domestic store growth (3% annual over the past several years) for many years to come. Still, gains from here will likely be hard-fought: Domino's has certainly made improvements to its pizza over the past several years, but the company is always going to have trouble comping against some independent shops on taste, despite the consolidation happening within in the industry. To win further market share, Domino's will have to shift itself away from a story built on convenience and cost, and instead move further towards taste improvement and better brand image. Part of that brand image will come down to reimaging stores, which CEO Patrick Doyle made note of on the most recent earnings call:
I think part of what's driving our comps right now is that the stores look better as the better environment for carryout customers to walk-into. And that's an important part of our business. We are getting growth on both sides. Delivery is growing, carryout is growing but I think the reimaging is certainly going to have at least a near term more positive impact on the carryout business than it does on the delivery business.
The other facet of growth comes down to volume growth (which is there) and price. Price ties back to quality, and the one chink in the company's armor is pricing. Despite heavy traffic growth, Domino's has been unable to pass along higher pricing onto customers. I think that points to the underlying quality of its offerings. Despite the improvements made, at the end of the day, many customers are still being driven by pricing when choosing among the big national chains. Further investments in ingredient quality, or at least providing that option to customers, could drive some long-missing growth on average check/customer.
An Interlude On Franchisees
Domino's will be relying on its franchisees to carry the torch forward. It isn't any wonder why the Domino's franchisee program is so popular. The stores are small and need very little initial investment - just a makeline, oven, and point of sale area. Despite the small initial investment, each store location, on average, generates $125K in EBITDA. Payback is very quick on initial investment. Franchisees often come from within the Domino's family: 90% of the current 850 franchisees (operating nearly 5,000 locations) have worked at Domino's in the past in some capacity. This is somewhat unusual in the franchise space, and is likely due to the low initial cost. Want to open a McDonald's? That'll cost you close to two million dollars nowadays, with a requirement for $750K in liquid assets. That is simply out of reach of most fry cooks. A Domino's location, by contrast, requires closer to $250k in initial investment outlay, with $75,000 in available liquidity. While still a chunk of change, it is certainly more achievable by many in the right circumstances. The cost is similar to Subway or other well-known low-cost franchise opportunities, yet the market has not yet reached a saturation point when it comes to Domino's locations (close to 5x more Subway store operations than Dominos in the domestic market). There appears to be opportunity here, and I do not view the market as oversaturated currently.
Takeaway
While I've generally advised caution on restaurant companies that are utilizing the franchise model to juice returns in the short term (looking at you, Wendy's (NYSE:WEN)), there is a lot to like here at Domino's. Sure, you're paying for growth, but that isn't necessarily a dealbreaker given the earnings leverage. While concern exists around "What if Domino's misses earnings consensus", I'd remind investors of the high institutional ownership. Hedge funds, endowments, and other institutional investors generally tend to invest based on the big picture; a little dip in results won't send them running to the hills, particularly after the Q3 blowout. Sentiment here is immensely positive, which is reflected in the options market, and runs counter to what might be otherwise drawn from relatively high short interest. While I don't see a compelling case for material outperformance over the next several years, I'd also say that investors that really believe in the long-term story have not yet missed the boat, even with the company riding against all-time highs. If Q4 comes in light, investors should be able to exit with little harm done. Overall, I'd rate this one a firm hold.
For deep dive research on asymmetric risk/reward plays in the Industrial and Basic Materials sectors (particularly small and mid-caps), consider investing alongside me and other subscribers within Industrial Insights. Get cutting-edge information with proven results.
This new offering doesn't mean I will be cutting down on quality or my allocated time towards my free offerings on Seeking Alpha. Follow me (by clicking the "Follow" button at the top of this article next to my name) to receive general stock market research and commentary, especially on underfollowed small/mid-caps across a wide variety of sectors and industries.
Disclosure: I/we have no positions in any stocks mentioned, and no plans to initiate any positions within the next 72 hours.
I wrote this article myself, and it expresses my own opinions. I am not receiving compensation for it (other than from Seeking Alpha). I have no business relationship with any company whose stock is mentioned in this article.