Natural Gas (NYSEARCA:UNG)
Technically, Henry Hub and regional pricing have been an unpredictable roller coaster. Shorts have had the upper hand if they held on from $12 to $2… uninspiring are the cheers from bulls for pricing's rebound and clinging for a measly $3+. Recent memory for any long in this market has made the strongest, in heart or stomach, heave. I am compelled to say I don't necessarily like ETFs and less so the contango in UNG, and in particular its leveraged plays (UGAZ or DGAZ), but there is a trade to be made from the long side in domestic natural gas.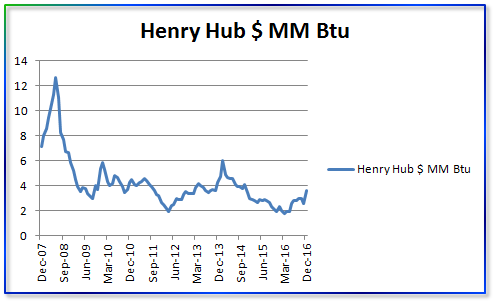 Markets' supply and demand balance will right themselves and so too will natural gas' price. I suspect that time is near or now at hand. Following are insightful and recent data from the US Energy Information Administration (EIA).
U.S. exports of natural gas reached a record in December 2016. 12 cargoes or 42.8 Bcf was exported from Cheniere's Sabine Pass LNG terminal. This volume is near the maximum capacity that Cheniere can produce. Moreover, natural gas deliveries to Sabine Pass have already set a new record in January, averaging 1.7 billion cubic feet per day (Bcf/d) to-date. Since this volume exceeds the maximum combined capacity of Cheinere's Trains 1 and 2 (of 1.4 Bcf/d), it is reasonable to anticipate Cheneire will fire up Train 3. Importantly, this expansion is expected to become operational and to begin exporting natural gas in April 2017.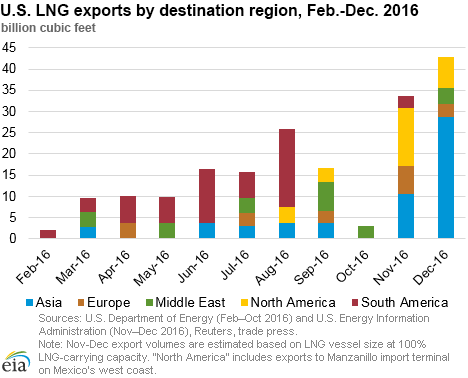 Domestic investors wrongly use CONUS weather patterns for gas demand. News, commentary, and data are abound and throughout Seeking Alpha. But US natural gas is becoming a global commodity. In Asia, where the bulk of US gas has been exported (see chart above), below normal winter temperatures increased residential heating demand and spiked Asian spot LNG. Prices in Japan reached an 18 months' high, $8.00 MMBtu last December and in Singapore prices averaged $8.25 MMBtu in the same time, the highest level throughout 2016.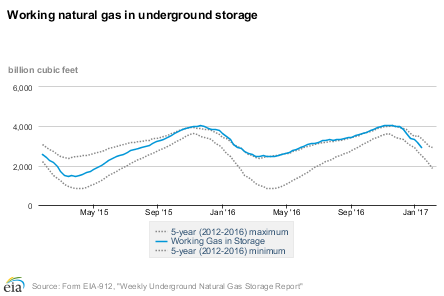 US exports combined with stagnating production drew down net working gas from storage. As of last week, the draw totaled 243 Bcf and this left working gas inventory at 2,917 Bcf. Meaningfully, supply is 3% below the five-year (2012-16) average and 13% below last year at this time. With a backdrop of exploding market access and massive increase in domestic uses beyond open space heating, linear comparisons to historical averages underestimate the coming supply/demand balance.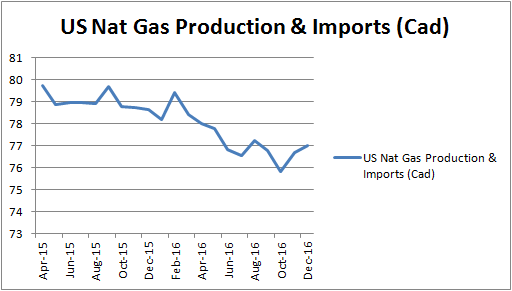 For the week ending Friday, January 20th, Baker Hughes reported natural gas rig count increased by 6 to 142. Simply this activity isn't sufficient to suspend declining well production, domestic demand or the onslaught of exports to rise.
Under the Hood:
US LNG export terminals approved (FERC), that are under construction (excludes 4 terminals approved but NOT under construction), and soon to increase US exports are on the horizon.
Sabine, LA: export capacity of 1.4 Bcfd (Cheniere/Sabine Pass LNG) *** operating already with additional capacity under construction.
Hackberry, LA: export capacity of 2.1 Bcfd (Sempra-Cameron LNG)
Freeport, TX: export capacity of 2.14 Bcfd (Freeport LNG Dev/Freeport LNG Expansion/FLNG Liquefaction)
Cove Point, MD: export capacity of 0.82 Bcfd (Dominion-Cove Point LNG)
Corpus Christi, TX: export capacity of 2.14 Bcfd (Cheniere - Corpus Christi LNG)
Elba Island, GA: export capacity of 0.35 Bcfd (Southern LNG Company)
And US exports via pipeline to Mexico have outpaced all expectations.
The Trade and How to Express Your Opinion:
Taken together, the tidal movement to natural gas is well established and the widow maker trade should be in the rear view mirror. There are a number of excellent independent E&P companies, a handful of regional plays (access to takeaway), and even transportation/regassification/liquefaction platforms where some will perform better than others depending on their individual circumstances, but this focus is on the commodity UNG and I plan to offer ideas in the coming days. A simple long trade at ~$8 with a stop loss that suits your risk and roller coaster tolerance should do you well if you need exposure or looking for near-term gratification.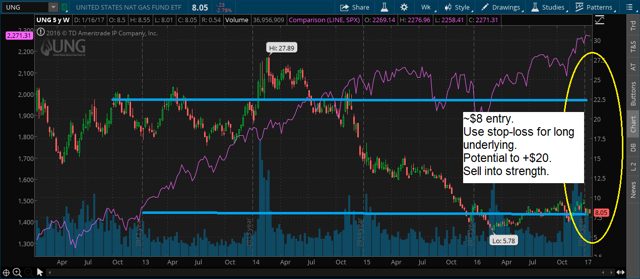 Considering my apprehension for ETFs, contango in UNG, and not to mention that I just about never use stop losses, lest I include the K-1 tax hassle that UNG will kick out in Q1 '18, I prefer the options side. As a typical seller (collect premium vs spending it), I'm going out on a limb recommending to buy near- and mid-term calls. Simply I don't want an assignment from writing puts and don't want the underlying equity in my portfolio. So there's certainly some nimbleness required that is really about paying attention to expiration.
UNG trades with weekly and monthly series. My preference here is to trade the monthly because there's more liquidity (volume and open interest) and spreads are about the same. The Feb 17 series may not give us enough time and its focus may be too myopic on weather. April gives us some time, almost 3 months, or even the July is also a potential without getting too expensive for simply buying time.

Splitting hairs and sparing details, I find the April 2017, $8 Call worth the ~$.72 required to control 100 shares ($72 outlay controls $805 worth of UNG for each contract). The bid/ask closed Friday at $.69-.75. Use a limit order to get the price you want. For those more complex, Vega on this option is 20%, and works in our favor. As the volatility may rise as a result of the fundamentals mentioned, the price of this option will increase 20% for each percentage increase in volatility. And while this analysis may be in the weeds for some, simply as UNG rises, so too will this option. Watch the expiration date and close the trade BEFORE expiration. Similarly, if the option should collapse in value to your threshold, simply close during market hours.
Otherwise, I'm anticipating UNG making a run… I can't crystal ball $20, and I can't be sure by when, but I have seen prices move as much and more for less reason.
Note: To get these and more articles on options and equity opportunities as soon as they are published, click on my profile and hit the big orange "Follow" button and choose the real-time alerts option.
Disclosure: I am/we are long UNG.
I wrote this article myself, and it expresses my own opinions. I am not receiving compensation for it (other than from Seeking Alpha). I have no business relationship with any company whose stock is mentioned in this article.
Additional disclosure: Long UNG Call options