Earlier this month, Chevron (NYSE:CVX) was able to resume production at one of its Gorgon LNG trains after an outage of more than a month. In November, Chevron was forced to halt the production of LNG at Gorgon Train 1 on account of performance issues, while Train 2 remained unaffected. In fact, Chevron's Gorgon Train 1 has run into outages a quite a few times after going online in March last year.
However, the good news is that the Gorgon LNG project is now back to full production and it will allow Chevron to export more LNG cargoes going forward. This is good news for Chevron investors since the company's full capacity at its LNG projects will allow it to improve its revenue substantially. Let me explain how.
How LNG will be a tailwind for Chevron
A supply-demand gap is emerging in the LNG market as consumption of the commodity is expected to rise substantially going forward, while a delay in final investment decisions by oil and gas operators to develop LNG projects will lead to lower supply. In fact, the supply infrastructure that's being constructed to meet LNG demand going forward is not sufficient to meet the demand.
More specifically, global LNG demand will increase 70% to 425 million tons per year by 2025 from 250 million tons per year in 2015. As I have already said, the existing supply of LNG will not be able to meet the growing liquefied natural gas demand, which will lead to the requirement of new supply. In fact, there is a new supply opportunity of nearly or 50 million tons per year of LNG by 2025, as shown below.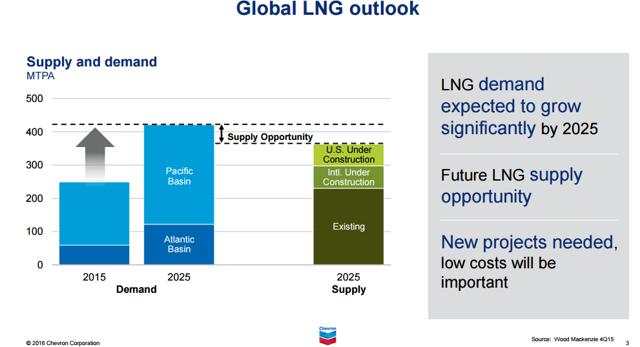 Source: Chevron
The supply gap in the LNG market will eventually play a role in driving up prices of the commodity in key markets such as Asia. In fact, LNG prices in Asia are already on the rise. More specifically, the price of LNG in Asia has increased to $8.10/MMBtu as compared to $4.24/MMBtu in May last year. Now, even if Asian LNG prices hover in the $6-$7/MMBtu range, Chevron will witness a sharp bump in its revenue as Asian countries are the biggest consumers of the fuel.
In fact, the Asian and the Asia-Pacific market together account for 71.7% of global LNG imports, which is why strong prices in this region will play a key role in driving Chevron's performance going forward. But, before analyzing Chevron's potential performance in the LNG segment in the long run, we will first have to take a closer look at the company's capacity in this segment.
A look at Chevron's LNG capacity
Chevron has total LNG capacity of around 40 million tons per annum, including the capacity under construction. The Gorgon and the Wheatstone LNG projects together account for the majority of the capacity, with Angola LNG contributing 5.2 million tons per annum of capacity. Additionally, the Kitimat LNG project in Canada with a capacity of 10 million tons per annum could add more capacity for Chevron, where it has a 50% working interest.
However, a final investment decision for the Kitimat project has not yet been taken and the development of this project could take a really long time. So, I will exclude the impact of Kitimat from my calculations. Therefore, Chevron currently has three active LNG projects - Gorgon, Wheatstone, and Angola.
Now, Chevron has a working interest of 47.3% at Gorgon, 64.1% at Wheatstone, and 36.4% at Angola LNG. This means that Chevron's share of LNG capacity across its projects is 7.38 mtpa at Gorgon, 5.7 mtpa at Wheatstone, and 1.89 mtpa at Angola. This gives the company total LNG capacity of almost 15 mtpa at its disposal in 2017.
Using this LNG capacity, I will try to calculate the potential revenue that the company can generate from its LNG operations. But, to do that, I will have to first establish the pricing.
Forecasting LNG prices and revenue for 2017 and the long run
As already mentioned earlier in the article, Asian LNG is the most important variable to calculate the price of the commodity since this geographical segment accounts for 70% of LNG imports globally. Now, the spot price of LNG in Asia this year is expected to clock an average of $5.00/MMBtu due to short-term oversupply, even as long-term prices will remain higher.
Since 70% of the LNG globally is consumed by the Asia-Pacific region, Chevron could export 10.5 million tons per annum of its capacity to this region. Now, 10.5 million tons of LNG equates to 542.85 million MMBtu. Therefore, considering an average price of $5/MMBtu, Chevron's LNG revenue from the Asia Pacific could be $2.7 billion. For calculation's sake, I will assume that the remaining 30% capacity is also sold at an identical price since the Asia-Pacific region can be expected to be the biggest driver of pricing.
Thus, Chevron's total revenue from the LNG segment this year can be expected at $3.88 billion. Though this might not sound much at present, but as the price of LNG improves in the long run and Chevron's capacity increases, its LNG revenue will increase as well. For instance, in 2025, the long-term LNG price in a neutral case is expected at $8.00/MMBtu as shown below: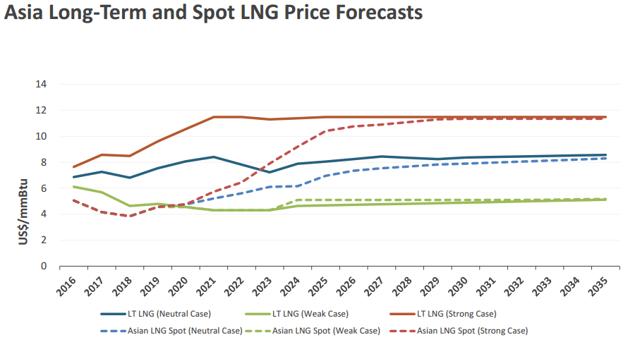 As the price of LNG increases to $8.00/MMBtu in the long run and Chevron's potential capacity improves to 20 million tons per annum after the completion of the Kitimat LNG project, the company's annual LNG revenue will increase to $8.27 billion ($8/MMBtu X 1,034 MMBtu of LNG). This represents an increase of almost 113% in LNG revenue as compared to the projected revenue for 2017.
On the other hand, in the strong LNG pricing scenario, Chevron investors can expect a price of almost $12/MMBtu in 2025 as shown above, which will take its annual LNG revenue to $12.4 billion. The rise in the natural gas price is not surprising if we circle back to the demand-supply mismatch I had discussed earlier in the article. So, a combination of higher capacity and improved LNG pricing will be a tailwind for Chevron's LNG business in the long run.
More importantly, an improvement in the LNG business will allow Chevron to reverse the decline, to some extent, that it has seen in its revenue in the past three years, as seen below: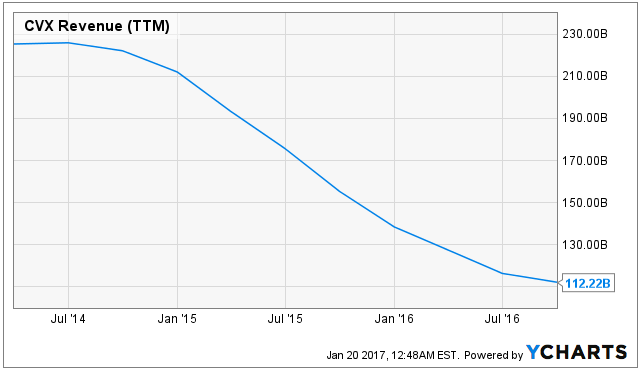 Conclusion
Hence, the LNG business of Chevron will contribute increasingly to the company's financial performance in the long run as the discussion above indicates. So, Chevron's improving LNG business will be one of the key growth drivers for the company in the long run and investors should not miss the opportunity present here.
Disclosure: I/we have no positions in any stocks mentioned, and no plans to initiate any positions within the next 72 hours.
I wrote this article myself, and it expresses my own opinions. I am not receiving compensation for it (other than from Seeking Alpha). I have no business relationship with any company whose stock is mentioned in this article.