McDonald's (NYSE:MCD) reported fourth quarter results on Monday morning that beat estimates for the top and the bottom line. The numbers looked convincing, but EPS growth is primarily achieved through a steadily declining share count. Financing these share repurchases could become less easy in the future if McDonald's keeps on increasing its debt levels at the current pace.
McDonald's same restaurant sales increased by 2.7% year on year, which is a very strong showing, but comps were less compelling in the US, where same restaurant sales dropped by 1.3% (better than analysts had forecasted though). The comp sales declines in the US were offset by a strong performance in other markets such as China, Japan and Latin America though.
When we look at the revenue numbers, we see a 5% decrease, which doesn't sound good at first, but which can be explained easily: Forex rates had a 2% negative impact, and the rest is due to McDonald's refranchising activity. McDonald's is giving up ownership of a lot of restaurants across the globe, which means most of the revenues derived from these restaurants don't go into McDonald's pocket any longer, but rather to the franchisee's. As most of the costs are paid by the franchisee as well, refranchising can still be a smart move when it comes to profitability: Lower revenues and lower costs for McDonald's lead to higher profits, as long as costs are declining at a faster pace than revenues.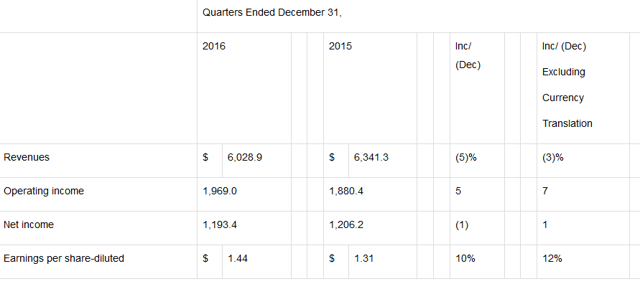 As we can see in the above table, McDonald's has found that sweet spot of refranchising: Revenues were down five percent, but the company's operating income still grow by 5% (7% when we exclude forex). McDonald's refranchising activities thus look like a good strategic move, which shareholders shouldn't worry about (despite a declining top line).
McDonald's net income declined by 1% in the fourth quarter, which seems odd at first since operating income has increased over the same time, but when we take a closer look we see the reasons:
Interest expenses were up by more than 20%, and McDonald's effective tax rate was higher than in the previous year as well (31.2% versus 29.5%). With a tax rate above 30% McDonald's would be one of the biggest beneficiaries of a corporate tax rate cut that seems likely in the coming years, and even if tax rates are not cut it is unlikely that McDonald's tax rate would increase much further, the disparity between operating income growth and net income growth should thus be a lot smaller in the future.
The increased interest expense number is relevant though, those expenses can be blamed on McDonald's debt pile the company has amassed over the last years: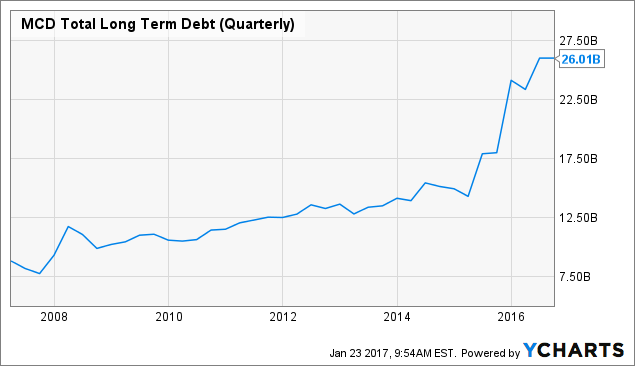 McDonald's long term debt has more than doubled from $12.5 billion to $26 billion over the last five years, including a significant increase in 2016. This is the reason McDonald's interest expenses have been growing steadily over the last years, but still shareholders have benefited from the higher debt levels: McDonald's has been issuing debt to finance share repurchases, which, together with the company's dividends, totaled $14.2 billion for 2016 (which means a shareholder payout yield of almost 15%). By lowering the company's share count by ten percent in 2016 McDonald's has been able to grow its earnings per share by ten percent as well, despite net income showing a small decline -- the share repurchases have a huge impact on each share's portion of the company's earnings, and thus ultimately the share buybacks have a huge impact on each share's price.
McDonald's had set a goal for shareholder returns of $30 billion through 2016 (which the company achieved), but as long as management does not announce any further plans like that I believe shareholder returns will be lower than they were in 2016 -- McDonald's will likely not continue to buy back ten percent of its float each year, but buybacks as well as the dividend will continue to play a huge role going forward.
If McDonald's wanted to keep shareholder returns at the current pace of $14 billion a year, the company could take on about $17 billion in new debt before hitting a debt to EBITDA level of 4.5, which would mean a rather high leverage ratio. I doubt McDonald's management would be willing to increase leverage beyond that level, and rating agencies would not like such a move either.
When McDonald's keeps spending at the current level (net debt issuance of $8.3 billion in the last twelve months), those $17 billion of new debt potential would be enough for two more years, thus the current shareholder returns pace is not suitable for the long term.
Takeaway
With operating income growing in the mid single digits, net income growing by a similar amount (assuming less new debt and a flat tax rate) and share repurchases of $3 to $4 billion (achievable without issuing a lot of new debt) shareholders could still be looking at high single digit EPS growth going forward, which, in addition to a 3.1% yielding dividend, should lead to double digit returns from McDonald's. After strong Q4 earnings I thus believe that McDonald's shares are not looking bad at all.
Author's note: If you enjoyed this article and would like to read more from me, you can hit the "Follow" button at the top of the page, right next to my name and icon, to get informed about new articles.
Disclosure: I/we have no positions in any stocks mentioned, but may initiate a long position in MCD over the next 72 hours.
I wrote this article myself, and it expresses my own opinions. I am not receiving compensation for it (other than from Seeking Alpha). I have no business relationship with any company whose stock is mentioned in this article.